Acting conduits aplenty for Storrs
Posted on May 22, 2019 by Taber Times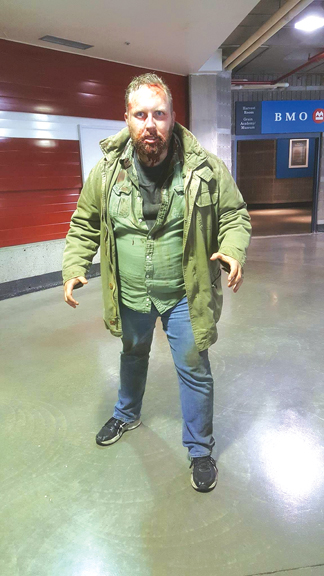 "Z" IS FOR ZOMBIE: Taberite Kealey Storrs engaged in some background work on the set of Netflix's new zombie series, Black Summer, shot in various locations around Alberta. TIMES PHOTO SUBMITTED BY KEALEY STORRS
By Trevor Busch
Taber Times
tbusch@tabertimes.com
"I like to think of myself as a bit of an actor."
Self-deprecating words might be absent among Hollywood's image-obsessed acting elite, but for those plying the trade inconspicuously here in southern Alberta as more hobby than day job, it probably just goes with the territory.
Taber's Kealey Storrs doesn't claim to be the next Kevin Costner. But that doesn't mean he isn't pursuing his own field of dreams in Alberta's burgeoning film and TV industry. And while he might not aspire to fame and fortune, working in a scene with the star is no doubt a significant consolation prize.
"I got to go work on a set with Kevin Costner and Diane Lane, they're in Drumheller right now filming," said Storrs of the production, which was in Fort Macleod when he was on set. "I got to take my oldest son with me — this was his second time on set — and we actually got to do a scene with Kevin Costner and Diane Lane in a diner there. It was a really incredible experience. I can't say too much about it — obviously there's non-disclosure agreements that prevent me from saying much, but I think it's going to be a great film. I think it's going to be really good."
According to the Drumheller Mail, the feature film starring Costner and Lane is 'Let Him Go', directed by Thomas Bezucha. Set in a mid-20th century America, the film is utilizing Alberta's landscape to re-create a road trip through Montana and North Dakota.
Drumheller is familiar territory for ex-pat Storrs, and it's perhaps fitting that the film was wrapping scenes in his old stomping grounds because that's where he got his first start in live theatre.
"I grew up in Drumheller, and at the age of 10, Drumheller started a production called the Canadian Badlands Passion Play, which has a pretty well-known name behind it now. It was started through Rosebud Theatre at that point in time, and my dad signed up to do the parking lot. The director of the show came down — I was there with my dad helping him in the parking lot — and said 'hey, you have three boys, we could use more kids in the show.' And that was my first experience stepping on to a set, and it's the largest outdoor stage in North America, seats 2,500 people, and I have to say when you're standing in front of 2,500 people performing, the bug bites you really hard and you're glued."
Storrs would be involved in the Passion Play for the next 18 seasons, but admits he seems to have been type-cast into the role of biblical bad guy, and was never seated at the right hand of the Father.
"I played pretty much everything except for Jesus in that show — I never desired to play Jesus. I really liked playing Pontius Pilate. I got a lot of the bad guy roles — the quote-unquote 'bad guys' — I played Judas, I played Herod, Pontius Pilate. And that's really what bit me to get into that."
While still in Drumheller, Storrs was able to get his foot in the door in a number of TV productions as part of Alberta's fledgling movie industry in the 1990s.
"At that time back in the 1990s, Drumheller was kind of a booming hub for film and television because of the landscape there. Shows like The X-Files (1993 – 2002) were filming out there, Shanghai Noon (2000) filmed out there, The Matthew Shepard Story (2002), Rat Race (2001), all these productions. There was music videos, Terri Clark filmed out there, a couple of other music videos. And I got to be involved with those productions, just doing background work — and mostly deep background, unless you're really paying attention you're probably never going to spot me — but it encouraged me to keep going and pushing harder and really following that path. Plus, film and television usually comes with a paycheque, which is a nice change from community theatre. At the same time, I was also involved with Kaleidoscope Theatre Company in Drumheller, doing productions with them on an annual basis while I was in high school."
A move to Medicine Hat would later see Storrs expand his skills into other areas of live theatre not specifically involved with acting.
"I got involved with Firehall Theatre, and started to dabble in the technical side of theatre more down there. I didn't go on stage with any of their productions, but I did lighting, and set design, and that kind of stuff. We did Beauty and the Beast, and Joseph and the Amazing Technicolour Dreamcoat."
After arriving in Taber with a marriage and family under his belt, Storrs felt the old pull to dance before a rolling camera drawing him back into Alberta's film and tv industry.
"Got involved with Taber Players very quickly when I moved down here, because they needed men, and I thought 'sure, why not, I'll come play with you guys.' Right around that time I started pushing to get involved in film and television again. I found myself an agent in Calgary, and since then, almost any production that's been filmed in Alberta, I've been involved in."
While mostly involved in various background roles and minor speaking parts, Storrs is incredibly enthusiastic about participating in the industry in almost any capacity.
"I've done featured background work, utility background work — which is a little bit of a different universe, where essentially you're just thrown up on the set of a film or a tv show, where there's characters in the background that are consistent. In the case of Heartland (2007 – present) you have the shopkeeper, the cook in the kitchen, and other characters like that who never speak, but they're there in every episode and it's usually the same actor doing it. But when for whatever reason that actor can't make it to the set, the utility background guy gets called to come fill in for them. So I did that for a season on Heartland. I did Season 3 of Fargo (2014 – present), I had a speaking role in that. In Season 3 of Wynonna Earp (2016 – present) I was one of the 'revenants' in that who teams up with Wynonna Earp to beat the big bad guy."
Making recent waves in the sci-fi community, Storrs got the opportunity to do some work on Netflix's dark new zombie series Black Summer (debuted 2019).
"I got to do what's called SSE work, which is not quite full stunt work, but it's not just background. The rule is, if you go down any further than landing on your knee, you have to be considered stunt. So I did everything up until that point. Lots of running, lots of shooting, lots of tackling people, being tackled against walls, that sort of stuff. It was a blast, it's probably one of my favourite productions I've ever worked on, and got some really great camera time out of that one, too."
The eight episode first season of the production was shot at multiple locations in Alberta, and sharp-eyed viewers will probably be able to pick out locations that are familiar.
"We shot all over Alberta. Irricana, Beiseker, lots in downtown Calgary, people probably recognize the BMO Centre," said Storrs. "I'm running around that BMO Centre downtown on 3rd Avenue, and we're shooting zombies, and getting turned into zombies. It was a blast. Shooting in the sub-basement of the Calgary Tower — the whole dungeon scene, where they take her (Jaime King) down into that basement — that was all in the sub-basement of the Calgary Tower. It was incredible, and there's so much Alberta talent on that, not just as far as actors go, but the stunt co-ordinator, he's an Alberta guy out of Drumheller. Lots of the crew. We have a lot of amazing people in Alberta for film and television. It's a really incredible industry to get involved with."
Storrs can be found in Episodes 6 and 8 of the series, the latter of which features a running gun battle on the streets of downtown Calgary which in this context doubles as the facade of an anonymous U.S. city.
"It's a lot of running and just mayhem — pure mayhem — and it was so much fun."
While not all critics have been satisfied with Black Summer, the show was on top with Netflix streamers in the UK in April, and has received high praise from literary horror icon Stephen King.
"It's been very well received," said Storrs. "I know there's a few critics out there that are like 'it's just The Walking Dead' but it's not. It's so different. Stephen King, he tweeted about it giving it rave reviews. That's a pretty big deal to get rave reviews from Stephen King on horror projects, so we're all pretty proud of that."