Brouwers still going strong with connection to nature
Posted on May 8, 2019 by Taber Times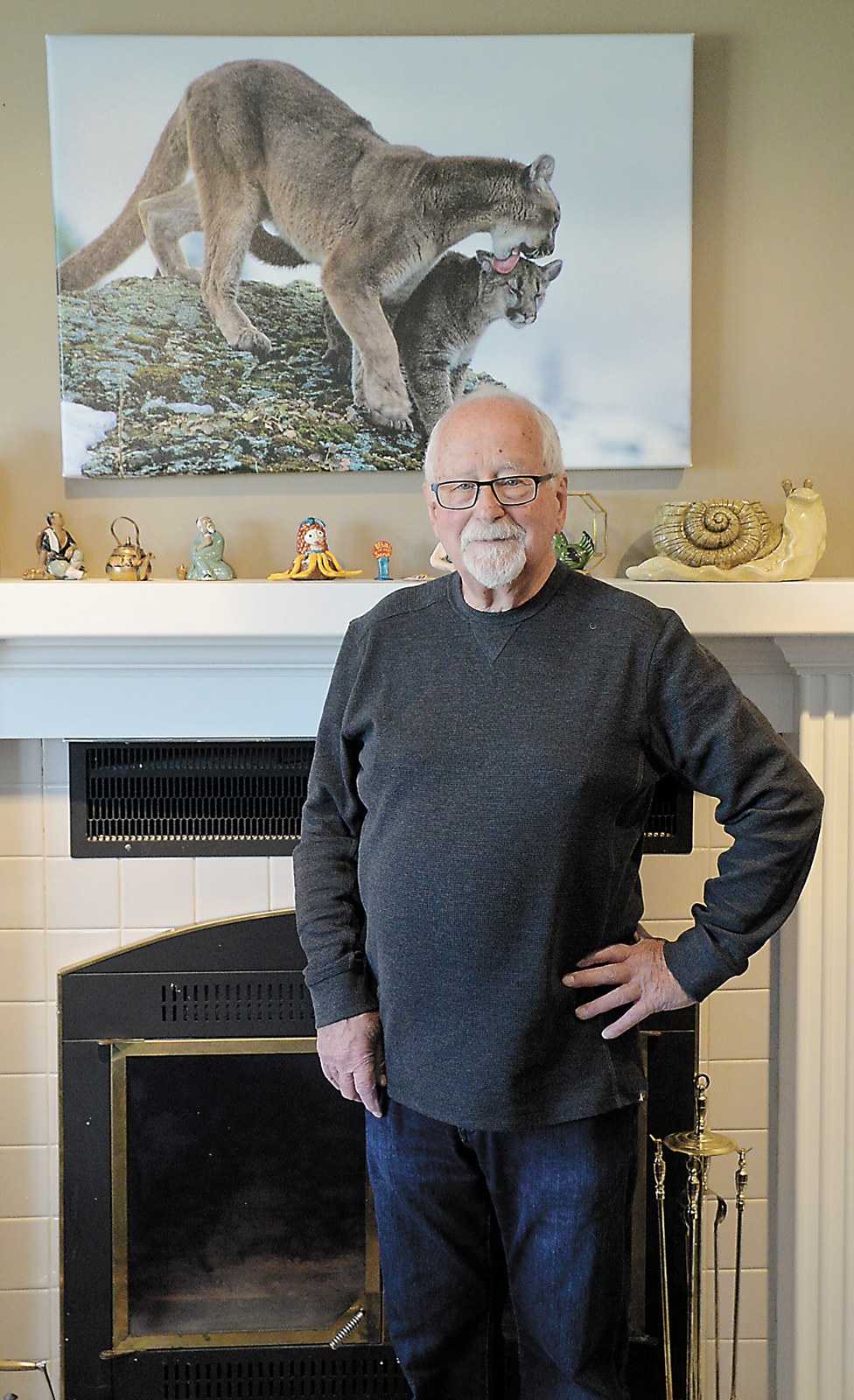 TIMES FILE PHOTO
By Greg Price
Taber Times
gprice@tabertimes.com
Frans Brouwers has proven, it's never too late to pursue your passions in life.
The Barnwell resident didn't start pursuing his love of photography seriously until his mid-50s.
Obviously having an eye for it, Brouwers' work has been exhibited in the National Museum of Canada, to go with many gold medals in international competitions. His photography has taken him all over the world where he is an Associate of the Canadian Association for Photographic Art (CAPA), La Federation Internationale de L'Art Photographique (FIAP) and has earned a Commendation Service Award from the Photographic Society of America. At one time, he operated the Kananaskis School of Photography. National Geographic Magazine is among the many different publications that have published his work.
Brouwers grew up in Veenendaal, Holland, and while different forms of expression were close to his heart, life at the time did not lend itself to explore art.
"I was interested in art, you see all the museums, but as a kid I worked in the boats and I never really had any chance. I worked in the Merchant Marines," said Brouwers, adding when he immigrated to Canada, he joined the Canadian Army for a few years. "When I was a kid, I lived close to Arnhem, the site of all the paratroopers coming down and I thought to myself that when I grow up, I wanted to become a paratrooper. I joined the Canadian Army and was part of the airborne."
Getting married while in the army and his blushing bride (Fayne Archer) was in university, Brouwers' wife wanted him to get out of the service and he started up business interests in Olds (restaurant/motel and construction) and Calgary (development and construction).
Brouwers would eventually dabble in photography where he would eventually be featured at the national museum while also being hired for a stock photography company along with having work featured at various galleries. Now, nearly 87 years young, Brouwers' love of photography is still as youthful as it was more than three decades ago, having enjoyed many retirement years in Barnwell, in which his now departed wife Fayne wanted to move back to, having grown up in the Taber area.
"I still go out and take pictures almost every week," said Brouwers, as the Barnwell resident gave The Times a tour of his house that features many of his works hanged on walls in all the rooms, with prints transferred to canvas. "But I was a really late starter. I really only got into it after I retired."
Name a country, and Brouwers has likely shot photography there, be it all over Canada, the United States, Mexico, Cuba, Africa, Italy, Ireland, Scotland, the Netherlands, England, France and Switzerland. Brouwers' portfolio has featured all types of photography, including images of then Prime Minister Jean Chretien, the 1988 Winter Olympics in Calgary, and photography books for oil companies. But, first and foremost, Brouwers' biggest love has been animals and landscapes.
"I don't do people. I got hired to do people, but people talk back and I'm not too crazy about that," said Brouwers with a chuckle. "I like to be out in nature and capturing the moment. In nature, you can take all the time you want to capture a moment, there's no pressure."
What he has also found in photographing people is they often do not want something that is natural in their image, but quite often artificial with alterations.
"I've had requests with portraits taking away some of the wrinkles or taking stuff out from under the eyes. By the time you are finished, it looks like porcelain and it's not real," said Brouwers. "It's not real and there's beauty in everything, even in the flaws. You look in magazines of photographs of models, but they've worked on those for hours and hours to get that look — but that's not real. Ordinary people are not like that. You may take out a blemish here and there, but you shouldn't change the character of the face. That's the interesting part."
Capturing that moment out in nature takes lots of patience and scouting locales.
"I can get close to animals by not being anxious. I take my time and check where the wind is coming from. I take it easy — if they stop, I stop," said Brouwers. "If you are overly aggressive with an animal they will take off. If I get a picture, fine, if I don't get it, that's fine too. It's so I don't get that feeling like a hunting person has of 'oh, I have to get this animal.' I don't want to have that feeling as the animals can sense it. I relax, and I take my time and go this way or that way. Lots of my animal pictures, I got very, very close to them."
For his straight nature pictures, Brouwers looks for composition where something in particular may draw the eye in. The shape of a branch, the colour of a flower, the light composition during that particular time of the day, Brouwers notes that are several different variables that can draw the eye to a scene.
"It seems like when you have a good picture, you know right away. You feel it with your experience," said Brouwers. "When I find a place that I like, I keep coming back to try for when the light and the clouds are just right to get the picture that I like. Timing is everything."
Selling off all his business interests in the 1980s, Frans enjoyed his retirement years with his wife Fayne in southern Alberta, while still constantly pursuing his passion for photography with a stock company, while also working freelance.
Thinking back to his departed wife, Fayne was always supportive of his photography in spirit, but not always in body, Frans noted with a chuckle.
"A lot of places I went, she didn't want to come with me on a photography trip. To be honest, a person who is not a photographer, is no fun to take with you. 'Do we have to?' 'Are you finished?'," noted Brouwers on what can sometimes be the impatience of a non-photographer. "But, she supported me in always letting me do it. We'd travel to places like Europe, South America and Mexico, and she'd visit other places while I did my photography."
Today, Brouwers' passion is still going strong. He admits when he gets up first thing in the morning he does prints of images he has shot with his camera on his computer, and then ventures off to take more images in his travels. He tries to head out to Waterton once a week, while canvassing several other areas across southern Alberta.
"Now I just take pictures mostly for fun. I just like going to many places. I go to Glacier, I go to Kananaskis, I go to Writing on Stone. Sometimes it's going around the countryside and photographing old buildings I see. You can find beauty anywhere. If it appeals to me, I stop and I photograph it," said Brouwers. "Lots of the places I go now are close by. I go early in the morning and sometimes go back or stay the night. I got a truck with a camper on it, which makes things easier. Early in the morning I like best because you have the light working for you and the animals are very active compared to the middle of the day. I love being outside, I'm not as quick as I used to be, but being outside makes me feel good. Being by myself, if I were to just sit inside my house, I'd drive myself crazy."
He has donated his images to be showcased and/or auctioned off for charity for several organizations, including the cardiac rehab wing in the Lethbridge hospital for several years. But now, while he loves printing off images he has taken off his computer nearly daily, he is almost finding himself a hoarder with the backlog of pictures he has in his house and his adjacent studio at his residence.
"I have prints and prints and prints. I must have like 20,000 or 30,000," Brouwers said with a chuckle. "I'm running out of room for my passion. I have slides, I still do prints with black and white with chemicals, but definitely not as much as I used to. I have a few chemicals left. I have a dark room, an enlarger. I like black and white, you can feel it in your fingers when you develop it. You see it slowly developing. It's the little things. It's quiet, you are working in the dark."
With digital first coming in by the late 1990s, Brouwers was going to stay with film, but was convinced to go to digital.
"All the cameras are good nowadays. You can make just as good of a picture with a telephone," said Brouwers. "But you still have to have an eye, it still has to come from inside for it to tell you something beautiful."
For those wanting to see some of Brouwers' work up close, it is currently being showcased at the Barnwell Library. The library is open Tuesdays to Fridays (hours ranging from 10:30 a.m. to 6 p.m. depending on the day).
"If people are interested in photography, it's a healthy habit to go out in nature and try and express yourself," said Brouwers. "Photography is a way of building history. Taking pictures, it gives you a different perspective of things you might not otherwise take the time you see. It's visualization of things that you feel. It's good for the soul and the younger you start the better."