Student Vote confirms UCP majority
Posted on April 24, 2019 by Taber Times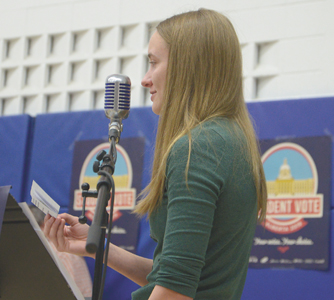 YOUTH MOVEMENT: Alanna Makarchuk asked the opening question at the student forum held earlier this month for the Taber-Warner candidates for the provincial election. TIMES PHOTO BY GREG PRICE
By Greg Price
Taber Times
gprice@tabertimes.com
Several local schools participated in the 2019 Student Vote program, and while their votes did not officially count in the provincial election from last week, the results of the mock election had some similarities to the official count for April 16's Alberta election.
Both adults and kids alike were in favour of a United Conservative Party majority, although the Student Vote netted a stronger opposition for New Democratic Party.
Last Tuesday's provincial election netted 63 seats for the United Conservatives and 24 for the NDP. No other party managed to garner a seat, including the Alberta Party and the Alberta Liberal Party being shut out.
In the Student Vote results, the UCP won a majority government with 49 seats. The NDP would form the opposition with 35 seats. The Alberta Party won three seats.
In the Student Vote percentages, numbers were even tighter with the UCP getting 36.02 per cent of the overall vote compared to NDP receiving 30.35 per cent. The Alberta Party got 18.46 per cent and the Alberta Liberal Party had 5.31 per cent.
Rounding out the percentages of the other parties were the Alberta Independence Party (2.91), Green Party of Alberta (2.80), Freedom Conservative Party (1.82), Independent (1.02), Alberta Advantage Party (0.96), Communist Party Alberta (0.24), Pro Life Political Association (0.05), Reform Party (0.01) and Wildrose (0.01). As of 4 p.m. on election day, 1,229 schools had reported their election results, representing all 87 electoral divisions in the province. In total, 165,527 ballots were cast by student participants.
According to the Student Vote website, schools in the local region who participated were W.R. Myers, St. Mary, Taber Mennonite School, D.A. Ferguson Middle School, St. Patrick School, Dr. Hamman School and Chamberlain School.
There were 2,483 votes cast for students who participated in Student Vote 2019 for the Taber-Warner region in which the UCP's Grant Hunter proved victorious, just like the regular election.
W.R. Myers and Taber Mennonite School helped host a forum for students among the four candidates for Taber-Warner at Central School prior to the election, where approximately 200 students voted from W.R. Myers.
"Some schools made it mandatory that everyone votes, but we decided to make it a little more true to the voting experience in giving kids a choice. We had polling stations, although some were arm twisted into it in our Social Studies classes," said Dale Friesen, a teacher at W.R. Myers school.
Earlier numbers showed nearly 70 per cent of eligible voters casting their vote for Election 2019 in Alberta. For W.R. Myers, it was around 65 per cent.
"We ran it from lunch time to the end of the day. In context, we've done this program in the school before and this was probably three to four times a bigger response that we have had in the past," said Friesen.
W.R. Myers voted overwhelmingly for UCP candidate Grant Hunter, with second place being Alberta Party's Jason Beekman with approximately 50 votes. NDP's Laura Ross-Giroux had seven votes and the Alberta Liberal Party's Amy Yates got two votes.
Given it is dependent on non-voting aged youth, Friesen noted there is always the possibility votes can be swayed by parents campaigning their kids.
"I think in some ways, that could be a factor. Especially in cases at schools where kids were obligated to vote, it might be more prevalent maybe. One of the dynamics at play is that students tend to vote similar to what their parents vote," said Friesen. "In conversations I've had in the classroom with other students, the topics around the election have been much more dinner-table type conversations."
It was a packed gym at Central School on April 5 when a student forum was held in which candidates answered a handful of different prepared questions from students, while also getting to talk about their own platforms during open discussion periods.
"When we see kids responding like that, it was definitely one of my objectives as a teacher to give student's the ability to engage in that way," said Friesen. "We are seeing a climate where student engagement is on the rise from the fact we are dealing with economic issues that are going to start impacting them directly. We also have social issues that are engaging students at a deep level as well. The irony of the system is you see all these kids at the forum who are significantly engaged in the political process, and yet are essentially locked out of the actual voting. It becomes an interesting part of the nature of democracy."
High school students from St. Mary School were invited to the forum which made for a unique situation when the whole school cast its vote for the Student Vote.
"I kept the junior high and senior high results separate as the high school kids attended the forum Horizon held," said Carolyn Siemens, a teacher at St. Mary School. "I wanted to see if the forum impacted their votes. I can't be certain, but I do think more students voted for the Alberta Party candidate based on how the forum went. I really appreciate that Horizon put on the forum and included us in it, it was such a great experience for our students to get to be a part of."
The variance did show up in the junior high compared to the high school results. For the Grade 6-8 students, Grant Hunter won for UCP with 44 votes. Jason Beekman of the Alberta Party came in second with 23 votes. Laura Ross-Giroux of the NDP had five votes. Amy Yates of the Albert Liberal Party had four votes. There were two rejected ballots.
The win by Hunter was not quite as dominant at the high school level for St. Mary School featuring Grade 9-12 students, with 45 for UCP, 37 for Beekman's Alberta Party and nine for NDP's Laura Ross-Giroux. Amy Yates had two for the Liberals. There were two rejected ballots.
Things got divisive and heated in 2019 during the provincial election, in one of the most polarizing provincial elections in recent memory as the United Conservative Party and the New Democratic Party flung plenty of mud at each other with reckless abandon.
Things got pretty heated at the Student Vote at Dr. Hamman School as well, not necessarily among students about particular parties, but rather specific issues.
Mandatory vaccinations debates for school-aged children have made their way to the arena of social media and into the classroom at Dr. Hamman where distinct camps were definitely formed.
Students at Dr. Hamman used CBC's Vote Compass option on their computers which is a tool developed by political scientists that calculates how your views on various issues and answers to questions compare with Alberta's political parties.
"The kids were totally engaged and interested. There was some pretty spirited conversation. We went through the voting compass together and they got really heated about some stuff because the vaccination affects them," said Brunette Boes, a teacher at Dr. Hamman School. "Some of their dads aren't working because of the oil which they got heated about wanting a pipeline."
There were 35 votes cast at Dr. Hamman School. UCP's Grant Hunter had 27 votes, Jason Beekman's Alberta Party had five and NDP's Laura Ross-Giroux had three.
"You could see that some kids were basing their votes on what they were hearing from their parents, but there were others who were researching and interested and it was very heated about certain topics. Kids have opinions, too, they care about stuff that affects them," said Boes of the passion students had in their subject matter with Student Vote. "They were yelling at one time, and we had to shut it down for a bit in the classroom. When it comes to vaccinations, they are totally informed about that. You had your vaxxers and your anti-vaxxers, and these are Grade 5."
Boes added she learned just as much from the students as they did her, as helping out with the Student Vote initiative got the teacher herself even more engaged in the election in researching topics and issues.
"It got everyone thinking about the election and talking about it," said Boes.
The Student Vote may have not had any official effect on the Alberta 2019 election, but that does not mean politicians should not be paying attention for the future.
"It's fun when you are pretending. But we'd like our opinions to be heard too," said Sydney Mouland, a student at Dr. Hamman School.