St. Pat's wins environment contest along with $20,000 prize
Posted on April 24, 2019 by Taber Times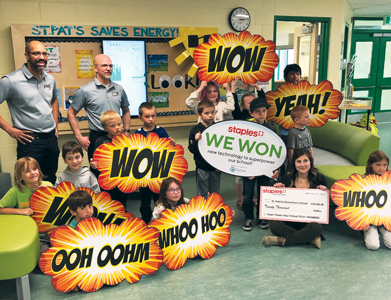 EARTH DAY: Last Wednesday, St. Pat's held an assembly to formally announce to their students that they had been successful in winning $20,000 from the Superpower Your School contest. TIMES PHOTO SUBMITTED
By Cole Parkinson
Taber Times
cparkinson@tabertimes.com
St. Patrick School has become the first southern Alberta school to ever receive $20,000 for the 2019 Superpower Your School contest.
Last week it was announced they were the only Alberta to receive this grant, in thanks part to St. Pat's continuation to incorporate youth participation in environmental protection.
Along with the modernization at the school complete, it allowed them to push forward on several environmental projects which helped get them the $20,000 grant.
"We are currently involved in a STEM (Science Technology Engineering and Mathematics) project that a teacher of ours, Nicole Caputo, started. She got an A+ For Energy ($5,000) grant last year so we had it for this year. With that she bought STEM bins which is just helping the kids think creatively and critically, that is the whole idea," said principal Michelle Nevil. "The other big piece is the environmental where we have our monthly energy challenges. We are really embracing the fact that we have solar panels on top of our building."
Five elementary and five secondary schools were chosen from around 500 applications submitted across the country and the 10 winning schools were chosen by an external judging panel that consisted of environmental leaders.
"The winning schools are emerging leaders in green living," said Deb Doncaster, President of Earth Day Canada in a press release. "From school-wide commitments to compost and recycling to student-run greenhouses and gardens, these student-led initiatives are inspiring and motivating. We are proud to partner with Staples Canada to ensure that these programs are supported with the technology needed to offer students new engaging ways of teaching others."
Staples Canada is doling out $200,000 for this initiative in relation to Earth Day Canada (April 22) and the program first launched in 2011 which has since seen over $2 million go out to 90 schools.
"I piggybacked off what we were already doing and we really wanted to extend our STEM program in a renewable energy resource kind of way. We want to really educate the kids on what solar energy is, how we can use it, why we have it at our school and how it can be applicable to real life. With the new money, we are going to get some solar powered robotics, hopefully, some wind-powered ones, really any kind of renewable energy. There is some really cool stuff out there and hopefully so more robotics so we can hopefully start a coding part of our curriculum," added Caputo.
The $20,000 will also help fund iPad upgrades for the school which is a big portion of the robotics side of things as they do most of the controlling.
The school has also created a team of students to help run St. Pat's recycling and organic collection program which highlights the do's and don'ts of recycling.
Ever since the introduction of these programs at the school, student reception has been high.
With even more on the horizon stemming from the $20,000 going to the school, Caputo expects the students to have further excitement when the new equipment begins to roll in.
"They love it, everyone is so excited. They don't even know what they are getting yet and they are pumped about it. They love the Spheros and the STEM bins. It sparks their creativity and curiosity. It has been hugely successful this year and will probably be again next year."
While students have really got involved with these projects, staff has also been able to participate and will continue to do so with the new technology coming to St. Pat's.
"We also want to develop an eco-warrior team. Basically, students, teachers and any staff can come together during the week and build the robotics we get. A lot of it has assembly and the students will become the experts on it. They then will take it into the classrooms and help the other students understand it. I pretty much want a whole school integration of the technology," said Caputo.