Licence campaign shows organ donation progress
Posted on April 24, 2019 by Taber Times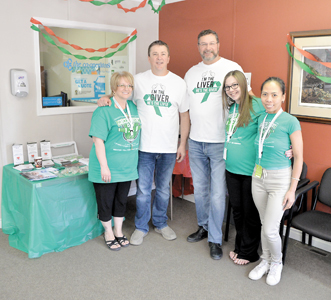 LICENSED ESTABLISHMENT: Staff at the Taber Licence and Registry are all smiles as they have been helping promote National Organ and Tissue Donation Awareness Week with the help of ambassadors Andy Tams and Jack Brewin. TIMES PHOTO BY GREG PRICE
By Greg Price
Taber Times
gprice@tabertimes.com
National Organ and Tissue Donation Awareness Week runs until April 27, and it celebrates organ and tissue donation and raises awareness about the critical need for more donors across the country.
Taber Licence and Registry hosted a presentation on Monday afternoon, introducing clients to the benefits of becoming an organ donor. Making an appearance at the registry was local organ donation ambassadors Andy Tams and town councillor Jack Brewin.
They shared their story of how it is nearing the three-year anniversary when Tams went into surgery in early May 2016 to be a live liver transplant donor to Brewin who was suffering from an auto-immune hepatitis disease.
Earlier this year, Nova Scotia passed the Human Organ and Tissue Donation Act, which presumes consent to donate their organs and tissue upon death for all Nova Scotians, unless they opt out.
Health teams would still need to speak with next of kin before donations could be done. People under the age of 19 or those without the ability to make a decision would only be considered as donors if a parent or guardian agreed.
In essence, it is the first province/state in North America to go where no other government has gone before, putting the onus on people to opt out of organ donation rather than opt in.
"You are automatically in the program, unless you sign out. To me, it makes a lot of sense. It's fine if someone doesn't want to donate their organs, but let us assume that someone wants to save someone else's life," said Brewin. "I think it's a great way to get people into the program. And you have to make sure you make your wishes known to your family on the subject because they can still say no. (Presumed consent) organ donation is becoming pretty common in Europe."
Within the European Union, organ donation is regulated by member states. As of 2010, 24 European countries had some form of presumed consent (opt-out) system, with the most prominent and limited opt-out systems in Spain, Austria, and Belgium yielding high donor rates.
"This like they are doing here at the registry office, it reminds people that everyone has the gift to give and things like this are fantastic in raising awareness," said Brewin.
Brewin gestured over to Tams jokingly calling him his other half, saying he would not be standing here to today with Andy's gracious gift of life, as organ donation is not just an issue for the dead, but the living as well with live donation.
"I can't say enough about what Andy did. He sure didn't have to, but he did," said Brewin.
Tams admitted it was a little nerve-wracking at first going through the process of being a live donor, even the preliminary process to see if he was a genetic match with Brewin, let alone the actual surgery. But pre and post surgery, all those fears melted away.
"It is something you sure feel good about. Looking back, no regrets, none at all. I feel fine. I am as healthy as I was prior to the donation pretty much. I'm doing everything I was doing prior to the surgery. Life is good, I have had no negative repercussions from it, that's for sure," said Tams. "I get myself checked out once a year and I get a clean bill of health and away I go. When it comes right down to it, it's pretty hard to say no when you know the situation and you find that you are in a position to help."
Emotion filled the room as both Brewin and Tams got misty-eyed recounting the moment of clarity almost three years ago where the Taberites' lives would change forever.
Upon learning he was a match, Tams had very little time to reflect on his next step as Brewin had got to a dire point in his life where he was barely hanging on in ailing health from his liver disease.
"We only had a week to decide really," said Tams, adding it was April 26, 2016 when he got the go ahead. "The doctor said you can go home and think about it and let me know about it. But if we are going to do it, it has to be done fast. I had a half hour little chat with Jody and her daughter, came back in and I phoned Jack and told him to pack his bags."
"I was in pretty bad shape. I didn't have much time left," added Brewin.
To this day, Andy and Jack have kept the phone and text logs on file and have not dared delete them even though it has been three years ago with the leading up phone calls and texts that would forever intertwine their lives from those moments on.
"I remember Andy phoning me, asking me what I was doing on Tuesday and I said 'I don't know if I'm going to make Tuesday, Andy.' He said 'well, we have a room booked for you here…let's do this'," said Brewin, adding before receiving that chat from Andy, he had already come to peace with his situation and had his affairs in order. "I had three or four other people get as far as Edmonton (in looking for a match) and getting to the final stages and then not being compatible. I honestly didn't get really excited at first because my hope was built up so much from before."
When Brewin actually heard the news of Tams' compatibility and his willingness to be a live donor, he was in the hospital having some fluid build up drained out.
"The tears were flowing that day. All the nurses were there and they were excited. It was the most beautiful feeling you could ever get," said Brewin. "Andy is the big guy here, he's the donor. I'm just lucky to have been a recipient."
Taber Licence and Registry offered refreshments and snacks on Monday along with information and benefits on becoming an organ donor at a table in the building. The campaign ran all day, but after the morning six more people signed up to be an organ donor on their driver's licence. The registry is offering the service free to have your registration on your drivers licence up until April 26 to help celebrate National Organ and Tissue Donation Awareness Week.
"Taber has benefited so much from the organ transplant program. There is a big number of people who have benefited considering the size of our town," said Brewin.
Taberite Jan Clemis, who has either walked or served as part of the support staff for the Kidney March since its inception back in 2010, has suffered from Polycystic Kidney Disease (PKD), a condition passed on genetically that sees cysts develop from the nephrons (filtering units) of the kidneys, which enlarges them and eventually prevents the proper filtration of blood.
She just recently shared her uplifting story to southern Alberta media after receiving a kidney transplant from her son Blair.
Taberite Karen Hamilton, who passed away recently in 2018 from complications from West Nile Virus, still has her memory live on having been a staunch organ donation advocate, receiving a double lung transplant herself in her battle against Cystic Fibrosis.
The upcoming Paul and Bernice Giroux 'We Have Not Forgotten' Memorial Golf Tournament always highlights the importance of organ donation with Paul Giroux having had a life filled with many health struggles before his passing in 2015, including being the longest living heart transplant recipient in the province, along with getting a donated kidney from his daughter back in 2005. Shauna Marty has participated in the Kidney March, having donated a kidney to her daughter Aidan.
"This is a very giving, great community in Taber when it comes to organ donation. It would be great to put a challenge out to other towns and communities to sign up more organ donors. The more the better," said Brewin.