Montana rides again in remembrance at barrel racing run featuring country concert
Posted on April 17, 2019 by Taber Times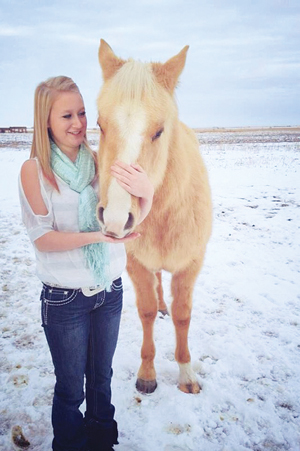 TIMES FILE PHOTO
By Greg Price
Taber Times
gprice@tabertimes.com
The spirit of Montana Halvorson will continue to live on at the Run for Montana which goes on Saturday, April 27 at the Taber Agri-Plex.
Just shy of her 21st birthday, Montana Halvorson lost her life last year to a tragic riding accident, leaving a close-knit ag community in shock having lost such a kindred spirit and avid barrel racer.
It was a packed memorial service at the Taber Agri-Plex for Halvorson that was standing room only for some of the 900 people in attendance. A memorial ride was started last year and this year's run will also feature a musical performance by southern Alberta's country crooner Trevor Panczak.
"It turned out really well. There were about 150 runs last year," said Montana's mother Tara Halvorson. "The support has been amazing and we couldn't have been able to do it without the support of family and friends."
The cabaret featuring Trevor Panczak starts at 7:30 p.m. on Saturday with the Run for Montana starting earlier at noon at the Taber Agri-Plex where runs will go until concert set up.
"I'm just trying to keep my daughter's name alive and barrel racing was her passion. I'll continue to do this until the day I'm not here anymore," said Halvorson. "The rodeo community is really tight, it's like having another family."
That passion for Montana had its humble beginnings at the Taber Agri-Plex. Montana actually started her connection with horse showing, but the youngster found it was too slow for her liking. She saw a barrel racing competition at one of the horse shows she was at and immediately took a shining to it.
"She took to it right away, so we had to change our horses from show horses to barrel races," said Halvorson.
Organizers will be taking registrations for the Run for Montana for barrel racers right up until 11 a.m. the day of the event.
"You don't necessarily have to be a competitive barrel racer. It's just to keep Montana's spirit alive," said Halvorson. "We are having a men's side for them to come out. They can jump on their wife's horse and go for a run. It will be fun to watch."
A regular fixture at the Taber Agri-Plex, Montana's family will be using the fundraising cabaret to give back to the facility with the Taber Exhibition Association, for more needed upgrades and repairs, in a facility Montana spent many an hour at in her youth.
"Trevor Panczak has been amazing. He's given us a good deal. He vaguely knew Montana being in the community, and being raised not that far away," said Tara, adding there will be a signed Panczak acoustic guitar up for bid during the silent auction.
Funds from the silent auction will be going towards the SPCA.
"Montana absolutely loved animals," said Halvorson.
Tickets for the Panczak concert can be purchased in advance at the Heritage Inn, through Tara or a director at the Agri-Plex for $20. Tickets can also be purchased at the door for $30. Tara can be contacted at 403-331-9303.