UCP Blue dominates its way through Alberta
Posted on April 16, 2019 by Taber Times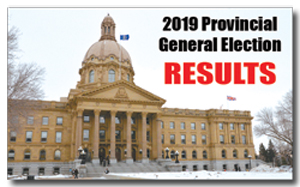 TIMES GRAPHIC
By Times
Editorial Staff
The Taber-Warner riding mirrored the 2019 election sentiment, with the United Conservative Party winning a healthy majority for the next four years.
Grant Hunter was re-elected in a landslide to his MLA position with the revamped electoral boundaries in tow, featuring areas such as Taber, Barnwell, Warner, Coaldale, Foremost, Milk River, Stirling and Raymond.
Hunter was winner early in his riding having 13,511 votes (as of 9:30 a.m. Wednesday) with 78 out of 80 polls reporting. NDP candidate Laura Ross-Giroux came in second place with 2,167 and Alberta Party's Jason Beekman earned 1,355. Liberal candidate Amy Yates was fourth with 195.
Reached late on election night, a victorious Hunter was ecstatic about the news of his win in Taber-Warner, a new riding in the 2019 election created from the remnants of three former ridings — Cardston-Taber-Warner, Little Bow, and Cypress-Medicine Hat.
"I'm feeling fantastic, they announced that we're going to have a majority government for the United Conservative Party. I think that's a great opportunity for Albertans to get back to work and get our economy going again."
Hunter was first elected in 2015 as a Wildrose Party MLA for the former riding of Cardston-Taber-Warner, where he took in 41.8 per cent of the vote.
In the 2019 election for Taber-Warner, Hunter has improved on those numbers, marshaling a landslide 78.4 per cent of the vote (as of 9:30 a.m. Wednesday) for the win.
The closest thing to an incumbent MLA for the new riding, Hunter thanked his supporters and campaign organizers for a hard-fought battle that raised his profile throughout geographical areas that he had not previously represented.
"I want to say a big thank you. It's obviously not my win, it's a win for everybody. We had over a 100 people that came out and helped, the scrutineers, the door-knockers, the sign team, it's just been absolutely amazing the support we've had all across this riding."
"If you think about it, these new areas that we've added to the riding — Coaldale, Bow Island, Foremost area, Forty Mile — lots of people stepped forward and helped out a lot in those areas."
With a majority win under their belt, Hunter is excited about the potential a UCP government brings to the table for Alberta.
"I think what you're going to see is a government that's hyper-focused on getting people back to work. That's going to be our focus — 100 per cent our focus — is making sure that Albertans get back to work."
While the victory four years ago turned Alberta on its head, the New Democratic Party couldn't quite keep the same grip on Albertans this time around.
Taberite and former Taber town councillor, Laura Ross-Giroux, threw her hat into the ring for the new Taber-Warner riding, hoping to turn the usual blue riding into NDP orange.
While her efforts weren't as successful as she would have liked, she says her campaign to become the new MLA was a strong one.
"I want to congratulate Grant on his victory," she said. "While I am not totally happy with it all, this is Alberta's choice. This is democracy. We ran the best campaign we could and we wouldn't have been able to do it without the volunteers."
"I am proud of Rachel Notley and I was proud to fight for her."
Alluding to the many volunteers around the riding who helped with her campaign, she says they were a major force in getting the Ross-Giroux name out to the Taber-Warner constituents.
Ross-Giroux also stated she was particularly happy about how work progressed once the election was called in mid-March.
"I had my right-hand person, Jayce Wilson, who I could not have done it without her. We have been together every day since the writ (dropped) and my volunteers in the small towns (were) wonderful. You can't do something this big without them."
While the NDP win certainly shocked a few Albertans in 2015, after generations under Conservative blue, Albertans have gone back to what they know best in this election.
With the promises being made by the United Conservative Party government and leader Jason Kenney, Ross-Giroux isn't quite sure everything will work out as they say it will, though she hopes the new leadership can do right by Albertans.
"A lot of what Jason Kenney promised he could do, I don't know if he will be able to fulfill those promises, but I hope they bury the hatchet and work together for the best for all of Alberta."
From hitting the campaign trails early on in the race, Ross-Giroux says she will remember this run for quite a while.
And even though it did not bring the results of an NDP government, she is happy she put her name forward as the Taber-Warner NDP candidate.
"Just there is a lot of great people out there and I have enjoyed meeting so many of them. I really enjoyed the support and I have made some great new friends. I think that will be my big take away from it all."
Coaldale resident Jason Beekman came in third in the Taber-Warner riding for the Alberta Party. As an upstart party on the political scene, still in its relative overall infancy, Beekman knew exactly how polarized the landscape was in its anti-NDP sentiment when he went door knocking for four weeks.
With the NDP considered 'left' wing, Danielle Smith, a political pundit for Global News and former leader of the Wildrose Party, referred to the Alberta Party as left wing as well in commentary on Tuesday night, which left Beekman scratching his head.
"I don't get where Danielle gets the idea that we are left, we are branded centrist and that's our focal point and we don't want to see a change in direction. It's more awareness than anything," said Beekman. "Using Taber-Warner as an example, four weeks of knocking on doors, I was explaining where I was from and people were saying 'Who? What? Is that the Separation Party?' No one simply knew who we were. But by the time we got to the polls, there was party and name recognition, so I take that as a victory in itself."
Talking with people on the street across the whole electoral boundary, Beekman got the feeling it wasn't really about whose platform excited people most.
"It was who do I like less? Kenney or Notley? It was such a polarizing election, so I think for the Alberta Party, it was just great to get our name out there," said Beekman. "One of the clear things I heard knocking on the doors which tempered all expectations was a lot of people liked what I had to say about party policy, but they were specifically voting UCP because they had to get the NDP out. They said they would take a look at me in four years, but right now there was one goal in getting the NDP out. The vote (provincially) was less about what people wanted and more about what people didn't want. People voted to avoid what they didn't want. So to be the third party in a very polarizing two-party race as everybody put it, it made it feel very daunting."
Beekman has wanted to run in a provincial election for quite some time, but could never quite find a party that completely encapsulated his ideals, where there has never been one party he has supported his entire life without question with his vote.
"None of the parties ideologically, left or right met my needs. There were the social controversies that came with the fiscal responsibility (UCP)," said Beekman. "It's 2019, I could never understand why we couldn't be economically strong and socially kind. That's something that that I couldn't wrap my mind around. And on the flip side, why can you be socially kind like the NDP, yet be so fiscally irresponsible? I didn't understand why there had to be this trade off."
This is Beekman's first run at politics at any level, and found the process very rewarding, where he plans to run in the next provincial election in 2023 under the Alberta Party banner again if the party sticks to its platform ideals. But for now, Beekman wanted to call Grant Hunter to congratulate him on the UCP majority victory, and offer any help he could give, as polls were fully counted late Tuesday night.
"The party will have to align with my core values, which is why I never ran up until now," said Beekman. "The election was a heck of an experience, I learned a lot about people and there was some passion out there, both negative passion and positive passion. I hope everyone's passion turns into accountability and we hold this (UCP) government accountable as it should be with any party that is in power. It's time to get to work as a province."
As of 9:30 a.m. on Wednesday, the United Conservative Party held 63 seats while the NDP had 24 to serve as the Opposition. The Alberta Party and the Alberta Liberal Party have been locked out of the seat totals, leaving a two-party legislature for the next term.