Town spring-ing into action with barbecue competition
Posted on April 4, 2019 by Taber Times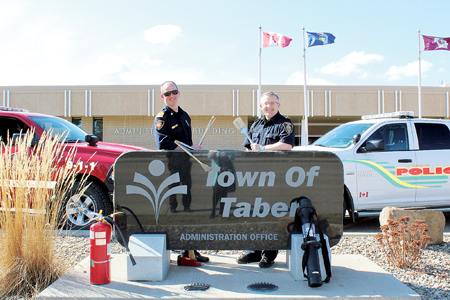 TIMES FILE PHOTO
By Greg Price
Taber Times
gprice@tabertimes.com
Everyone loves a good barbecue and the Town of Taber will be celebrating Spring with its first-ever Backyard BBQ Competition.
Stakes (Steaks?) will be high as individuals/teams from emergency services and the public alike vie for the Best Overall Trophy of who is the grill master of their chosen meat.
The Town of Taber, Taber Police Service and Taber Fire Department have joined forces to put on the event by forming an organizing committee. The idea of the competition began marinating approximately two years ago when Chef B was in town.
"Initial discussions were to have a barbecue competition, sort of like Rib Fest you see in places like Lethbridge. But then Chef B left town. So Cory (Armfelt, Town CAO) and I got talking about how in the town, we don't really have a festival in town to celebrate in the spring. We have Cornfest which is great, but nothing really that celebrates our other producers," said Graham Abela, chief of the Taber Police Service. "We don't really have a spring festival, so we thought this was a great way to bring people together in town and build community."
Watch a movie about policeman and firemen and you will likely see a scene where the squad is enjoying camaraderie in the backyard over a barbecue.
That same camaraderie wanted to be captured with the contest that gets emergency services and the public involved.
"We are always working together and networking, that friendship from work usually moves forward outside as a whole as a family," said Steve Munshaw, chief of the Taber Fire Department. "Us barbecuing and breaking bread together is so much fun. If we can connect that and have a friendly competition with emergency services and then try and bring extra family in from the town and the public is so much more fun. If you can connect that with the meat producers in the area and try and promote them some way, that's how this all comes together in helping celebrate spring."
Friendly is a relative term as smack talk has already begun between the Taber Fire Department and the Taber Police Service, even though the competition is not scheduled until late May.
"It's for bragging rights and when the police win…," said Abela, trailing off with a smirk. "We don't even recognize each other in the meat section of the grocery store anymore."
There will be a maximum of 30 slots available for the Backyard BBQ Competition as either individuals or teams at the event which goes May 25 at Confederation Park. Organizers are encouraging businesses to register for the event to help build team camaraderie that has already seen excellent sponsorship rolling in.
"We really want to make sure you have something to present for the judging event, but you also want to showcase what you can make with your smoker as you present to people who are walking around the grounds. Sort of showing to your fellow competitors that this is what I can make," said Munshaw.
The first ever Backyard BBQ Competition in Taber will be aided by a template that Dawn Phillips, director of recreation for the town, has been able to observe with her husband's extensive experience in competing in Kansas City competitions, the home of good BBQ.
"We wanted to keep it very casual and fun. There are a lot of sanctioned events out there and we discussed that, but we decided we wanted something more fun," said Phillips. "We saw how it was done there (Kansas City) and sort of adapted it and made it more casual."
The First Annual Backyard BBQ Competition goes from 8 a.m.-5 p.m. on May 25 at Confederation Park. At 5 p.m., a pulled pork dinner will be served for $5 each, with all the proceeds donated to the Taber STARS Charity Auction.
The licensed event will be serving alcohol from 4-10 p.m. which will also feature kid's activities and live music.
There will be prizes given out for first to third place in both Emergency Services and General Public categories, along with one Best Overall Trophy.
"It's chef's choice, as long as there is meat in it, they can make anything they want. It can be beef on a bun handed in, it could be a cake with bacon on it," said Phillips with a chuckle. "Every type of meat is judged against each other."
To register for the First Annual Backyard BBQ Competition, call 403-223-5544 (Ext. 3). There is a $100 entry fee. All teams must bring their own barbecue (wood, pellet, charcoal or electric only — propane barbecues not permitted). More details and rules can be found at http://www.taber.ca/Home/Components/News/News/82/16.