M.D. continues membership into Canadian Badlands
Posted on March 27, 2019 by Taber Times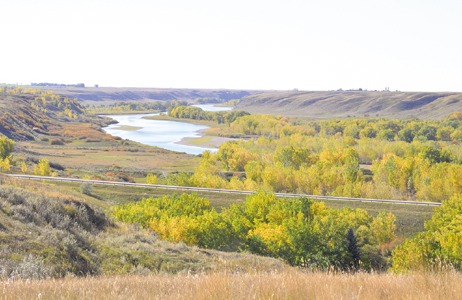 By Cole Parkinson
Taber Times
cparkinson@tabertimes.com
After Municipal District of Taber council delayed paying their 2019 membership for Canadian Badlands due to questions of the benefit they bring to the municipality, they were able to get some answers to their questions.
A delegation from Canadian Badlands was in council chambers for the M.D. regular meeting on Mar. 12 to highlight some of their new initiatives and answer any questions councillors may have.
"We're in our thirteenth year and we have done hundreds of projects throughout the region," explained Lonna Hoggan, executive director. "Our marketing campaign is one of the big things we do every year and the whole region is touched by our social media and bloggers. It gets bigger and better every year so 2019 is going to be the best year yet."
With the biggest question from council being around promoting some of the events in the area, namely Cornfest and the Pheasant Festival, they asked why they had not been put on the Canadian Badlands website.
"Our website was integrated with Travel Alberta's website in January of 2018," explained Hoggan, who also highlighted the Alberta Tourism and Information System used by their organization. "It is owned by Travel Alberta and that is how you populate Canadian Badlands' website with your page and information."
With that question answered, Hoggan also touched on some of the things the Canadian Badlands had been working on for 2019.
Perhaps the biggest update came from their financial sustainability program.
"One of the big things happening in 2019 is we are working on our financial sustainability plan. We have to do that because the government is cutting funding like they are for most things. Most municipalities have had cuts and tourism has also had cuts. The large chunk we have been getting for years has started to decrease and they are basically weening us off. Because we want to keep doing what we've been doing and building up this area, we figured out a sustainability program. That is we are setting up a destination and marketing fund. We have some very good help and we have a board that is active and engaged," continued Hoggan.
With a shortfall in money coming in, higher fees had been discussed with the board.
"There was some discussion about a year ago about raising our membership fees. This board does not want to do that, we want to put more back into our communities instead of taking more out," explained Hoggan.
Even with a few hurdles, Canadian Badlands is continuing to hammer out a few initiatives that give back to the community and promote tourism throughout the province.
Their focus has been on collecting small fees from tourists at hotels, a common practice throughout the world but Alberta has fallen behind in that department.
"The destination and marketing funds are collecting tour fees from tourists at hotels. Now, we can eventually go to campgrounds, bed and breakfasts and various things like that but 87 per cent of the world is collecting tourism fees at hotels. Alberta is a little behind, we are only at around 75 per cent right now. Canalta Hotels, Heritage Inns, there is Lethbridge Lodging Association, Medicine Hat Accommodation Association and a few of those. We are coming in and are going to get hotels on board that are not in an association right now or collecting a destination and marketing fee," said Hoggan. "We want to collect those tourism dollars and put them back into communities."
With the destination and marketing funds, they have it set at three per cent which is split with one per cent going to the Canadian Badlands Umbrella Campaign and the other two per cent going straight back to the community.
After the delegation, a motion was made to pay the 2019 membership fees of $3,945.15, based on a $0.55 per capita cost with a municipal population of 7,173 which was passed unanimously.
Council also carried a motion to pursue promotion of events on the Canadian Badlands website.