Easter egg hunt to benefit various organizations
Posted on March 27, 2019 by Taber Times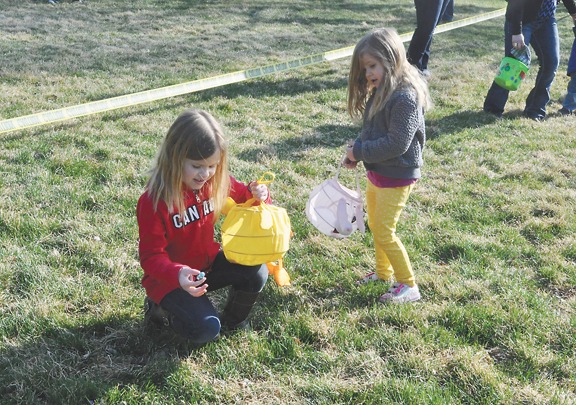 TIMES FILE PHOTO
By Cole Parkinson
Taber Times
cparkinson@tabertimes.com
Come this Easter, someone may be egging your house.
While not egging a house in the traditional sense, a group has organized a new initiative called Egg My House where people can order candy and toy filled eggs to be hidden in your yard for kids to find Easter morning.
"Egg My House is a project that combines fun for kids and raising awareness for local non-profit organizations. What we as a team do is make a bunch of candy (or) chocolate filled plastic eggs, as well as golden eggs with kids names on them," explained Kaylee Swarbrick. "The night before Easter, we come to the addresses and hide the eggs, place them on the lawn for kids to wake up and collect. The idea came from a buy and sell site on Facebook in Idaho, where they were doing something similar for a cheerleading fundraiser. I thought about it and thought it would be a great idea to raise awareness for local charities (and) non-profit organizations, but then realized I'm 24, lived here my whole life and I only can think of three off the top of my head. With the help of others who are part of the project (Penny Swarbrick, Angela Renner, Nicole Stugari, Cole Swarbrick, and Lori Tychsen) two were picked."
The group will head out on April 20 between 8 p.m. and midnight to deliver orders to each house with prices set at $20 for 30 eggs, $35 for 50 eggs and $5 for each golden egg.
In terms of local non-profit organizations, the team picked out a few they believed needed help.
"The Taber Lost Paws Society was picked because they are currently looking for donations for a larger and more suitable animal shelter. All of us on the project either are or once were owners of animals close enough to call family. I did not know the local animal shelter was going through this process so I thought if I don't know, I bet a lot of others don't either," added Swarbrick.
The local women's shelter will also benefit.
"The Taber Safe Haven (Women's Shelter), I don't think that a lot of people in the community know how important this place is to some, especially children. We are also choosing another local charity to bring into this, but the details are still being sorted on that. However, what we can say is it will be specifically for children."
On top of helping out three local charities, they will also be donating an Easter dinner to a local family.
"One goal we have is to donate an Easter dinner to a family in need. There's not a lot of info on this yet, but we want everyone to know that all of the orders and donations will be going towards the two non-profit organizations as well as a family in need. We are still looking for donations and have lots of space left for orders," said Swarbrick.
While this is the first Egg My House event, the group hopes to continue to make it a yearly event. With public reaction fairly high for the new event, they hope to see it continue to grow.
"We plan on making this an annual project. What we are looking at in the future, is to have one or two specific organizations each year help with the project and take over the donations and orders. This way each year a different organization gets to show the community what they do and who they are. I don't think enough people understand how important non-profit organizations are and I don't think people know all of the ones we do have locally. Plus we are already finding this such a fun project and already looking forward to next year," said Swarbrick, who also stated people have been giving great feedback for the event. "The response is actually really interesting. There are lots of people interested and in the process of placing orders, but the reaction to the project, in general, is so great. People are really grateful we are doing this, there is a lot of talk generating and I haven't heard any negative feedback."
The initiative is primarily based around the Taber area, but hopes are to expand if the interest reaches outlying areas. Even with it being a region-specific project, Swarbrick says people outside of the Taber area can get in touch to buy an Easter basket in preparation for the big day.
"For now, the project is in the town of Taber as well as in the village of Barnwell. In the future, we definitely will be looking at farms, or possibly building to the Coaldale area. For now, because we need to consider our safety of being outside in the dark, we are keeping it close to home. However, if people outside of town are interested, what we can do is build a basket for you and you can pick up before Easter."
To make an order to Egg My House, you can contact Kaylee at eggmyhousetaber@gmail.com or by phone at 587-220-2239 with payments due no later than March 31.
You can also keep up to date with the project at their Facebook page at Egg My House Taber.
"Thank you to the community for all your feedback and support," said Swarbrick. "We hope to do this for years to come."