DeVlieger fighting for right to equitable CF drug access
Posted on March 27, 2019 by Taber Times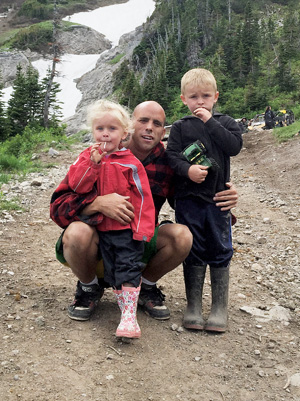 LIFE LINE: Marten DeVlieger is hoping government will change its ways towards funding life-prolonging medicine for those afflicted with Cystic Fibrosis. PHOTO SUBMITTED BY MARTEN DEVLIEGER
Taber Times
gprice@tabertimes.com
There will be many issues facing the province as the dawn of a new provincial government shines its way in April.
One which one local hopes gets some light put on it for whatever party gets into power is equity of access of drug treatment for those with rare diseases.
Marten DeVlieger is 37 years old and is afflicted with Cystic Fibrosis (CF), one of approximately 4,300 people with the disease who reside in Canada.
There are over 2,000 different mutations of the Cystic Fibrosis gene, making it very hard for one drug to be the be all in fighting off its affects. There are currently three drugs on the market to fight CF in Kalydeco, Orkambi, and Symdeko.
DeVlieger has been diagnosed with Double Delta F508 Cystic Fibrosis.
"Different people with CF have different mutations. Depending on the mutation they have, the disease plays out differently in some of these people. Kalydeco was the first drug to come to market, and Health Canada had approved it for up to 11 different mutations. Currently the provincial government and federal with some of their plans, just provide coverage for one mutation which is the G511D," said Kim Steele, director of government and community relations at Cystic Fibrosis Canada. "We are concerned about that, because the other mutations in clinical trials, the medicine worked just as well. There were similar results, except for one mutation, but for all intents and purposes, there are nine mutations that the government is not covering this medicine for. We are asking for equity in coverage. If they are going to cover one mutation, they should cover the others. It's the same drug with the same results and honestly, it's a handful of people in the country being a rare disease. It's a very, very small subset of our population. We feel people are being discriminated against based on their genetic makeup. If you are denying people medicine, you better know it's not going to work for them."
Clinical tests have shown the drug Orkambi has been effective in treating Marten's strain, but unfortunately, while Health Canada has approved the drug, gaining access to it provincially for coverage has been unsuccessful. Kalydeco has been covered by the province, but does not treat DeVlieger's type of CF. Orkambi treats the most common mutations of CF and has been effective in clinical trials treating Marten's strain.
"Kalydeco in all the tests performed better than Orkambi did, but it performed better on a different group of people. Orkambi doesn't perform as well, but there are people within the broader population that it works extremely well for, but they don't know that really until they take the drug or you're working with sick kids and working with the medicine tools to figure out which medicines work best in which people," said Steele. "That program is called the Cystic Fibrosis Individualized Therapy Program. That program helps predict how these medicines will work in individuals. We are working towards governments incorporating such tests in their decisions in drug making. If the drug works, give it to the people, if it doesn't work, find another one."
Symdeko was just approved by Health Canada last year and also treats the F508 strain, and has performed better than Orkambi according to Steele. But with Kalydeco and Orkambi taking so long to get the most basic of coverages, the manufacturer is hesitant to put it through the public review system.
"Some people who have private insurance may be able to get Symdeko, but people who have public insurance won't be able to get it," said Steele.
The Government of Alberta has approved coverage of kids ages 6-17 for Orkambi, but once you reach adult age, the coverage ceases. Estimations are the drug costs $250,000 annually for treatment per patient.
"Around the world it has been a battle with every country. The government weighs out the small population of people with Cystic Fibrosis versus the cost and it's no worth the money. CF is a small population of sick people that don't cry out and fight because they are sick. They are easily forgotten about being a rare genetic disease," said DeVlieger. "This is a life-changing medication and it is very hard for me to sit back and watch this unfairness happen. We should all be treated equally, whether you have a disease that attacks a small minority or a big majority."
As DeVlieger approaches middle age, he admits his Cystic Fibrosis is getting harder and harder to deal with as he gets older. The Taberite has revealed he is currently at 55 per cent lung capacity in which he added at around 30 per cent your body starts to shut down. Having a wife and two children in nine-year-old Noah and seven-year-old Kabrina, Marten hopes to see his kids at least graduate and maybe even get married.
"A drug like Orkambi would be a life changer. It would give me the opportunity to live longer and have a better quality of life. Knowing there is a drug out there that can help, and not having access to it saddens even my children. I don't have much time left, and if that drug can prolong that time, I can continue to be a contributing member of society," said DeVlieger.
"My wife prays every day that we will get access to this drug as life is getting difficult. This past September, I lost my sister to Cystic Fibrosis. She was only 33 and left two beautiful children and her husband. This is a common theme in Cystic Fibrosis, but Orkambi can stop this."
DeVlieger talks regularly with people afflicted with Cystic Fibrosis on message boards, and the biggest common frustration he hears is why is one group of people approved for access to the drug (children), while adults are not. Approximately 61 per cent of people with CF currently in Canada are over the age of 18.
"Kids from 6 to 17 can get coverage if they get a prescription from their doctor. All the sudden, you are one day older and you get your life-saving drug taken away from you," said DeVlieger. "Universal health care doesn't stand for that. We are all humans with our hearts ticking the same. Why is one half getting it and the other half isn't? The moral issue is why are we picking who gets it and who doesn't in the exact same province? We are pleading for the government to re-look at that."
DeVlieger goes as far as to say the decision to deny access to Orkambi is unconstitutional, citing the Health Canada Act with 'it is hereby declared that the primary objective of Canadian health care policy is to protect, promote and restore the physical and mental well-being of residents of Canada and to facilitate reasonable access to health services without financial or other barriers.
Also in the Canada Health Act…"in order to satisfy the criterion respecting universality, the health care insurance plan of a province must entitle one hundred per cent of the insured persons of the province to the insured health services provided for by the plan on uniform terms and conditions." For accessibility…"in order to satisfy the criterion respecting accessibility, the health insurance plan of a province must provide for insured health services on uniform terms and conditions and on a basis that does not impede or preclude, either directly or indirectly, whether by charges made to insured persons or otherwise, reasonable access to those services by insured persons."
There has been some glimmers of hope on the federal level with the budget that was passed earlier this month that saw a commitment to a Rare Disease Strategy.
"These drugs that cost $250,000-$300,000 a year, we are not alone. There are a lot of other diseases that are faces the same challenges. This new strategy, we are being consulted with, will ultimately help manage the price of these drugs," said Steele. "We need to do this in Canada, or else we won't get these drugs. Our population is too small, so it makes the market too small. We as a nation need to pull together and figure out how to pay for these things."
Once the dust settles in the upcoming provincial election, DeVlieger is encouraging people to provincial ministers in the pleas for drug access to treat rare diseases, including CF.
"They like to pass it off and say it's federal. But it's not. These drugs are approved by Health Canada, so it is up to each individual province to fund the drug so it is approved," said DeVlieger.
For the longest time, transplants were the only way to prolong life for CF patients. Now, CF patients are living well into their 50s where the median age for survival is 52 according to Steele. When Cystic Fibrosis Canada was first founded in 1967, the survival rate was four according to Steele.
"We have made some very good investments in research and clinics that have really helped to advance CF care. These are the drugs that are going to take it to the next level and these are the drugs that can potentially take control of this disease, and hopefully one day, a cure," said Steele. "We are not just treating symptoms anymore. We are actually treating the disease with these drugs. They slow the progression in some people. There are about 40 new types of therapies in the drug development tech line and they are getting better and better."