Land targeted for emergency services building
Posted on March 13, 2019 by Taber Times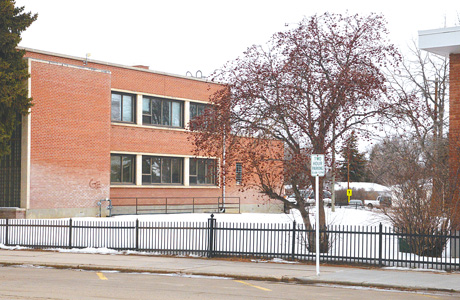 TIMES FILE PHOTO
By Trevor Busch
Taber Times
tbusch@tabertimes.com
While past efforts at relocating the town's fire hall have been stymied by public opposition, town council has taken another stab at the issue targeting vacant property east of the post office on 49th Avenue.
Following in camera discussion at council's Feb. 25 meeting, a motion put forward by Coun. Joe Strojwas and passed by council directed administration to purchase Lots 1-6, Block 1, Plan 5638L (the post office and adjacent vacant property to the east on 49th Avenue), subject to a satisfactory tender as a condition of the purchase contract, for an emergency services building to be awarded by July 1, 2019. According to the minutes of the Feb. 25 meeting, council's vote was not unanimous.
The motion, which encompasses six lots, includes the current post office building, but according to administration the town has no intention of demolishing that structure but intends to retain it as an income property.
Following media inquiries at town council's March 11 meeting, CAO Cory Armfelt confirmed that town council has identified a new site conditional on a satisfactory tender.
"There was a condition attached to that motion, but yes, that has identified a site, and there was a condition that it was subject to a suitable tender, I believe," said Armfelt. "A satisfactory tender. The site can be identified by the Lot, Block, Plan, and there's an information session coming up on March 21."
Questioned further, Mayor Andrew Prokop acceded to a request to identify the specific location of the targeted property in the community.
"The six lots, Lots 1-6, encompass the post office and the lot to the east of the post office, there's an empty lot there," said Armfelt. "So from the Telus Building west to the street."
Facing a public backlash over an Aug. 20, 2018 decision to relocate the fire hall to a site near 50th Street and 52nd Avenue, on Oct. 9 council had reversed this decision, taking the municipality back to square one. At the same meeting, council also rejected a low tender bid for the fire hall that had come in at $3.8 million, significantly exceeding the town's previous estimate that the project could be completed for $2.5 million.
In the 2019 capital budget, a new fire hall (land and construction) has been allocated $3.5 million. When asked about the purchase price of the property in question, Prokop indicated the sale has not been finalized.
"I guess at this stage everything is pending. There's conditions attached to that."
While detailed contractual information is usually not released publicly, Armfelt indicated the financial implications of town council's decision will be made public at the town's upcoming Emergency Services Building Open House scheduled for 7 p.m. at the Heritage Inn on March 21.
"The contract information is usually not shared. There certainly will be a discussion at that information session about what the purchase value is going to be, and how council may choose to fund that purchase. So that will come forward, but the actual terms of the contract are generally not shared. The transparency of the budget implication of that will certainly come forward and be discussed on March 21."