Myers/D.A. Ferguson modernization seeing lengthy delays
Posted on March 6, 2019 by Taber Times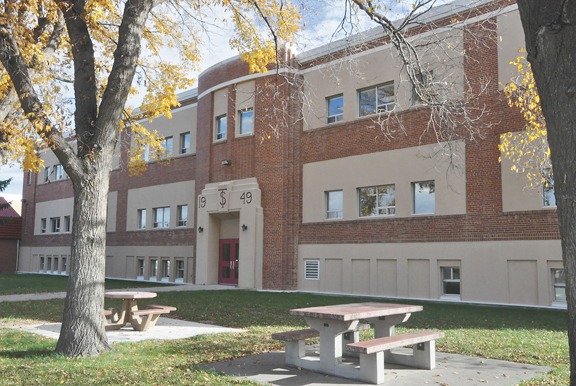 TIMES FILE PHOTO
By Cole Parkinson
Taber Times
cparkinson@tabertimes.com
As winter continues its cold streak, work at W.R. Myers High School and D.A. Ferguson Middle School is starting to heat up.
While the project has seen a variety of delays related to work orders, the Horizon School board reported there has been some significant progress made over the past few weeks.
"Jake (Heide, facilities manager) reported and had pictures to show us of the progress that is happening over there. It was good to see that and he made a comment that there has been more progress in the past month," said vice-chair Bruce Francis at the board's regular meeting on Feb. 27.
While an estimation was given as to when D.A. Ferguson can return to some of their facilities, there is still some hesitation as to if it will truly happen.
"Clark Builders, which are (the contractor) of that project, they have declared they will be able to move in on March 15. What moving in means is that D.A. Ferguson can move into the 1960 portion," said Francis. "We are thinking it is going to happen closer to the Easter week which is the 19th of April. So there is still a lot of work."
 
In the next few weeks though, more progress is expected to be made.
"School board responsibilities, as well as our maintenance crew, will start what they have to do in mid-March, which will include Smart Boards, projectors, technology, furniture, material. Last month, we talked about how they were looking for an opportunity to connect a new water main into the middle of the street and that is finished. It was done during Reading Week," continued Francis.
After previous inquiries at the last meeting around a few projects that weren't included in the original plan, the board was updated with good news.
"They got the funding through Alberta Infrastructure to paint the entire (D.A. Ferguson gym). As well, we didn't have it as part of the capital project, the flooring in the Myers admin and they got that, too," said Francis.
Other projects coming soon include some solar panels that will be located on the W.R. Myers roof.
"MPE (Engineering) has been engaged in designing a solar system, solar panels, and we are still waiting on the preliminary design for that. That will be on the south side of the Myers roof," added Francis.
Even with the progress made, the completion date is still quite a ways off. While the project was originally estimated to wrap up at the end of summer 2019, it now appears construction will end in late 2019.
"Clark Builders are still saying they will be done the project by the end of December 2019. We are hoping that is going to work, originally it was supposed to be the end of August," stated Francis.
As part of the facilities meeting held prior to the regular board meeting, they also discussed transferring funds to their capital reserves.
"We decided that we would transfer some money from our reserves into the Capital Reserve Fund. I would like to move that we transfer $2,235,000 from our reserves into our Capital Reserve Fund," explained Francis.
"There were a number of items that the board approved, items such as the windows at D.A. Ferguson. It would be my assumption that rather than pulling those out of operating reserves, it would be the board's desire that those come out of capital reserves," added Wilco Tymensen, superintendent of schools.
The motion was carried unanimously.