Horizon thankful for emergency services in bomb scare
Posted on March 6, 2019 by Taber Times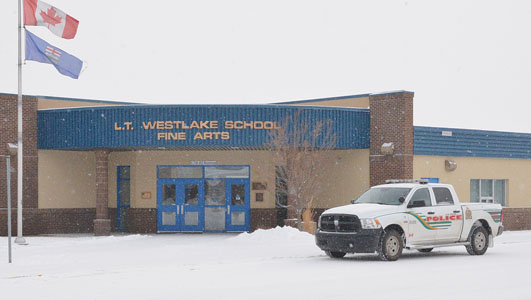 LOCKDOWN: Taber Police Service officers were kept scrambling responding to multiple bomb threats in early February, including L.T. Westlake Fine Arts Elementary School. TIMES PHOTO BY TREVOR BUSCH
By Cole Parkinson
Taber Times
cparkinson@tabertimes.com
With Horizon School Division schools one of the main focuses in last month's bomb threats made in the town of Taber, the board and administration are thankful for emergency service's quick response.
During the Horizon School Division's board of trustees regular meeting on Feb. 27, they highlighted the work done during the bomb threats in early February.
"Most people were aware that we did have that incident within a couple of our schools in regard to an individual in the U.S. making a bomb threat. Of course, we can't appreciate the police enough in terms of their speediness," said Wilco Tymensen, superintendent of schools for Horizon.
Following the bomb threats made over the span of three days, a 36-year-old male was arrested in Elkville, Illinois and was charged with 11 counts of felony disorderly conduct.
Schools affected within Horizon were Central School, W.R. Myers High School, D.A. Ferguson Middle School and L.T. Westlake Fine Arts Elementary School.
L.T. Westlake and the D.A. Ferguson/W.R. Myers school complex, via an anonymous voice message, received bomb threats early in the morning on Feb. 8.
The Taber Police Service responded to the incident as per their protocols and everyone in the D.A. Ferguson and W.R. Myers complex were evacuated due to the size of the facilities and construction at the site.
Meanwhile, L.T. Westlake was not evacuated as police were able to determine there was no threat.
The police were also able to quickly determine there was no threat at Ferguson/Myers schools and students returned to regular classes by mid-morning.
Central School had received the threat after school hours and students had already been dismissed at that point.
"Obviously, the number one priority for our schools at that period was the safety of students and we had a large number of families and parents communicating how happy they were that their children were the top priority and kids were kept safe," continued Tymensen.
Heading into the weekend no arrest had been made so Horizon administration was fully prepared for there to be further threats made if no person was detained.
"Lots of planning was going on behind the scenes over the weekend because we were fully expecting that if they didn't capture that person, more threats were probably coming Monday morning. We were certainly pleased that late Saturday the police had apprehended the individual," added Tymensen. "My understanding is that the individual is now potentially not going to trial and they are questioning whether or not he is sane or fit to stand trial. There are assessments going on with that individual right now."