Barnwell School earns national recognition
Posted on March 6, 2019 by Taber Times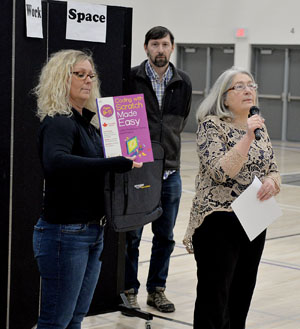 SWAG: Linda Palmer Nielsen explains to people who attended the Purple Pride assembly last month what kind of prizes the school received from its Hour of Code contest that was open across the country. TIMES PHOTO BY GREG PRICE
By Greg Price
Taber Times
gprice@tabertimes.com
Pressing forward with the education for tomorrow, Barnwell School has participated in the Hour of Code Event since its inception in 2014.
That dedication was celebrated at the school's Purple Pride Assembly late last month as the student body was witness to the provincial prize they won.
Canada Learning Code is a non-profit organization, dedicated to making sure all Canadians have access to the knowledge they need to prosper in a digital world.
CLC encourages schools, organizations and individuals to take part in Hour of Code Week. Held yearly during the first week of December, The Hour of Code is a worldwide effort to celebrate computer science, starting with one-hour block coding activities and can expand to all sorts of community efforts such as Coding Clubs and Creative Family Learning.
Barnwell Hour of Code event organizer Linda Palmer Nielsen decided to enter the second annual contest hosted by CLC. She was hopeful the Hour of Code Dance Party-inspired activity she created specifically for the students in Grades 1-3 would meet the criteria for the prize parameters.
Nielsen wanted the coding activity to engage the younger learners as well as the older students. It posed a challenge for the kids in the primary grades when time is limited to an hour, so Nielsen designed a more kid friendly version of the lesson.
"She's really engulfed herself into it being her initiative and the kids have really enjoyed it. They love doing the robotics," said Sheldon Hoyt, principal at Barnwell School. "It's going to be part of the provincial curriculum anyway down the road, so getting a jump on that and being ahead of it is a good thing. We've made inroads, the kids love it and it is something moving forward for every school, so why not move in front."
Only two entries, elementary and high school, per province or territory were selected for the prize. While prizes included technology and literature to help the school with coding, each of the 50 students involved in the activity were give an Amazon-themed backpack.
Barnwell School offers option coding classes to junior high students during the year. There is a lunch hour Coding Club for Grades 2-5. Nielsen has also partnered with Taber Safe Haven and Taber Adult Learning to offer family friendly creative coding workshops.
The feather in the cap of the coding provincial award for the school has shown how diversified the school has become.
"We are trying to make the school very well-rounded. We've built our fine arts in the middle of the school because we want to build around that. We are really known for our athletics, but we want to be known for more than that," said Hoyt. "We do all types of things. We do rock band, we do drums, choir, we do drama. And now we are doing an emphasis on coding. There is a lot being offered at Barnwell School."