Local teacher/author shifts gears with dystopian offering
Posted on February 27, 2019 by Taber Times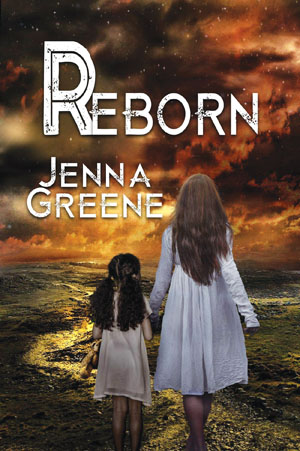 TIMES GRAPHIC SUBMITTED
By Cole Parkinson
Taber Times
cparkinson@tabertimes.com
A local author has released a new book that kicks off a new dystopian young adult fantasy series.
D.A. Ferguson Middle School teacher and accomplished author, Jenna Greene, has released her new book titled Reborn earlier this year.
"It is a young adult fantasy novel in the sub-genre dystopian. The girl, Lexil, is actually named after a student I taught who went to D.A. Ferguson. Lexil has seven marks on her skin which means she is someone who has been reborn, she has had past lives. In her society, those who have lived before, people are like 'you have had a chance at life, so you should be in service to us'. So the story starts and she is sold into slavery at the age of 16. She is sold along with a five-year-old named Ceera and she becomes very protective of this little girl," she explained. "Through the novel, you start to figure out and wonder is it a myth marks mean you are reborn? Is it being used to punish people or is it true?"
Coming off her Imagine series, Greene has shifted focus to a genre more in her wheelhouse.
While inspiration for ideas can come from anywhere, Greene's comes from a more modern media form.
"(The inspiration) started with a meme. One of my close friends Nancy is a ginger, and you see all those memes about gingers. I'm not a redhead, but what would it be like to be teased all the time? But I do have a lot of freckles so I kind of went with that. Probably at the time, I did not realize this but as I was writing this book my mom was very sick with cancer. About half of it was written before she passed and I finished it shortly after she had passed away. At the time I just wrote the story but looking back, I bet you that it is all connected and it influenced it in ways I had not really thought," she said. "A couple months after my mom had passed, we had adopted a little girl and it was kind of quick and surprising so we see a lot of parallels between her and my mom." 
Greene added writing the book was a fairly quick process and she estimates it took around eight to nine months to complete.
After finishing the previous three books in the Imagine series, the change to a dystopian fantasy setting was a welcome change for the author.
Even with sequels planned for Reborn, Greene states there is room for future books in both of her series.
"I have three books in (Imagine series), and there will eventually be a fourth, but it is high-fantasy which I actually don't read a lot of or write a lot of. I just had an idea and I went with it. Sometimes I struggle because I don't have a lot of experience in that genre to come up with details and be loyal to those high fantasy fans. This book is much more of my comfort zone. I have kept things much simpler in terms of the world. I don't have the history down to the last 500 centuries, I just know how things work. I haven't quite explained to my readers quite yet, there have been a few hints, but I know why it works that way," she said. "I try not to bounce back and forth. I have another idea for another, like a middle-grade trilogy. I'm like 'I just got to stop and focus on one at a time.' Luckily, with editing, I can finish the sequel to Reborn and then be editing it and writing another one which won't get my brain too mixed up."
The comfort found in this realm of genre is evident in the fact Greene has already started the second book in the Reborn series.
While the release date is still further down the road, she reports good progress made so far.
"I have about a third or a quarter of the sequel done and I am working on it pretty hard. The first draft should be done by maybe summer and then editing won't take as long. As well, I already have a publisher so that is what really took a long time. I had a publisher for my other books but I wanted to branch out with a new publisher so now I am an in-house author with them. In the next year or two the sequel will come out and then I have ideas for the third but I haven't written any of that yet." 
In terms of balancing teaching, writing and parenting, Greene says there are some challenges when organizing her schedule.
"Teaching isn't too bad except for the marking. What I am finding is motherhood, that is the one that is really messing with the schedule. I have to write in really short bursts which works for me because I can't sit and write for five or six hours," she said.
Nonetheless, with the book finally out for the public to read, she is happy with how everything turned out.
"I'm really, really proud of it and I think it is one of the best things I've ever written. Possibly because I put my heart into it. The writing went so smoothly, it went really quick and the story just came," continued Greene.
Reborn is available at local bookstores and online retailers.