Two vehicle collision near Wrentham claims life
Posted on February 20, 2019 by Taber Times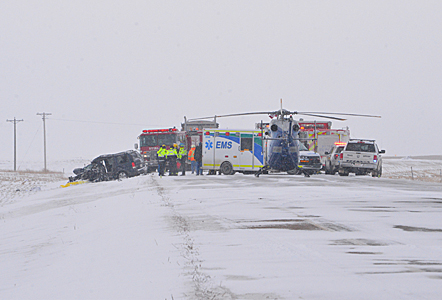 TRAGEDY: A head-on collision on Highway 36 has claimed the life of a 39-year-old man. TIMES PHOTO BY TREVOR BUSCH
Taber RCMP responded to a two-vehicle collision on Feb. 20 at approximately 9:25 a.m. on Highway 36 north of the Highway 61 intersection.
Preliminary investigation has revealed that a south bound truck collided head on with a north bound van. Road conditions at the time of the collision were snow covered and icy with blowing snow in the area.
Tragically, the 39-year-old male driver of the van was declared deceased at the scene. A 27-year-old female passenger and one child with serious but non-life threatening injuries were transported by ambulance to hospital. An additional child with serious life threatening injuries was transported via STARS to Calgary.
The 60-year-old female driver of driver of the truck was transported via HALO to hospital with serious injuries.
Traffic has resumed to normal in the area.
The name of the deceased will not be released.