Special Olympics taking officer to Abu Dhabi
Posted on February 20, 2019 by Taber Times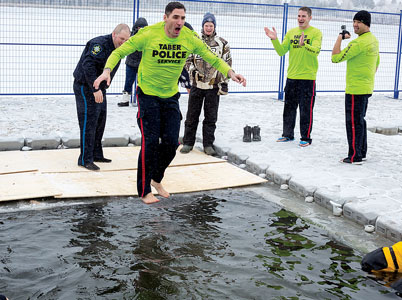 SPECIAL FEELING: Whether it is diving into icy-cold waters, or biking numerous kilometres across the province, Senior Constable Mathieu Champagne wears his heart on his sleeve when it comes to the cause of the Special Olympics. TIMES PHOTOS SUBMITTED BY MATHIEU CHAMPAGNE
By Greg Price
Taber Times
gprice@tabertimes.com
Senior Constable Mathieu Champagne of the Taber Police Service is in some rare company when it comes to his passion for the Special Olympics.
Champagne has been selected as one of two police officers from Alberta, and one of seven from all of Canada who will be traveling to Abu Dhabi to run the Special Olympics Law Enforcement Torch Run (LETR) final leg in March.
A total of 90 police officers from around the world will be running the torch around the seven Emirates, between March 4-14. Officers will be teamed up with law enforcement and Special Olympics athletes from the United Arab Emirates in a mission to run the torch through many different communities to spread the word about the Special Olympics and the LETR movement. The Final Leg Torch Run will culminate to the 100 Final Leg participants running the torch into the opening ceremonies of the Special Olympics World Games to start the torch to begin the Games.
"There will be tens of thousands of athletes (190 countries participating) and millions of spectators with it being broadcast around the world. It will be running that torch around all seven Emirates, to bring awareness of Special Olympics, by law enforcement officers around the country. It's about inclusion, it's about sport," said Champagne.
Last March, Champagne filled out an application to participate in the Final Leg, writing a cover letter in the process along with all his past involvement for LETR. Champagne was originally selected as an alternate, but the chairperson of the Calgary region who was originally selected, could not make the trip.
"I got a hold of Howie (Kehler) and Graham (Abela), and discussed how we could make it work. I had to save up a lot of leave and the Taber Police Service was generous enough to donate some training time for me to go and do this," said Champagne. "Not only will I be doing it for myself, but I'll be representing the Taber Police Service as an ambassador."
According to Champagne, the United Arab Emirates is a country that is very westernized, yet traditional at the same time. There are rules the 90 law enforcement representatives from across the world will have to follow which includes no Facetime or Skype while in the United Arab Emirates.
"There are some of the Emirates that are still very traditional and we have certain rules that we have to follow. There is not reaching out to a female to shake their hand, there is how to accept food and how to speak to individuals," said Champagne. "There is one Emirate that is very conservative, where we might have to cover up. The women who are coming who are our law enforcement, they actually have to cover themselves with long sleeves, pants and we are running in 40-degree weather. So as a team, we have chosen to all cover up. There have been logistics teams that have been there for a year…this event has required tons of planning bringing in this many police officers from across the world."
While there is the symbolism of the Torch Run that will span across the United Arab Emirates, what Champagne is most proud of in participating in the event is the ground-level awareness the campaign represents.
"Each team has one Special Olympics athlete assigned. So for 15 days, our team will be together where we are also assigned one police officer from Abu Dhabi. We will have multiple runs a day, doing interviews and public speaking events at all these different ends," said Champagne. "There is a special ceremony where we will talk about why we are involved in Special Olympics. We will then be bringing it all into Zayed Sports Stadium (45,000 seats). It will be quite the opportunity for us not only to put the Taber Police Service on the map, but the Law Enforcement Torch Run as well, what we are doing in Alberta, and what an awesome cause it is."
The Special Olympics have been close to Champagne's heart since having done events off and on since 2006, and really becoming involved in the organization since 2013.
"There are not too many charitable organizations where you directly see where your money is going. With LETR, there are basically five events we raise money at, with our recent Polar Plunge being the biggest," said Champagne. "Unless there is something you specifically want to designate your money for, your money you donate to LETR Lethbridge goes directly to the Lethbridge area which includes up to Brooks, Pincher Creek, Bow Island — to Special Olympics athletes in that area. Every dollar you give goes to support them, be it through sports equipment, cost of renting facilities, coaching, jerseys, meals, hotel rooms. It goes directly to Special Olympics athletes and their events."
Going to the LETR events, while also sitting on the Special Olympics board as a chairman for the area, Champagne gets to meet the athletes and see how the funds are helping.
"I get to hand out plaques for how they are doing in their events and hand out medals. Seeing these times of joy, that's what sold it for me and for my policing career and after retirement, I'll be involved with LETR," said Champagne. "In the Olympics, athletes work their butts off to get to this point to compete in these events. The Special Olympics is different, these individuals are competing in sport because they are included. It's about inclusion, it's not so much about the competition in that I want to achieve gold and if I don't get gold I feel like a failure. It's about I'm participating with others and we are all winning because we are all competing, playing sport."
Champagne brought up studies that show those with intellectual disabilities don't normally participate in sport, because it is much more challenging.
"To see the joy that comes from that and know at the end of the day, their life will be longer in sport by staying healthier that has me sold," said Champagne.
Champagne hopes his trip to Abu Dhabi will help raise awareness and help recruit people to the LETR cause in the local area.
"Our biggest challenge is recruiting current, future or retired police officers or anyone else involved in law enforcement, to be part of our events and participate," said Champagne. "But once you are on board and taste the 'kool aid' I guess you'd say, usually people are involved with LETR for the long haul. I don't do this to get back something tangible. I get to see where this is going and I get to see the success. You are seeing these individuals and you are seeing how happy they are and how something like this is giving back to their life. Hopefully, people will see this, and they'll see the value and it will increase recruitment."