Pro-life speaker states erosion of Christian values
Posted on February 13, 2019 by Taber Times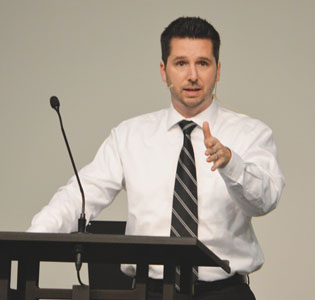 GUEST OF HONOUR: This year's Taber Pro-Life Banquet featured American author and teacher Peter Heck as the keynote speaker. TIMES PHOTO BY TREVOR BUSCH
By Trevor Busch
Taber Times
tbusch@tabertimes.com
American author, speaker and teacher Peter Heck delivered the keynote presentation at Friday evening's Taber Pro-Life Banquet, arguing for a return to traditional Christian values and a rejection of many secular principles such as abortion.
Hosted at the Taber Evangelical Mennonite Church, the annual banquet drew a sizable crowd of supporters.
Entitling his presentation "A Time for Choosing", Heck argued that western civilization is at a crossroads where secular values have eroded Christian truth, leading to a decay in the direction of North America's moral compass.
"I'm going to contend to you that it's not just individuals that have defining moments in their life. Civilizations have defining moments as well. I know we call this a border, this line on the 49th parallel — but let's be honest, you and I are part of western civilization," said Heck, who opened and closed his presentation with prayer. "And I think this last generation, our current generation, and the next generation, we're going to find out if we continue to hold to the principles, and the precepts, and the values and ideals that were the basis of western civilization, or we're going to abandon them and try something different. And I'm worried about the decisions that we're making right now."
Heck is a writer, providing commentaries for The Resurgent, and is a contributing columnist for the Indianapolis Star, the Christian Post, USA Today, and The Washington Times.
Hailing from Kokomo, Ind., the father of three graduated with a dual Bachelor of Science in Social Studies Education and Political Science from Indiana Wesleyan University in 2001 before earning his Masters in Political Science from Ball State University in 2007. Heck has been a public high school teacher since the fall of 2001, teaching courses in American government and American history.
"In every era, whatever the prevailing spirit of the age, whatever man is currently promoting at that point in time — wait 10 minutes and it will be something else — but Christianity has always been (stationary). Do you know why? Because we have something the rest of the world doesn't. We have a fixed point of reference."
Describing the nature of God and Christian principles as this "fixed point of reference" for modern societies whose populations are adrift attempting to reconcile shifting patterns of morality, Heck criticized changing attitudes toward human sexuality.
"Twenty years ago, this right here is what our society — western civilization — said what was appropriate about human sexuality, what was right and what was wrong. Ten years ago, we decided no, I think it's this over here, that's what is now appropriate with human sexuality, we changed what was OK and what wasn't OK, what was moral and what was immoral. And by the way, if you still hold to what we thought was moral 20 years ago, now no longer is it moral, you're a bigot. And now this is where it is. I don't even want to know where its going to be when my children are high-school age. Everything is constantly changing. And yet 20 years ago, this right here? This is what God's word said was appropriate and right about human sexuality. And 10 years ago, this right here is what God's word said was appropriate and right about human sexuality. And today, this right here is what God's word says is appropriate and right about human sexuality."
Bouncing between personal anecdote and biblical parable in a humourous, high-energy presentation, Heck attacked the teaching of evolution in North American schools and rejected medically-assisted dying which was recently legalized in Canada, employing a literal interpretation of biblical scripture and doctrines of Christian morality as justification and evidence for many of his assertions.
"He (God) is the same yesterday, today and forever. He is that immovable fixed point of reference. So of course if you are here and not moving — and society is dangling along the ceiling — of course there is going to be conflict. That doesn't mean that we shy away from it. When we come to the issue of life, it's the same principle. Right now we're trying to define what is a life, what should be a life, what can be a life? When I look at all these issues, I see the importance of that fixed point, I see a desperate need for you and I to start speaking, to start talking, to start letting the world hear something they are not hearing from the people who are supposedly leading it, and leading it all around the darkness without any sense of moral foundation themselves."
Additionally, Heck is the author of five books, 78: How Christians Can Save America (2011), Believe: A Confrontation with Christianity's Biggest Challenges (2012), ME: America's Deadly Obsession (2014), FAMILY > (2015), and Strangers: Christian Triumph Amidst a Dying Culture (2016). His most recent book, When the Beginning Ends: What Happens When We Die? was released in late 2017.
Between 2004 and 2015, The Peter Heck Radio Program was heard on over 200 radio stations across the United States in cooperation with the American Family Radio.