Lost Paws helping four-legged friends
Posted on February 13, 2019 by Taber Times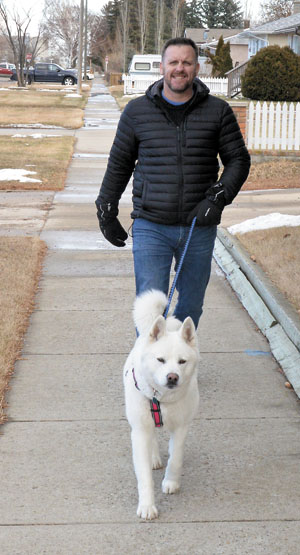 EXERCISE: Taber and District Chamber of Commerce president Rick Popadynetz takes Tsuki for a walk around the block during much warmer temperatures. Popadynetz recently adopted Tsuki, an Akita, from the animal shelter. TIMES PHOTO BY GREG PRICE
By Trevor Busch
Taber Times
tbusch@tabertimes.com
Construction of a new animal control facility for the community is a key goal for an organization of volunteers that have formed a non-profit society to manage the town's needs.
The creation of the Taber Police Service's Community Standards Unit in 2016 included the responsibility to manage the animal control facility, which is currently situated south and east of the Town of Taber Fire Station. The town's approved capital budget includes a figure of $100,000 to replace the facility, which is considered to be unsuited for its function and is "moldy and rotting away."
"Out of space and out of date is an understatement when it comes to our current facility," said Carolyn Terpstra of the Taber Lost Paws Society, heading a delegation to the Taber Municipal Police Commission's Jan. 16 regular meeting. "We're not able to do all of the things we want to house and care for the dogs properly. We just can't continue like this."
Control of the existing facility, including daily maintenance, cleaning and sheltering of animals, is currently contracted. In late 2016, the TPS reached out to the community to inquire if there was interest in strengthening animal wellness issues.
"Our society was formed to prevent our current animal shelter from going outside of our community due to the current facility's substandard conditions," said Lila Hein, also with Taber Lost Paws.
Utilizing input received at an open house, the TPS perceived an opportunity to examine if there was community interest in creating a society focused on increasing capacity around the needs of animals beyond the requirement of town bylaws and provincial legislation. Following these developments, a dedicated group of pet lovers — the Taber Lost Paws Society — has taken on the challenge of creating a society, and are in the process of incorporation.
"Dogs deserve better than this, so that's why we started this presentation, just to show you what it is like currently, and we're trying to move forward from this," said Terpstra. "So our solution? We need a new home."
Several communities in southern Alberta have already adopted a society model, including the City of Brooks. The society plans to encourage a "safe and nurturing environment in a functional facility" in keeping with the concept of a no-kill facility.
"We're looking to have a new building facility that not only meets our current needs in our community, but is expandable, so that we can partner with other societies should the need arise," said Hein.
The society has committed to maintaining an animal control facility while at the same time providing for adoption and fostering programs in the community.
"The end point of our long term goal is to be successful enough that our facility is not needed to the degree that it currently is," said Hein.
Taber Lost Paws Society intends to seek out grants and donations to help fund their initiative, as well as providing and promoting education about proper animal care and other issues through training and other public events. The society intends to work closely in partnership with the Town of Taber and TPS in operating the facility.
"Fundraising is huge part of what we're going to be doing here," said Terpstra.
Interested parties can find Taber Lost Paws Society on Facebook and Instagram, and eventually through the creation of a website, with the society still seeking support and volunteers from Taber and area.
Following discussion, the commission voted unanimously to accept the delegation's presentation for information.