Taber Police Service battling meth offences through 2018
Posted on February 6, 2019 by Taber Times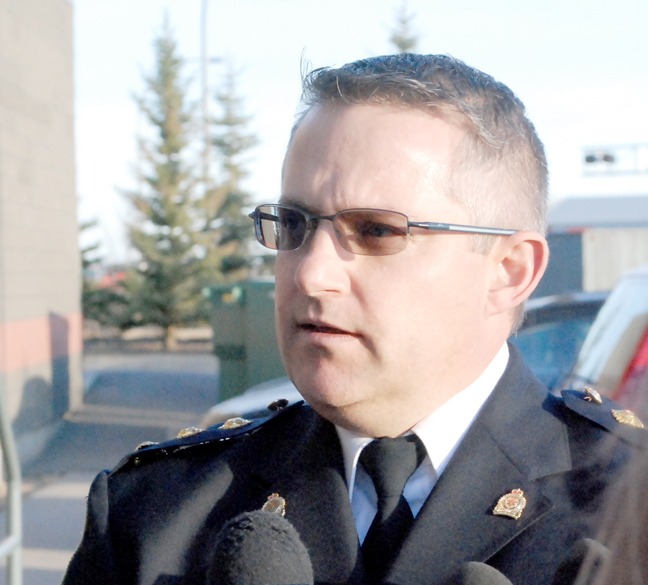 TIMES FILE PHOTO
By Trevor Busch
Taber Times
tbusch@tabertimes.com
Reviewing statistics that show a sharp increase in drug enforcement issues for the community over 2018, Taber Police Service chief Graham Abela has drawn a link between this problem and an influx of crystal methamphetamine on Taber streets.
"The possession and investigation of drug use and abuse in this community in the last while has mostly been due to the influx of crystal methamphetamine into our community," said Abela during the Taber Municipal Police Commission's Jan. 16 meeting. "Crystal methamphetamine has been something that for a long time this community has been resilient to. It's only recently that this has raised its head here."
In 2018, trafficking charges (10) saw a 67 per cent increase, while possession charges (54) have risen dramatically by 218 per cent over 2017 figures. The drug enforcement category of 'other' (13) has also seen a 30 per cent rise.
Chair Ken Holst had initially inquired how much of this increase in drug enforcement could be linked to the legalization of cannabis.
"We have not seen any issues in relation to cannabis," said Abela. "We've issued three tickets since the law changed, all of them were for possession of cannabis within motor vehicles, within reach of an occupant in a motor vehicle. We do not have any reports from the community of public use, so I'm thankful to the community for respecting our bylaw that was put in place by council in relation to the public ban of cannabis. I think that was a strong message, and the public, of course, is obeying."
Officers have so far not encountered any major issues with cannabis enforcement.
"Which doesn't mean we don't need enforcement, I'm not naive to think that it's not occurring," said Abela. "I'm just telling you that we have not had a report of it, and our officers have not made that charge."
Abela was more concerned about the increased crystal methamphetamine use in the community, and various methods to improve enforcement.
"I did send a recent memo to the chair of the Alberta Association of Chiefs of Police for furtherance to the minister. We're compiling our information in relation to the crystal methamphetamine problem that is inundating the province of Alberta, not just the community of Taber. As you may or may not be aware, the statistics in Lethbridge around the safe consumption site are that the primary use at that site is crystal methamphetamine, not opiates. Crystal methamphetamine is a huge problem, and it's something that as a police agency we're very concerned about."
Referencing a call-out to the community on social media to raise awareness, Abela is positive about the response but contends that more action is needed.
"I did my own notification to the community in a social media post to let community members know and understand the impacts and effects of these drugs, and possibly some ways they can help, not only the police service, but the community itself around this dangerous drug. We've had some positive results around that social media post. I'm hoping that the programming that our police service, and the school resource officers, and the schools with our resiliency campaigns and programming that we do with children is working, and that we will have a resilient community in relation to crystal methamphetamine, and it quickly dissipates. But until then we have to be vigilant and deal with it accordingly."
Coun. Jack Brewin, who serves as one of two council representatives to the commission, asked if Lethbridge's safe consumption site is a possible source of the drug problem affecting Taber.
"Can we see, or can we say we're seeing, any overflow or adverse affects from the safe injection site in Lethbridge, in Taber?"
Abela had only anecdotal evidence that this might be the problem, while arguing that more analysis is needed before drawing any firm conclusions.
"We know we have Taber residents that are using the safe consumption site. Just recently on the news I observed someone who is a spokesperson for the users of that group, and that spokesperson was a Taber person. There's not many variables that have changed in the last little while to create the influx of crystal methamphetamine into southern Alberta. The only variables that I know of, was the creation of the safe consumption site. It's anecdotal evidence — I've asked for research into why we have an increase of crystal methamphetamine in southern Alberta. That would be one of the variables, or considerations, I would want them to look into moving forward in that research, what impact that site has had on rural communities outside of the city."
Brewin appeared to be more willing to point the finger in the direction of Lethbridge's safe consumption site.
"I think an observation would be that the Lethbridge safe injection site is drawing a lot of people into the city from other outlying communities and really clustered them together. If there's a large amount of crystal methamphetamine there, I would assume it's easily available, and I'm just wondering if that has an effect on consumption in our areas."
"I would agree," replied Abela.
Commissioner Gary Bradbury, newly sworn in to the TMPC, asked what age groups are predominantly using crystal methamphetamine in the community.
"It's interesting. In 2001-2003, crack cocaine was the drug of choice in our community that was used by people anywhere from the age of 16 — that was probably the youngest we had involvement with — right through to 60," said Abela. "We're seeing the same age group for crystal methamphetamine. What's happening is that crystal methamphetamine is replacing — our information on the street from sources that we talk with — is that crystal methamphetamine, because it's cheaper, easier to get ahold of, and has a longer lasting 'high', is the drug of choice now for that age group."
Rather than a severe problem with fatal overdoses that is more linked to synthetic opiate use, police are forced to deal with a different set of variables when encountering individuals under the influence of crystal methamphetamine.
"The problem that we see with crystal methamphetamine is we see bizarre behaviour, we see violent encounters with police, we see psychotic episodes of people that are using crystal methamphetamine," said Abela. "If they do overdose, they don't present like an overdose of an opiate, someone passed out and not breathing. They present totally differently — psychotic, bizarre. So what we're probably going to see over the next little while is our use of force encounters with the public increase. And that's the last thing that I want. We're very proud within this police service that our use of force applications are very low compared with other organizations. Our community is very compliant when they encounter police."
In a tip-of-the-iceberg statement, Abela warned the community needs to be ready to deal with the many undue impacts of this kind of drug abuse problem.
"I'm worried that those are going to go up, and that puts our officers at risk, and puts the public at risk. We're trained to deal with that, don't get me wrong — we have the tools, you've provided those — that's not the issue. It's just not something that we enjoy doing. We need to be ready for this — and we are building capacity around it, actively investigating, and looking hopefully to provide some results in the very near future. This is a real regional issue, it's not just a Taber concern. It's a Taber concern, but with regard to opiates the concerns are much greater west of here. Here, it's crystal methamphetamine."