Police contract negotiations underway
Posted on January 30, 2019 by Taber Times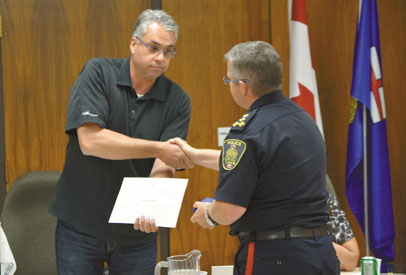 TIMES FILE PHOTO
By Trevor Busch
Taber Times
tbusch@tabertimes.com
Initially delayed in early 2019, contract negotiations between the Town of Taber and the Taber Police Association are set to get underway soon.
"They have not (started), and I don't think we've received any other official communication from the association on that, other than I know there was some personal matters with some of the association members and president. I'm assuming that's causing a bit of a delay," said Taber Municipal Police Commission chair Ken Holst at the commission's Jan. 16 regular meeting. "Any of those changes would be retro back to Jan. 1."
Following lengthy negotiations, in September 2016 the town and the association inked a three-year collective agreement that saw officers receive a total 5.5 per cent salary increase (one per cent salary increase – retroactive to January 1 – for 2016, a deferred 2.5 per cent in 2017, and a final two per cent in 2018).
Holst is hopeful that negotiations for a new contract are initiated before the end of January.
"I would think very, very quickly. That's something that we have a subcommittee that's been formed by the commission, and we are just waiting to set that time with the police association. The police association has provided a letter for us to start those negotiations, so it's just a matter of availability with the association. We want to get going on it as quickly as possible, so I would expect within the next week or two those will be underway."