M.D. of Taber Fire Department responds to Barnwell fire
Posted on January 24, 2019 by Taber Times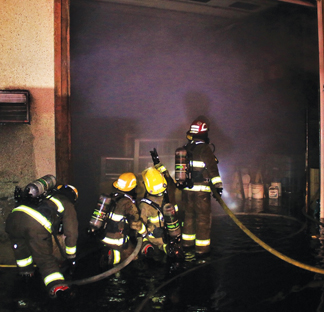 PHOTO SUBMITTED BY M.D. OF TABER
On the morning of Jan. 22 at 4:10 a.m., M.D. of Taber Regional Fire Service Station 4 and Station 7 responded to a structure fire near 229 8th Avenue West in Barnwell.
Sierra 4-1, Sierra 4-7, Engine 7-3, Engine 4-2, Rescue 4-4 and 17 firefighters responded.
Engine 7-3 arrived first on scene to find heavy smoke coming from a 24' x 50' shop. Within minutes the crew had established a water supply from a nearby hydrant, conducted a 360-degree survey of the scene, disconnected the gas utility, extended an attack line to a man door, effected a forcible entry and initiated an aggressive interior attack.
Upon arrival at the scene minutes later, Engine 4-2 extended a second interior attack team and established a Rapid Intervention Team who were prepared to back up the Engine 7-3 and Engine 4-2 attack teams in the structure.
Rescue 4-4 arrived to establish SCBA control, provided support in establishing a water supply line to Engine 4-2 and assisted with fire ground operations including ventilation of the structure.
Sierra 4-7 and Sierra 4-1 established incident command, communicated with dispatch and the Village of Barnwell and supervised the extinguishment of the fire.
The fire was quickly extinguished.
A semi-truck located with the shop was severely damaged by fire. The building (except for the ceiling and rafters above the truck) and its contents suffered relatively light smoke damage.
The fire was declared out at 6:30 a.m. The structure is still upright and intact.