Difference makers shine at chamber awards
Posted on January 23, 2019 by Taber Times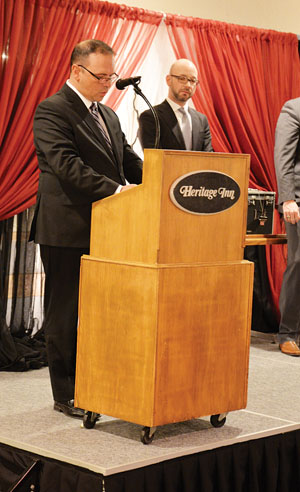 HONOURED: Scott Barbour of Southland Funeral Chapel accepts the chamber's Customer Service Excellence Award. TIMES PHOTO BY TREVOR BUSCH
By Trevor Busch
Taber Times
tbusch@tabertimes.com
Luminaries in the local business and service club community were acknowledged on Friday evening for everything that they do to improve Taber now and into the future.
Honoured during the Taber and District Chamber of Commerce's annual Dinner and Awards Night at the Heritage Inn, Southland Funeral Chapel would take home the Customer Service Excellence Award, Maple Leaf Construction was Small Business of the Year, Taber Kinsmen Club earned the Spirit of Taber Award, while Steph Giroux-Feininger secured Citizen of the Year.
Scott Barbour, co-owner of Southland Funeral Chapel, talked about the many families the operation has served in its decades of business in the community.
"Darryl (Gensorek) and I have both worked in the funeral industry for over 20 years. Along the way we have been mentored by some compassionate and skilled funeral directors, and also have met many wonderful families who even in their time of grief are patient with us as we found our way to becoming more effective at what we do. We are grateful to the families of southern Alberta who so graciously allowed us the privilege of serving them during their most difficult time. We do not take this privilege lightly," said Barbour.
President Tod Pickerell of the Taber Kinsmen Club praised the community's support of their many ventures in Taber when accepting the Spirit of Taber Award.
"A special thank you to our supporters, everybody that buys a Grey Cup ticket, or a Super Bowl ticket, car raffle ticket, or has a beer at Cornfest — it's that support that allows us the financial resources to serve the community the way we do. So a special thank you to Taber for that."
In a more tongue-in-cheek rendition than her predecessors, Giroux-Feininger would ascribe much of her dedication to her upbringing in accepting the Citizen of the Year honour.
"I'm quite surprised that they asked me to speak. Those that know me, know that I am a woman of very few words. I rely on my hot body and my personality. I asked the chamber what they would like me to speak about, and they said tell us why you help the community. The answer is quite simple: it's what I was taught. As many of you know, our family has been through a lot, and Taber has been very good to us. Through all of those hard times, I have had great mentors, my mom and my dad."
Denise Pedersen of Maple Leaf Construction as the Small Business of the Year highlighted the many positive things she sees throughout the community that contribute to Taber's varied success.
"We are impressed by the innovators, the pioneers of yesterday, the ones of today and those of tomorrow, the folks that have helped develop and grow our town, from schools and health care, the ones who bring in the programs to help those in need, the ones who seek solutions to make our town more joyful, the ones who create jobs, the ones who create opportunity for the working class to be successful," said Pedersen. "It is that cooperation and effort of being a full service town that encourages growth, makes us feel stable, and helps businesses stay sustainable through challenging times. We commend you."