Bremner reflects on state of Catholic education locally
Posted on January 23, 2019 by Taber Times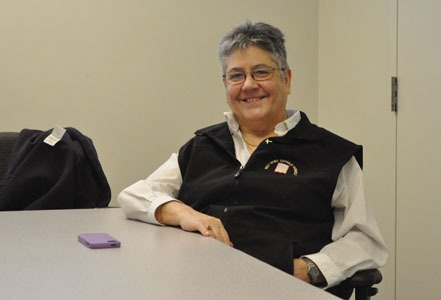 TIMES FILE PHOTO
By Trevor Busch
Taber Times
tbusch@tabertimes.com
With an eye to the years that lie ahead, Holy Spirit Catholic School Division is formulating new plans in 2019 to tackle tough academic issues while emphasizing reconciliation initiatives with indigenous peoples.
"We've just wrapped up our three-year educational plan, and I think our three principle goals have shown progress," said Ward 5 trustee Pat Bremner. "Faith development, of course, being a Catholic school division is for all of our students, not just our Catholic students. Our other goal is numeracy and literacy, and we're making significant strides. We've brought in learning coaches to work with staff to help enhance their skills, but also to act as coaches to the students, but particularly the staff. Our provincial accountability pillars show that we are steadily increasing meeting these goals of numeracy and literacy. The last one is FNMI students, and helping meet the calls of the Truth and Reconciliation Commission. Helping not only our students, but our staff and parents, to look at Canada through non-colonial eyes. To see the story from a different perspective. We've been slow and steady, but we're marching."
Bremner's Ward 5 represents St. Mary School and St. Patrick School in Taber, as well as St. Michael's School in Bow Island.
"Our budget we have wishes on our list, particularly a school in Lethbridge because it's growing, and especially on the west side. We'd like to have an upgrades at St. Francis — we'd like to have an upgrade everywhere schools are old — but we realize that these are wish lists," said Bremner.
Consultations as part of a collaborative process for creating a new faith plan commence for the division on Feb. 8.
"We're in the last year of our last faith plan, which is 'Sharing the Bounty', through different ways," said Bremner. "Helping our school communities understand that while we do have pockets of poverty and need, we have huge bounty. And it might not always be a cup of soup, it's that willingness to give that cup of soup that we're trying to speak to."
Enrollment remains relatively status quo across the division, although Bremner notes that growth in enrollment is sometimes gained from families that might not identify as Catholic but desire a faith-based aspect in their children's education.
"Our student population is fairly stable at around 5,000, with a little bit of growth. Our rural schools — contrary to the provincial trend — are stable, and even growing."
As an elected board of trustees, in 2018 Holy Spirit decided to compensate elected officials for a loss in salary precipitated by a change in federal legislation which eliminates a previous one-third tax exemption.
"We got an increase to meet it, so everything is stable," said Bremner. "There's no increase, we're just compensating the loss. The reason for that — we would take the loss, the board wasn't up in arms or anything — it was actually more about what's down the road as we see fewer people wanting to engage in local politics. I personally think that local politics is the root of democracy." When you get into super boards, you stop listening to people. And if anyone in Taber wants to discuss something about Catholic education, they know where I live."
The integration of St. Michael's School in Bow Island, which was transferred to Holy Spirit in 2015 from the Medicine Hat Catholic School Division, has been a successful process for the division in the ensuing years.
"My first question was efficiencies, how do we make this work, what's in it for us when our bishop at the time said we need to close a Catholic school," said Bremner, who went on to indicate that as she has gained more experience as a trustee, she see things less rigidly in terms of black and white. "It was the last year that schools could move like that (to another division), and so we said we're not going to close a Catholic school. So we said bring them on. And it's been one of the best and rewarding decisions for both parties. The absorption has gone well. The energy in that school, because they are so grateful to be able to grow, isn't easy. You feel it when you walk in. People comment when they walk in that school. Academically, it has very high standards. A lot of it is the rural community. A lot of those kids come in having done a day's work already, most of them are 4-H. Huge community — every year they have an auction-dinner. It's for St. Mike's, but it's also for Bow Island. It's been a wonderful marriage."
While expressing admiration for the character of Premier Rachel Notley with a provincial election only weeks ahead, Bremner isn't confident the NDP are the right fit to achieve Alberta's long-term goals. On the other hand, she is apprehensive of a successful UCP campaign potentially resulting in a Klein-era re-run of hacking and slashing, especially in the area of education.
"I think I'm like a lot of Albertans. I think Rachel Notley is a woman of deep and powerful integrity and political savvy. I think a lot of what they have done was necessary because of 44 years of neglect essentially. So many schools had to be built and modernized because I think the previous government didn't necessarily have priorities in place. However, having said that, I don't think that the NDP party is advisable or desirable for the long term in Alberta. I am concerned about the belief that many people have that Kenney will come in and slash and burn. But truly we have to look at sustainability."
Negotiations are currently underway with the CUPE Local 290 for a new contract agreement.
"We are actually sitting right now with 290. I'm the chair of that negotiating committee. We've only met once and exchanged proposals. I think there's an atmosphere of what's best for all of us," said Bremner.
Newly modernized and presenting a new face to Taber in 2018, the completion of St. Patrick School has been a showpiece for the division.
"The school is a gift. It addressed some of the concerns that I had, one was security, because it was an old school. It's tragic — and a truly horrible comment about our times — that security is one of the first things you have to speak to about a school, but it is a reality," said Bremner.
Far from an anachronism of a bygone era, Bremner held up the local print media as an example of integrity and success from within a newspaper industry under today's near-constant attack by digital naysayers.
"I'd like to thank The Taber Times for always holding a mirror up to the community, and allowing residents to have a voice and to share their experiences and their endeavours. A dinosaur? This is a vibrant newspaper, and I love what you guys do here."