Southland maintains tradition of excellence in Taber
Posted on January 16, 2019 by Taber Times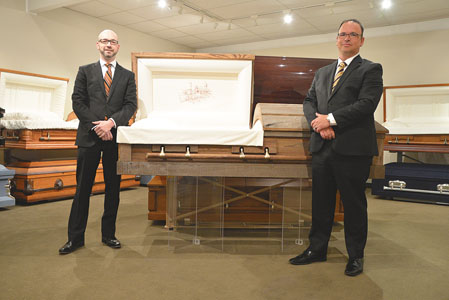 EXPERIENCE: Co-owners of Southland Funeral Chapel, Darryl Gensorek and Scott Barbour, are at the preliminary stage of planning for a renovation and expansion of the long-time Taber business. TIMES PHOTO BY TREVOR BUSCH
By Trevor Busch
Taber Times
tbusch@tabertimes.com
Businesses that help prepare cherished loved ones for their final resting place aren't always recognized for their dedication to service, perhaps due to the nature of the industry they serve. With that in mind, helping to make life's last journey a smooth transition for both the deceased and their families is a big part of why Southland Funeral Chapel is this year's recipient of the Taber and District Chamber of Commerce's Customer Service Excellence Award.
"We're here and available to everyone that requires our services, 24 hours a day, seven days a week, 365 days a year," said co-owner and business partner Scott Barbour. "We serve families, probably within a 100 kilometer radius of Taber. An important thing to always remember is that although we are caring for the dead, we're really looking after the living essentially. Sometimes people think the funeral business is all about death — and it certainly is — but really the focus of our work is the living and making sure those families are carried through a very difficult time."
Barbour, along with fellow co-owner and business partner Darryl Gensorek, will accept the award at the chamber's annual Dinner and Awards Night at the Heritage Inn on Friday evening. Gensorek admitted he had been a "little bit" surprised by the honour, while Barbour had more to say on the subject.
"Humbled. It certainly never crossed our mind that it was something we'd be considered for, or even something that we were working towards. For us it's just been very important to serve the families of southern Alberta, do it to the best of our ability, and treat everyone like they're family of our own."
Reardon's Funeral Service was established by Terry and Judy Reardon on Oct. 1, 1974. In fall 1983, the name was changed to Southland Funeral Chapel, reflecting a desire to ensure all local communities could feel they had support during a time of loss. After four decades of service, the Reardons sold the business to long-time employees Barbour and Gensorek in March 2014.
"The Southland business came into being about 1974," said Barbour. "There had been funeral directors in Taber since about 1901. Prior to Terry and Judy coming to town, the Humphries of course operated it."
Before the mid-1970s, much the community's funeral needs were served by Humphries Funeral Home.
"Humphries was in this building, too," said Gensorek. "They just changed the name."
Today, Southland Funeral Chapel is an independent, locally-owned, full-service funeral home offering traditional funeral services and cremations at their current 5006 48th Avenue location.
"The funeral business is an interesting business because of the fact that the phone rings at two in the morning or two in the afternoon," said Barbour. "There's no asking people to put it on hold. Death doesn't understand time. There's no restrictions — Christmas Day, two in the morning, New Year's Day, kid's birthdays or wedding anniversaries — you never know when death is going to call."
In addition to ownership, Barbour and Gensorek are both licensed funeral directors and embalmers. Barbour started with Southland in 2004, and Gensorek joined the business in 2006. Other employees include Chris McIntyre (funeral director and embalmer), Rod Kindt (funeral director and embalmer) and funeral attendants Corby Grimson, Murray Rochelle, Brien McCandless and Howard Kehler.
"I kind of think in the big scheme of things, it's the commitment of us and our staff to being available 24 hours a day, seven days a week. When somebody needs something from us, we're there," said Barbour.
The pair report that plans for expansion and renovation are in the works, and may be getting started within the next 24-36 months.
"We purchased the old clinic here next door. Darryl and I have both been in town here for about 15 years, and we've had a lot of exposure to our predecessors, the Reardons. It's important — it's always been important, and it remains important — that we continue to grow as an organization and provide additional services to the community," said Barbour. "We opened a crematorium about seven years ago here in town, and we purchased this clinic next door, so our goal is to expand this location so that we can put in a larger chapel, put in a reception centre — the funeral business is changing in a lot of respects, and that's one area where we see a real need is with our facility."
Barbour and Gensorek both expressed some reservations about the spotlight considering the nature of the work they do in the community, but that isn't to say they don't appreciate the recognition.
"I don't think either of us really like the attention. We just do what we do everyday, and be quiet about it," said Gensorek. "But as Scott said, it is very humbling."
"We work in an industry where we're exposed to people all day, every day." said Barbour. "We still like to pretend we're not really there. And I guess in some ways that's how we operate as well. It's not about us, it's about the families that we're serving and their needs, and their friends and family, and so we'd rather just be behind the curtain. We're excited about it — it's great — but it's a little overwhelming as well."
Barbour sees stability and vitality in the community's business environment, but like anything there is always room for further improvement.
"We love Taber. To be honest, I can't see us operating this style of business in any other community, Taber has just been so good to us. Taber really for the most part seems to be very proactive in terms of trying to support themselves as a community. There's a lot of good businesses. Obviously, there's room for growth in the business community, but I think overall we're pretty fortunate here."