Mayor looks back at success of 2018
Posted on January 16, 2019 by Taber Times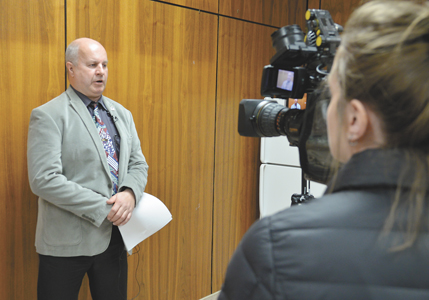 DIGITAL THEME: Based on 2018 survey results, a majority of respondents now use social media to access information about the Town of Taber. TIMES FILE PHOTO
By Greg Price
Taber Times
gprice@tabertimes.com
Focusing on recreational opportunities and economic growth, Mayor Andrew Prokop sat down with the Taber Times to reflect on the year that was in 2018, while also looking forward to a successful 2019 for the Town of Taber.
Mayor Prokop unveiled a top-five list of things he was most proud of that the Town of Taber was able to accomplish:
TROUT POND: Phase II of trout pond/trail expansion, totaling nearly $1 million was completed in which now many families have enjoyed, since being officially opened back in July.
"It's great to see the kids there with their parents and grandparents," said Prokop. "That was the culmination of three years of planning."
The project included 2.5 kilometres of new trail around the fully stocked trout pond, with another two kilometres down to the river that ties into the park.
"It has been very well received and very well used," said Prokop, adding there are still more phases to come in Phases III through V. "It's only going to get better out there. I wish I could tell you a definitive time line when we are going to finish it all. Hopefully, we can get Phase III done in 2019, but again, we are sort of guessing on what kind of money is going to be involved, and there is some more leg work involved as well."
BUSINESS BUILDING: Prokop noted 25 new residence businesses in 2018, along with 15 home businesses.
"That's another 40 new businesses all together and I think we were at 50 last year. Forty new businesses is a great number to be talking about, it's better than going the other way. There is some obvious great entrepreneurship out there with people willing to take that chance," said Prokop. "In comparison to our size with Lethbridge, I guarantee you the ratio would be sky high here compared to Lethbridge."
50/50: The major resurfacing of 50th Avenue, infrastructure and sidewalks was another thing Taberites got to enjoy.
"It's a major thoroughfare. That's something that was also well needed and well received," said Prokop. "That mile is very well used and is a main artery for people driving in Taber. We felt it was a priority. It's a credit to the paving companies that were involved in that. It was very limited access in getting through there, but there always a lane to get through there. It was tied up for four or five weeks, but all things considered, people were very patient."
CREATURE FROM THE BLACK LAGOON: A project Taber residents do not necessarily see, but still nevertheless was crucial, was the improvement in the town's industrial lagoon system in the $5 million project. Under the federal Clean Water and Wastewater Fund in September 2016, Taber was allocated more than $1.86 million for upgrades to the town's industrial wastewater lagoon system. At the same time, the provincial government contributed $480,220 to the town for a biological nutrient removal sludge treatment upgrade, as well as $79,366 for a water treatment plant upgrade, through their Alberta Municipal Water/Wastewater Partnership program. In early January 2017, town council finalized passing Long Term Borrowing Taber Industrial Lagoon Bylaw 22-2016, which will see the town borrow $1.1 million to fund a portion of the project. At the time, the total cost of the project was estimated to be $5,715,000, and would consist of $850,000 from capital reserves, $3,765,000 in grant funding, and a $1.1 million debenture.
"Dealing with the water in the community, potable water requirements. People don't necessarily see that, but it's a huge need in something that we all want and need in our individual communities," said Prokop.
REFRESHING COORS: Taber made some country music history, when it was awarded the Coors Banquet One Horse Town concert. Taber finishing ahead of five other finalists in Miramichi, New Brunswick; Portage la Prairie, Manitoba; Napanee, Ontario; Nicolet, Quebec; and Williams Lake, British Columbia, Taberites got a free concert at Confederation Park which featured headlining Canadian superstars Dallas Smith, Tim Hicks, and Kira Isabella.
"We were extremely lucky to get the support in this area with the online voting. It was 350 strong who attended and very minor problems attached to it. I don't have the overall numbers, but I heard it was something like a million-dollar project to get all the talent organized," said Prokop. "The event was very well done and the feedback was nothing but positive. It would be nice to do something like that on our own (on a smaller scale) if you got a certain amount of partners involved in that and we have our own stage in the area. It went very well and we had a lot of people attend with relatively small confines."
Looking towards 2019, Prokop added the vision is remaining the same.
"We just have to try and improve our community the best way we can in various areas. We've started our Coffee With Council which we are looking forward to that in getting feedback from the community," said Prokop. "It started off a little slow, but we have four more dates slated in January and February at Parkside Manor again. Once word gets out, I think they will be better attended. It has been great discussion with those who have attended."
Just as Taber town council is dealing with municipal politics, the provincial and federal landscapes may prove very interesting with upcoming elections as the NDP and Liberals battle to retain power respectively in 2019.
"It's anybody's guess on what it means for Taber ultimately. I would hope there is going to be some changes involved there and we expect that," said Prokop. "It will get down to the brass tax of election timeframe, it's March through May (provincial election), where it hasn't been officially announced yet," said Prokop. "Federally, it's not far away either. It's an exciting time again to get those potential options out there. Ultimately here, we try and make the best decisions possible for all concerned. Whatever the topic is out there, you aren't likely going you make everyone happy with your decisions, but we certainly tend to make the best decisions for the vast majority, the benefit of the entire community."