Family impact propels Steph to Citizen of the Year
Posted on January 9, 2019 by Taber Times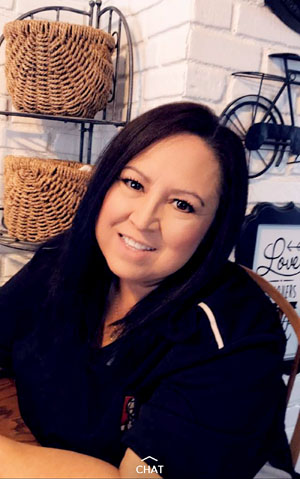 TIMES FILE PHOTO
By Greg Price
Taber Times
gprice@tabertimes.com
What was the first thing Steph Giroux-Feininger did when she heard she won Citizen of the Year for the upcoming Taber and District Chamber of Commerce awards night?
"I swore," Feininger said with a chuckle.
For anyone who knows Steph to any degree, they too would get a chuckle out of that themselves, knowing the long-time Taberite, who is at times potty mouthed, blunt, direct and to-the-point, but always from a base that has a heart of gold.
Giroux-Feininger heard about her Citizen of the Year award from the chamber upon KFC winning best decorated business for Midnight Madness.
Feininger got involved in helping improve her community at a young age 20 years ago in dealing with her son Jordan who had special needs and was heading into Kindergarten being visually impaired and having hearing loss.
Feininger would do presentations in schools to showcase for kids what a day in the life of her son was like to show the various challenges and perhaps form a kinship where kids who were different from each other could connect with each other.
"Jordan and I would go to different schools and show them things like how it's like to eat as a blind person. If kids see him spilling one day, they now understand why because they did it themselves," said Feininger. "You are putting yourself in other people's shoes. We would do other things like the challenges of going out for gym class."
Her family moved to a new house, where they were only a block-and-half away from Dr. Hamman School, where at the time there was an uncontrolled intersection.
Jordan couldn't walk to school by himself, and instead of telling people about the dangers of the uncontrolled intersection, Steph showed them.
"Randy Sparks came (a town councillor at the time) and a couple of other people from the school and school division, I asked them if they could walk to school with my son," said Feininger. "And they went 'Oh my God!' and this was just Jordan, other kids were going to get hurt too. Within days they had signs up and crosswalks marked off. There was nothing there before — it was crazy. Maybe I'm seen as doing things the wrong way by not signing certain forms or going through certain channels, but it works."
Feininger has always been one to take the more direct route of showing the people capable of making change in the community, rather than telling.
"It's just who I am. It gets the ball rolling where people have to understand by seeing it with their own two eyes. You can write letters until the cows come home saying we need this much money and blah, blah blah — but if you take them out there and show them — it hits home," said Feininger.
That can-do attitude has morphed into recent initiatives such as the Paul and Bernice Giroux Memorial Golf Tournament, the Twelve Days of Christmas campaign, organ donation card recruitments, improvements to the Linden View courtyard and the establishment of a Crisis Fund which has seen Feininger's fingerprints on them in some capacity.
"You see people in situations in their every-day lives where the Crisis Fund can help. There are people who got new glasses through the Crisis Fund where at the time, they were having to choose between their medication and glasses for that year. You choose medication, but you can't read or see, it was crazy," said Feininger. "This happens all the time in Taber where it's just not poor people who are low income. It can be just people who are going through a tough time in their lives where maybe they aren't working for a week where people don't have sick days, but they have a mortgage and a family to attend to. A crisis can happen at any time to anybody. A crisis fund has come in where it's paying rent for people who are dying who are the bread winner."
Having good teachers in her parents in being grateful for the community that you are in, causes like organ donation and Linden View are close to Steph's heart. Her father Paul was saved by being the longest living recipient of a heart transplant at the time back in 1987, along with getting a kidney donated from one of his daughters at the time. Steph's mother Bernice battled Alzheimer's in later life while she stayed at Linden View. Just as she did with her son, Steph invited prominent members of the community to Linden View to go through exercises of what it is like to have Alzheimer's and the care that was required for her mom.
"Taber really helped out my mom and dad. With the amount of support they received, they always wanted to give back," said Feininger.
Organizations like TCAPS (Taber Community Action Prevention Society), the Taber and District Handibus Association, Safe Haven Women's Shelter, Taber Food Bank, animal shelter, and the importance of organ donation have all got greater awareness with ventures Steph has helped spearhead.
For all the work Steph has done in her community, she noted the Citizen of the Year Award belongs to all the wonderful people she has had a chance to work with on various initiatives, as the betterment of Taber is not done by one person alone.
"Taber is awesome. I can't say enough. It isn't me that does everything. It's Taber that comes support me and helps alongside me. The business community, our neighbours, different organizations, school divisions — it's huge," said Feininger. "There are a lot of people who want to get involved, they just sometimes don't know how. I can help give them a push."
Steph Giroux-Feininger will be recognized for her 2018 Citizen of the Year accolade at the Taber and District Chamber of Commerce's annual dinner and awards ceremony on Jan. 18.