TANGO organization brings needed health care to Fiji
Posted on December 26, 2018 by Taber Times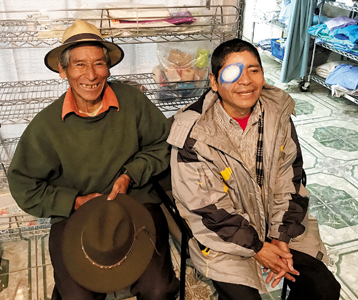 FOR THE PEOPLE: The people of Guatemala were very happy to see a large TANGO contingent in 2017. TIMES PHOTO SUBMITTED
By Tim Kalinowski
Alta Newspaper Group – Lethbridge
Doing good in the world begins with strong community support at home, says Dr. Ryan Torrie, president for Taber Assisting Nations through Global Outreach (TANGO).
"It's been a privilege to be able to serve, and we couldn't do it without the amazing support of many organizations, hospitals and professionals," says Torrie. "There is a lot of fantastic people who come together and help out."
TANGO recently returned from its 10th overseas mission to help those in need, this time landing in Fiji with a 53-member medical and community support team, which included six dentists, three optometrists, three medical doctors (including Torrie), a general surgery team, a cataract surgery team and a 10-person construction team to help build three new pig enclosures for one rural village.
"Fiji has a big need," Torrie explains. "There is a large, rural population there. There is very little for medical or dental care in some of these areas. The people there are fantastic to work with; and it is safe, so we continue to go back there."
Torrie was one of the original members of TANGO, which was founded in 2013 with just a few local medical professionals from the Taber area taking part. While Taber is still the epicentre of its fundraising initiatives, explains Torrie, the organization has grown to encompass team members from all over southern Alberta, other parts of Western Canada and even a few from the United States.
"One of the best things about our trips has been the people you travel with," Torrie says. "It has been a very fun community thing to work together that way. We have been tremendously blessed in southern Alberta, and our team members have fantastic jobs. When you travel to some of these places and see peoples' tremendous needs, it's hard to not help when you see, for example, people with huge cancers that haven't been addressed at all. And they don't have any pain medication, they don't have treatment, there is no oncology and no radiation or chemotherapy for them. They really have nothing to provide relief or treatment for many other conditions also; so it is really an opportunity to take in professionals with us like cataract surgeons, and have people who were completely blind now able to see 20/20 again. It's phenomenal."
Besides Fiji, TANGO has also done medical relief and construction missions to Peru and Mexico. In their next mission in November 2019, TANGO will return to Guatemala.
"We can roll into a rural area in Guatemala, Peru or Fiji and set up our whole clinic in about 20 or 30 minutes to service these little villages," Torrie said. "It's pretty amazing actually."
Torrie says fundraising efforts for that 2019 trip are already underway.
"The organization is completely volunteer," explains Torrie. "We are a registered charity; so we are able to give people charitable receipts, but we have no paid staff. Every dollar that is donated to us goes directly to buying medication, supplies, equipment and everything we need to operate. We all pay our own way to go, and none of the funds raised go toward food or transportation for our volunteers."
To learn more about TANGO and to donate to help the group with its ongoing efforts visit The TANGO Foundation website at http://www.thetangofoundation.com.