Maple Leaf flown proudly for Business of the Year
Posted on December 19, 2018 by Taber Times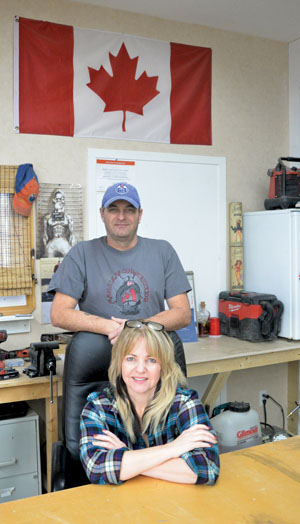 FAMILY MATTERS: The husband-and-wife duo of Paw and Denise Pedersen have a valued quarter-century worth of experience in serving Taber through Maple Leaf Construction. TIMES PHOTO BY GREG PRICE
By Greg Price
Taber Times
gprice@tabertimes.com
It has been 25 years of trusted service and Taberites have been oh so grateful for a help wanted ad from across the sea in Denmark that served as its foundation.
Paw Pedersen's dad moved to Taber in 1975, after seeing an ad in a Danish newspaper for a carpenter-for-hire in Taber from Holger Just Construction. That would put the eventual wheels in motion that eventually led to Paw and Denise Pedersen's Maple Leaf Construction business.
Taber and District Chamber of Commerce is holding its annual dinner and awards ceremony on Jan. 18, where Maple Leaf Construction is being honoured as Business of the Year.
"It's nice to be recognized after 25 years, with volatile economies and such," said Maple Leaf Construction co-owner Denise Pedersen. "For us, we are diversified, so we are not above digging our own trenches. If we have to roof, we roof, if we have to dig a hole, we dig a hole. We are not just a custom home builder, we still go and fix that little old ladies eavestrough every couple of years."
The husband-and-wife team of Paw, who is a lead journeyman carpenter, and Denise Pedersen are very grateful and honoured to have won the chamber's 2018 Small Business of the Year Award, and it is that personal touch that they have with every job that helped get them nominated.
"We meet with people and consult them about their projects. It is important for us and for them to see how the scope of the work is going to go and where their budget is going to be," said Denise. "For hours, it doesn't matter. It could be the day, evenings or weekends, it is whatever works for the customer. It has to be because people work all day themselves too, and sometimes they can only meet after work," added Paw.
That attention to detail and personal service has had Maple Leaf Construction do projects for three different generations of the same family.
"Right now we have a grandma and grandpa, and then their kids, and then we just built a house for their grandkids. We've been around long enough that we are actually renovating some of the jobs we started," said Denise with a chuckle. "People need that care and attention when they are spending their money. It is being able to provide that service and Paw does a really good job of doing call backs. It's about honesty and transparency. We are not here to break people at all. If you are, you are not going to last in this business long, because it is so competitive."
A family-owned business, the Pedersens treat their workers like family as well through good times and bad.
"We make a go of it, and the most important thing right now is to keep our heads above water and make sure there is work to feed our employees and their families. That's a huge prerogative of ours," said Denise, with Paw adding he has one worker that has been with him for 14 years.
Maple Leaf Construction has featured four kids from the RAP (Registered Apprenticeship Program), with the Pedersens applauding the program which puts an emphasis on the trades.
"It is someone who is interested in the trades and you can actually register them as an apprentice. The guy I'm working with now, he goes to school, and as soon as he is done, he comes to work," said Paw, adding the kids are not coddled, with all the Pedersens children having gone through the shop program at W.R. Myers. "I make them do whatever we do. Of course we teach the kids, but if we pour concrete, they pour concrete. It's a good program, the kids work hard. Trades are coming back, they are putting a greater emphasis on it (in school). They are realizing trades are a pretty good career."
Given the abundance of materials that are available for the Pedersens to use in their Maple Leaf Construction business right in their back yard, the Business of the Year Award is a team effort as far as they are concerned.
"There is a vast gold mine of material suppliers and sub trades in this town. It's unbelievable what is available for renovations and constructions," said Denise. "We are very, very fortunate. There are a lot of good businesses in this town for plumbing and heating to carpet people to hardware stores. You do not have to shop out of town, everything is here to use."
Being a general contractor and not a specialty trade, Maple Leaf Construction makes sure all its credentials are in order be it insurance, worker's compensation, building licensing, home warranty programs etc.
"You want to keep your name reputable," said Denise.
Being a small business owner is not for the faint of heart and the Pedersens applaud all those that make a go of it in Taber, with so many others deserving of the Business of the Year award as well. Being husband and wife, both have to wear the hats that are needed to run the business at times while still trying to balance family life that includes three kids. The dynamic has worked successfully for 25 years of business as a trusted name in the business, be it custom-built homes, garages, shops, patching roofs, concrete, window installs, railings, siding, general contracting or complete additions and renovations. The list is plentiful for what Maple Leaf Construction does for its customers.
"Props to all our fellow small business owners in making it work. It can be scary and it can be demanding," said Denise. "Being husband and wife, most customers that hire us, they find their niche with one of us. It's been a lovely 25 years for us."
"You work when there's work. When it slows down you have to try and hunt it down and work for it or create some business yourself," added Paw.
Paw's dad is 73, still runs Pedersen Construction and is a cabinet maker in his passion for construction and working with his hands.
Paw and Denise hope their passion for their business continues on as well, well into the future. That passion will be showcased when Maple Leaf Construction is honoured at the Taber and District Chamber of Commerce's awards night on Jan. 18.
"We are extremely grateful that someone recognized us for an award. The Taber chamber is an awesome community and they do so much for the town," said Denise.