Communities in Bloom mural highlighted in Taber
Posted on December 19, 2018 by Taber Times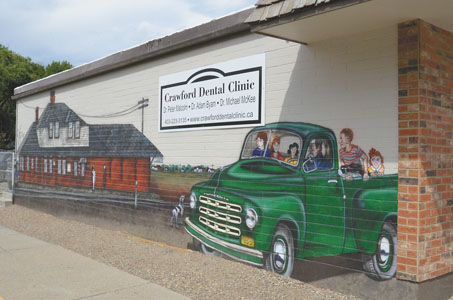 TIMES PHOTO BY TREVOR BUSCH
By Jared Williams
Taber Times
Having something to show that your business is different can go a long way.
A mural committee was set up by the Communities in Bloom to actively seek out buildings in Taber to add art up on the wall.
The committee stayed stagnant for awhile, wanting to do something, but not being able to do it due to a lack of funding.
A new undertaking of creativity has been underway with a retelling of the history of Taber on the side of the Crawford Dental Clinic.
Brenda Jagersma is the artist who was commissioned by Communities in Bloom and having done two other murals in Coaldale and over 20 years in the art business, she had more than enough experience to take on the task of doing one here in Taber.
"I just get the odd mural to do, but now that my kids are grown up I'm going to try quite a few more. What's cool about Taber is it's close and I know the area a bit and some of the people, so it makes it a lot more fun," said Jagersma.
The Communities in Bloom, Mural Committee, came together sometime before starting the mural project to brainstorm some ideas.
"I think the idea of the whole mural thing is that they're going to try and show parts of the history of Taber and that town has so much history. I didn't know there was a broom factory, what it all started with was, I think Tank 77, or something like that. We kind of started talking about that and then they saw some murals on the internet and they know I did some. So we were kind of talking about a bunch of different things and each one of them kind of brought up a lot of the same things, so that's how we ended up in the theme of the history of Taber," said Jagersma. "They all thought that the train station was really important to Taber and they showed me some older pictures, I can't remember the year I think on that truck I put 1952. So were like in the 50s and we are trying to keep the theme kind of around the 50s because there were a lot of historic industries around like the sugar factory and the broom factory going on in Taber."
"What we want to do is kind of depict that history on different buildings all through Taber and then you add your own twist to it. They wanted to just do the train station and I thought that would be kind of boring so I added people standing in there to make it look like there more activity going on, so that's why I added the truck in there," added Jagersma.
Communities in Bloom would like to commission even more projects like this one, but as a non-profit organization, it is hard to come by the funds.
"We have located other buildings in town and confirmed with the people that own the buildings that they do have an interest, having a mural of their own. We would love to do some more, we are going to do some more," said Communities in Bloom member Jean Holman. "We have to obtain permission from the town of course, before we do anything like that because it affects the whole town."