Motion for policy on political messaging defeated
Posted on December 12, 2018 by Taber Times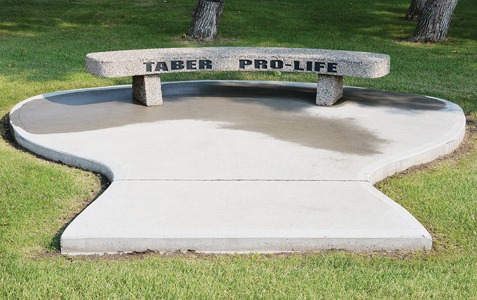 TIMES FILE PHOTO
By Trevor Busch
Taber Times
tbusch@tabertimes.com
As a footnote to town council's political messaging discussion in mid-November, an undeterred Coun. Carly Firth would make another attempt to push forward with a policy approach.
On Oct. 9, council had voted 4-3 to defeat a motion from Firth calling for council to address the public's concerns regarding Taber Pro-Life benches located in the town cemetery. Later on Oct. 22, Firth put forward a notice of motion for discussion of a potential policy approach to political messaging located on town property, which was in turn included as part of the Nov. 13 council agenda.
Following a lengthy discussion on Nov. 13 in which several councillors suggested any policy approach would violate the municipality's commitment to freedom of speech, council would vote unanimously to accept Firth's motion for information only.
Unwilling to back down from the argument that a policy approach to political messaging located on town property might serve to protect the municipality from allegations that it supports one cause or issue to the detriment of another, at the Nov. 26 regular meeting Firth would take another stab at the issue through a further notice of motion.
"We discussed in my notice of motion at the last meeting adopting a policy about making political statements. We had some good discussion on it, I think, and I'm proposing that we craft a policy and accompanying procedure going forward that takes into account future statements, not existing statements on town property."
Firth would move to put forward her notice of motion, which was met with silence from the rest of council. In the ensuing vote, Firth's motion was defeated 5-2. Councillors Firth and Jack Brewin were the only votes in favour.
Firth's motion was a point of interest in Time's editor Greg Price's column entitled 'Consistency needed in council mandate' in The Taber Times Nov. 21 issue.