Compost pick-up costs examined
Posted on November 28, 2018 by Taber Times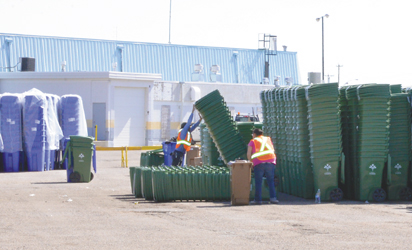 TIMES FILE PHOTO
By Trevor Busch
Taber Times
tbusch@tabertimes.com
Town council has directed administration to investigate options and costs involved with Taber's three-cart waste disposal system with an eye toward potentially limiting compost pick ups during the winter months.
"Last year about this time I asked a question regarding the compost carts, and whether or not we could perhaps pick them up every two weeks as opposed to every week, to save some money," said Coun. Garth Bekkering at council's Nov. 13 regular meeting. "Mr. Scherer's (Gary Scherer, public works director) comment was that it was contracted, and I accepted that. However, if I may, I'd like to pursue this further by way of a motion."
Bekkering would put forward the motion that administration investigate the possibility of picking up compost carts during the winter months every other week, and negotiate with the contractor regarding cost savings to both the town and the contractor.
Following a question from Coun. Louie Tams, Bekkering suggested any limited pick up schedule could span November to April.
On a suggestion from Coun. Carly Firth, Bekkering accepted a friendly amendment to also direct administration to investigate picking up recycling carts on a weekly rather than a bi-weekly rotation.
"I happen to believe in an unseasonably warm December, where the temperature — and this has happened in the past, it is global warming — if it's warm and it's not cold and the product is out there smelling for two weeks," questioned Coun. Joe Strojwas. "How do you address that?"
Bekkering outlined the example of other municipalities in the province that are opting to limit compost pick up during winter months.
"I don't know how to answer that question, except to say that the City of Calgary, the City of Airdrie, and the Town of Okotoks are instituting this, and they're not that far removed from us. So I don't think I would be too concerned about that Taber aspect of it."
Strojwas found these examples to be unconvincing.
"I beg to differ with Councillor Bekkering. They're considerably north of us, and they enjoy seasonably colder temperatures than we do down here in the south."
Scherer would also weigh in on the discussion, arguing that the timeframe suggested by Bekkering might be too loose to accommodate increased organics pick ups that sometimes occur in November and March.
"The timeframe, if November is a bit warm you put out the tree branches and plant items in the green bins, and March, certainly the green bin is always occupied by plants. So we have to really look at the timeframe, you might think 'ya, it's four months', but really if it's seasonable and warm you will see organics pick up. We have the tonnages to prove that."
CAO Cory Armfelt suggested the proper format for members of administration to voice opposition would be when the issue comes up for decision at a future meeting.
"Mr. Scherer, I think you'll have the chance to talk about this in RFD."
Coun. Jack Brewin was more interested in investigating Firth's amendment.
"I'm speaking in support, especially the recycling bins. I'm finding I'm full, so it ends up in the garbage. And I'm not a great recycler."
Following discussion, council approved Bekkering's motion unanimously.