Taber Charity Auction honoured at ceremony
Posted on November 21, 2018 by Taber Times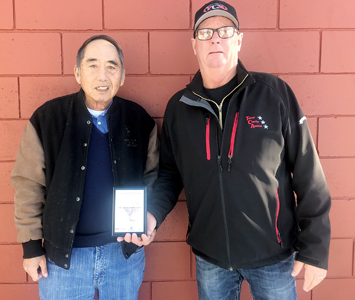 COMMUNITY SPIRIT: Bob Miyanaga and Jack French, two of the original members of Taber Charity Auction, show off the award the organization won at the Inspiring Philanthropy Awards in Lethbridge last week. TIMES PHOTO SUBMITTED
By Greg Price
Taber Times
gprice@tabertimes.com
As Taber Charity Auction prepares for its annual huge fundraiser next year, its past accomplishments were recognized at the Inspiring Philanthropy Awards held in Lethbridge last week.
Six different categories were recognized, with Taber Charity Auction Group winning for philanthropic group by the Association of Fundraising Professionals Southern Alberta Chapter.
Taber Charity Auction Group started 23 years ago, with the Taber Racquetball Club holding a tournament with a bunch of auction items. It grew to the Taber Curling Club, eventually being located at the Taber Legion for the last 10 years.
"In those 23 years, we have donated $750,000 to STARS (Air Ambulance) and we've raised about $1 million to other services," said Jack French, who has been with Taber Charity Auction since its inception, having had a family connection where STARS was needed for his son. "We are one of the few communities around who can say that we pay for every trip STARS takes in the area."
In recent years, besides STARS, both the Town of Taber and M.D. of Taber fire departments have received funds from the auction, along with the Safe Haven kids summer camp, Taber Food Bank, Taber Handi-Bus Association, Central School breakfast program, HALO, TCAPS, Cornfest and Alberta Transplant Institute.
"We try and keep our donations to public functions that are accessible to anyone. Things like the Taber Spray Park, we donated $15,000 to that so it could be finished off," said French. "Those types of things have no registration, no admission fees. Cornfest is the same way. We try to put the money back in places where people don't have to pay to participate in whatever we sponsor."
French was taken back at the awards ceremony, where a couple hundred people were in attendance at the Sandman Inn in Lethbridge.
"Every honouree had about a five to seven-minute video showcasing them from the nominating committee," said French. "It was pretty humbling to be recognized alongside the company we were in of people who have done great things in their community."
Other individuals or entities that were recognized at the 2018 Inspiring Philanthropy Awards were: Cox Financial Group (small business, Lethbridge Iron Works (corporate philanthropists), Roberta and Priscilla Janes (indigenous), Art and Mary Jane Crooks (individual philanthropist/family) and Dhillon School of Business Integrated Management Experience (youth).
The Taber Charity Auction Group has fluctuated over the years in its membership where French estimates the group averages at around 17.
"I'd say the same 12 people have been there between 15 to 20 years. Bob Miyanaga, myself and my wife have been there for the full 23," said French. "We get recognition with the plaque they give us, but we accept not only as members of the group, but more so for the people in the community. They are the ones who help donate the merchandise and help buy the merchandise year after year. We are a typical auction sale. We can gather up the stuff, we can put it all in a nice row and make a catalogue, but we need people to buy the stuff and the town is really good with that."
The charity auction has its support not only in the Town of Taber, but the M.D. of Taber, Vauxhall, Burdett and Wrentham. French estimates between 185 to 220 people attend the charity auction which runs in April every year. Members on the auction committee meet every year on how best to put the funds its raise back into the community.
"The mandate has been before about 90 per cent to STARS and EMS, but since EMS has been taken over by Alberta Health Care, and then the fire departments split, we have kind split up that money differently," said French. "There are lots of things around town that have been a benefit to the community that we will take a look at. People who ask for donations, we ask them to send a letter for a request and as a group we will look at all that."
Taber Charity Auction goes the first Saturday of every April with the committee looking to be every bit as successful as it has been in years past.
"Everyone is welcomed to come, it's a fun night," said French, adding he never thought the organization would last as long as it has. "You have seen a number of fundraisers over the years that we have been part of around town and they seem to run for five or 10 years and they peter out over time. This one doesn't seem to do that. Every year it seems to be as strong as the year before."