Spring flooding provincial funding
Posted on November 14, 2018 by Taber Times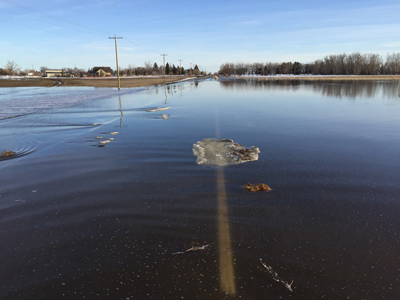 TIMES FILE PHOTO
By Cole Parkinson
Taber Times
cparkinson@tabertimes.com
After overland flooding did $1.6 million in damages within the Municipal District of Taber, they are hoping to recoup some of their losses with the Disaster Recovery Program.
During M.D. council's regular meeting in October, they discussed what could potentially be coming their way from the program. The province announced earlier that there was $29.1 million allocated for this year's spring flooding for 19 southern Alberta communities.
Those communities included the M.D. and Town of Taber, a handful of northern Alberta municipalities and irrigation districts which includes Taber Irrigation District, St. Mary's Irrigation District and Bow River Irrigation District.
The Disaster Recovery Program is a financial assistance program that helps residents, small businesses and agricultural operations return uninsurable property loss to pre-disaster condition. 
This won't be the first time the M.D. has applied for Disaster Recovery Program funding as they have done so in 2014, 2011 and 2010.
"Previous applications we only received 70 to 80 per cent. We are hoping to get the total of $1.6 million," stated CAO Derrick Krizsan.
While no funds have been distributed at the moment, M.D. council was pleased they would be receiving some type of funding in the near future.
Chris Gallagher, district manager with the Taber Irrigation District — which also saw significant damages due to overland flooding and has qualified for their own portion of provincial funding — singled out the M.D. of Taber's emergency response for special recognition.
"In the end, the overall emergency response, the coordination the M.D. of Taber had in this response, was wonderful. It's hard to measure the amount of protection that was done and the avoidance of a lot of damages in terms of that coordination. They did a good job, Alberta Emergency Management Agency did a terrific job, just in coordinating everything."