Health foundation telethon exceeds fundraising goal
Posted on November 7, 2018 by Taber Times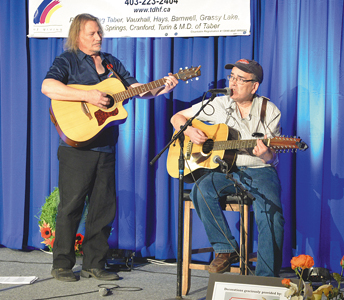 TIMES FILE PHOTO
By Greg Price
Taber Times
gprice@tabertimes.com
New day, new format — exceeded expectations.
Still in the afterglow of the 24th annual Share in the Experience of Giving Telethon, which ran this past Thursday, the Taber and District Health Foundation is quite pleased with the results.
Given all the uncertainty of how the new format would work out, being run on a weekday as opposed to a weekend, along with tweaks to the on-air format, the telethon still managed to more than meet expectations.
"We managed to raise $187,509 and it looked like we got a bunch of new donors which is amazing," said Vicki Koersen, fundraising co-ordinator for the Taber and District Foundation, noting hopes were that a $160,000 benchmark would be reached.
Usually on a Saturday in October, a shift was made to the first Thursday in November. Shaw Communications in years past had helped produce the telethon, but informed telethon organizers they would not be able to do it this year. Organizers hired a production company (Feature Productions/COGO Productions) and producer, where feedback was positive with the new format."The day of, you know all those moving parts come together. Jake Bradley (producer) was huge in making that happen. He was very calm in any changes we had to make, or ideas that I might have. I'd be up at all hours and I'd email him getting his thoughts on different ideas," said Koersen. "It all came together."
Live entertainment had to be cut down on, but there was still at least one performer for every hour of the telethon that ran at the Heritage Inn from 2-8 p.m. last Thursday. Permission was given, where 14 performances from Cornfest that were pre-taped were played during the telethon that was live streamed. Several pieces were filmed from around the Taber/Vauxhall areas, showing the impact the telethon has had over the years on rural health care.
"There was a lot of positive feedback. I know the performers had suggested for them, it was less intimidating having some of the pre-taped stuff there," said Koersen. "We had one performer an hour compared to many in the past. The phone operators said they appreciated not having as much live music, because they could hear people on the other end of the phone better in taking pledges. It ran nice and clean. I see changes I'd like to make again for next year that may incorporate more people coming and going."
For those who may have missed it, Koersen added it is still available on the health foundation's YouTube channel.
"I really enjoyed being able to videotape the donors. I also liked the interviews that took us out of Taber. Not just the hospital staff, but places like Prairie Rose in Vauxhall and Clearview Lodge (in Taber). People got to see those facilities and where their money is going as opposed to just talking about the facilities," said Koersen, adding impromptu interviews were done with people who checked out how the telethon was doing including Taber Mayor Andrew Prokop and Times managing editor Greg Price. "I liked how there was some flexibility in putting things together."
The Taber and District Foundation is pleased of how not only local residents but communities in general come together for the telethon. A singer at the telethon had her dad watching the live stream from Italy, who picked up the phone and made a donation.
"Changing the format from just Shaw to live streaming definitely opened up the world for us," said Koersen. "We have to find as many different formats as we can, because not all our senior citizens have computers or have access. That'll be our next step."
Taber and District Health Foundation is just now compiling a wish list it has received from residents on how to best earmark telethon funds to help serve the needs of rural health care.
"Already, the wish list looks larger than the funds we have available, which is always the case. We will have to delegate how we see fit. Over the course of the year, some of that list changes or is added to," said Koersen.
Given this was the first year Koersen helped spearhead the telethon, she admitted she will learn to delegate more the second time around, as she never realized exactly how huge of a production it was, given the array of responsibilities.
"I see my role changing for next year. I tried to do too many roles, thinking I could. Next year, I'm definitely splitting some things up," said Koersen. "I wanted to see how everything played out and I had forgotten, you need someone just doing social media. You need somebody just to greet at the door, you need someone to write the big cheques for the companies that are coming in," said Koersen, adding she encourages all types of feedback going forward with the telethon in future years. "There is the accounting being done in the back. I thought I could do all that. I have a lot to learn."
Taber and District Health Foundation did not send out its usual letters this year to past donors, but rather opted to mail out yellow postcards in early October, giving full details of the telethon and its changes.
That on top of promotion by the Taber Times/Vauxhall Advance, various Lethbridge radio stations and social media networks for the foundation, organizers tired to reach out to as many people as possible for the all the changes that were coming to the event.
"Some of our mail was coming back, so it wasn't reaching the donor base anyway. So we opted to send out 4,500 postcards," said Koersen, adding the popstcards were sent out to Taber, Vauxhall, Warner, Wrentham, Grassy Lake, Hays and Enchant. "We felt we would reach a larger base of people that way."