Focus on family violence prevention
Posted on November 7, 2018 by Taber Times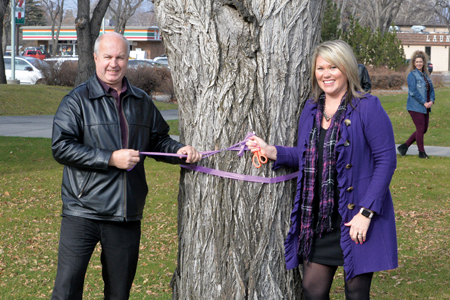 TIMES FILE PHOTO
By Cole Parkinson
Taber Times
cparkinson@tabertimes.com
If you see purple ribbons around the town of Taber this month, it's in support of Family Violence Prevention Month.
The Safe Haven Women's Shelter Society campaign officially kicked off in Taber on November 1 when Mayor Andrew Prokop and Safe Haven Women's Shelter Society executive director Catherine Champagne tied the first purple ribbon on a tree near the Provincial Building.
"What we're doing is an initiative that is done in a lot of other places in the province, so we didn't come up with it but we are going to be tying purple ribbons all over the town. That is part of our Paint the Town Purple campaign. This just brings awareness, people are driving around and people will see the purple ribbons up," explained Champagne at the tying of the first ribbon. "Another initiative would be to tie them to your car antenna so people can see that going by as well. Ideally, we would just like to have it as present as possible throughout Taber for the month."
 
Family Violence Prevention Month started in 1986 as a community initiative in Hinton at a time when family violence was rarely discussed in public.
In terms of women's shelters across Canada, this year there has been an $8.1-million funding increase to the Alberta Association of Sexual Assault Services which will provide more access to counselling and crisis services for survivors of sexual violence.
The Alberta government has provided a $15 million investment in supporting women and children affected by family violence.
If you are interested in placing a ribbon at your house or on your car, you can contact Safe Haven on their Facebook page or by phone at 403-223-0483.
Safe Haven also has posters and large bows available for businesses who want to promote Family Violence Prevention.