CIB wins third straight
Posted on November 7, 2018 by Taber Times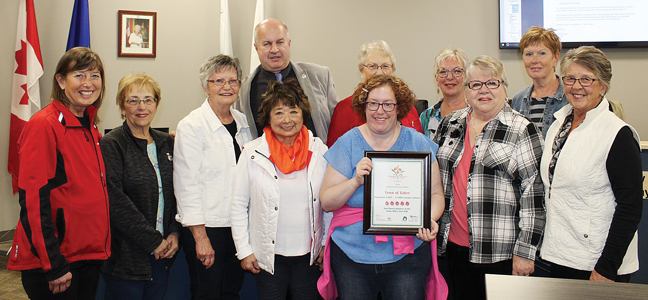 TEAM EFFORT: Taber Communities in Bloom are beaming with pride as the town's efforts were recognized once again provincially with five blooms and a top finish in their category. TIMES PHOTO SUBMITTED
By Greg Price
Taber Times
gprice@tabertimes.com
It was a three-peat for Taber Communities in Bloom, and this time, the organization had an international audience.
Taber attended the 2018 Communities in Bloom National Symposium on Parks and Grounds and the National and International Awards in Sherwood Park in late September.
"There were delegates and nominees from the U.S., Wales, Ireland, Italy, Croatia, Belgium, (Hungary), and of course, Canada," said Jean Holman, a member of Taber Communities in Bloom. "It was estimated that 60 per cent of the attendees were volunteers, with the others being judges, officials, industry owners, and sponsors. It was estimated there were about 15 per cent who were councillors and CAOs from different communities."
Being the symposium was held in Alberta, the nation's provincial, national and international Communities in Bloom awards were all held at one place where once again, Taber got five blooms in its provincial prominence, besting three other towns in its population category.
"It's the first time there has been a winner three times in a row," said Holman. "It's was a tremendous learning experience seeing so many different countries."
There were slide presentations at the symposium of how other countries handled their beautification in their various towns, along with embarking on several environmentally-friendly projects and the types of flowers that thrive in their native habitat.
When you win provincials, you are nominated by your province to compete at nationals. Taber has yet to take up the province's invitation to nationals.
"It's a learning process, and we thought we weren't quite ready yet. Plus, with the travel, it's pretty hard," said Holman. "But I know Taber is a great town that cares about its appearance. I was driving around the other day and I could tell (the town) was sweeping again. You couldn't see any dirt or leaves. Our town works really hard, even though we (Communities in Bloom) get credit for it. We are all one big body that works together."