Reimer ready to take on next service challenge
Posted on October 24, 2018 by Taber Times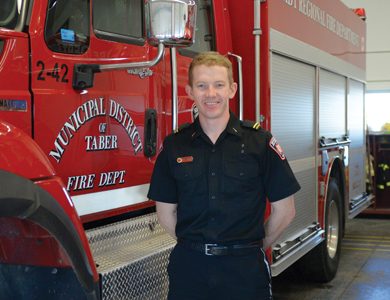 NEW CAREER: M.D. of Taber Regional Fire Service has lost one of their first members, Henry Reimer, but they have expressed their enthusiasm that he has been able to make his passion a career with the Canadian Armed Forces. TIMES PHOTO BY COLE PARKINSON
By Cole Parkinson
Taber Times
cparkinson@tabertimes.com
A local firefighter is heading off to Eastern Canada to further his training with the Canadian Armed Forces.
Lt. Henry Reimer of Station 4 of the M.D. of Taber Regional Fire Service has already hit the tarmac as he headed off to basic training in Saint-Jean-sur-Richelieu, Quebec this past Saturday.
Reimer, 25, who was born in Mexico but moved to southern Alberta at a young age, was one of the original members of Station 4.
Ever since a young age, Reimer says he always had aspirations to be involved in some type of emergency service job.
"I always wanted to be in the public service, like policing or something like that. When the fire department opened up, my friend had already joined and I decided to join as well. I saw I could make a career out of it potentially. Couple years down the road it led me here," said Reimer in an interview with the Times last week. "It's always been something I've wanted to do, as far as the military career, even as a kid I always wanted to. It peaked my interest and it's a sense of adventure." 
Over the past few years, Reimer has had quite a few different experiences at the M.D. Fire Department.
On top of making a bunch of new friends within the department, he also pointed to last year's fire in Waterton as one of the highlights.
"Starting out with the training and the number of weeks we did every month and Saturdays as well. You make some really good friends and you put the gear on together and go on calls," said Reimer. "One of the biggest memories I have is going to Waterton. I got to go there and it's something you get to see everywhere. It's unique and it was an opportunity of a lifetime. It's been great here at the M.D. It's one of the things I'm going to miss the most about Taber, for sure." 
Earlier this year, Reimer started exploring different avenues to take his firefighting career to the next level.
While the army route wasn't his only choice, when it popped up, he took it.
"I applied for it this last February and I never knew how hard it was to get into it. I applied to a couple of other fire departments as well, Calgary and Edmonton, and I didn't get on those fire departments as you can tell. This opened up and the process as far as the military, all I did was go to Calgary. I was contacted by the recruitment centre in Calgary and they do an aptitude test, a medical, a physical and an interview. From there they make the selection of who goes on and I don't know how many applied for it but it is fairly competitive," he explained.
While excited for the new opportunity, Reimer says he does have a few nerves heading into this new endeavour.
"Definitely (some nerves) just because I don't know what to expect and you hit the ground running when you get there. The first few weeks is the indoctrination period so you don't get a lot of time to yourself and it will be eye-opening for sure. You're anxious but also excited," continued Reimer.
While his first stop is in Quebec, Reimer will soon be off to Borden, Ontario where the Canadian Forces Fire Academy is located.
At the academy, Reimer will be given intensive training and certification in all facets of military firefighting including structural, aircraft and naval firefighting, hazardous materials and emergency management.
"It's going to take approximately seven months but I haven't been given dates yet but I'll find that out when I'm in basic training. It's seven months in Borden, Ontario and it will be quite new because it does take a bunch of different aspects that normal volunteer or city firefighter departments don't train for, it is especially for the military," added Reimer.
During Reimer's enlistment, he may serve at any Canadian Armed Forces locations whether it be remote bases, airfields or naval ships.
With a variety of different places he may be placed, Reimer is looking forward to getting things started.
"I'm excited for the adventure of it, doing something different than normal. I like to travel so seeing different parts of Canada and being able to do something that isn't the typical 9-5 job," said Reimer. "I'm looking forward to it, it will be a challenge, but it will be worth it."