Chinook Community Futures celebrates small business
Posted on October 24, 2018 by Taber Times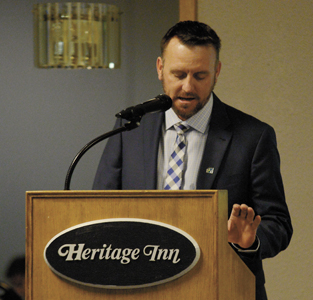 BUSINESS PLAN: Taber and District Chamber of Commerce president Rick Popadynetz gives some opening remarks at the small business breakfast at the Heritage Inn last week. TIMES PHOTO BY GREG PRICE
By Greg Price
Taber Times
gprice@tabertimes.com
Chinook Community Futures held its annual Small Business Week breakfast last week at the Heritage Inn.
The packed room gave a chance for small businesses in town to provide opportunities to learn, network and share ideas. A few guest speakers were on tap to speak about fraud prevention, but not before Rick Popadynetz, president of the Taber and District Chamber of Commerce gave an update along with unveiling Taber's Small Business of the Year for 2018.
The year saw the chamber do the McMugging initiative where surprise morning visits to small businesses had free coffee and pastries being presented in partnership with the local McDonalds as a thank you to those who do commerce within town limits.
On the Taber Chamber of Commerce Web site, where with the town and its Cornfest app, traffic was at historic levels.
"It had over a million hits the week of Cornfest. There was so much traffic that the Web host had to purchase additional bandwidth to prevent the site from crashing," said Popadynetz.
Popadynetz also unveiled Maple Leaf Construction as the Chamber Small Business of the Year for 2018.
"Maple Leaf Construction is owned and operated by Denise and Paw Pedersen. Paw is a skilled journeyman carpenter who is honest and dedicated in making his customer's dreams come true. From small fence projects to a large custom home, he doesn't consider the job done until you are satisfied," said Popadynetz. "Running a crew of about 10, they are a true, small-town business. It is also their 25-year anniversary, which shows you how long they have been in business. Small business is an integral part of our community. Taber is truly fortunate to have an amazing group of dedicated businesses to support our local economy."