Horizon frustrated over school modernization delays
Posted on October 10, 2018 by Taber Times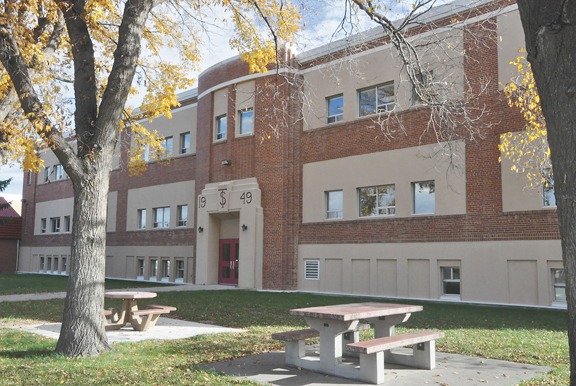 TIMES FILE PHOTO
By Cole Parkinson
Taber Times
cparkinson@tabertimes.com
With construction at D.A. Ferguson Middle School and W.R. Myers High School still behind schedule, the Horizon School Board was looking to write a letter to express some of their frustrations with the project, as voiced at its September meeting.
As the modernization is an Alberta Infrastructure project, Horizon has little influence over the construction that is ongoing.
Because they aren't the main force behind the work, they have noticed a number of things that have delayed the construction process.
"In our facilities meeting, because of the delays happening over at our capital project D.A. Ferguson and W.R. Myers modernization, which is an Alberta Infrastructure project, which means we are not in charge, they are. We are finding that when there are change orders that need to take place because the communication from the contractor to Alberta Infrastructure and getting that work back with what that change will be and getting that change approved is taking a lot longer than it would if we were in charge of the project. As well as some other frustrations as far people who are not local, I would like to make a motion we draft a letter to Alberta Infrastructure and name off some of the frustrations we are having. Perhaps that might make it a little speedier because, with the way things have been going, we are not going to have a finished completion date in August 2019," said Bruce Francis, vice-chair of the Horizon School board.
Delays were expected to be around a month which is a certain frustration for the board as the modernization process was expected to be completed next August before school began.
On top of the delays and lack of control over construction, they had various other issues they wanted to express to Alberta Infrastructure.
"One of the frustrations, as an example, was if you look at all of our facilities when we manage them, we've tried to align the equipment that is being installed in schools. The example I use is boilers. Our schools are heated by boilers and we typically have the same brand. Every type of boiler needs to be certified to work on it and normally, we make sure all of our schools have the same brand. In this case, it is an Alberta Infrastructure planned project so the boilers going into the facility are a different brand so, therefore, our plumber needs to be re-sent to become certified with the new boiler and it's potential for a week-long out of province. If our plumber were to leave at some point and you hire a new person, instead of having to re-certify him on one type of boiler, you are now looking at two which means they will be gone for two to three weeks for certification," said Wilco Tymensen, superintendent of schools.
The board also had issues with how the modernization at D.A. Ferguson is set up.
Originally, they had wanted to replace all of the windows at D.A. Ferguson but had to cut back due to the replacements not being covered in the modernization.
"The turnaround time is certainly a frustration. Some of that level of influence was also a concern and the other one brought forward, and it's not as much this project, but you get a significant modernization but things like building envelope are not included in the construction project. You are fixing a building, but the outside envelope that keeps the heat in and insulates the building including the windows isn't part of the modernization, which seems ironic. You are replacing everything inside but the wind can still blow right though," said Tymensen. "You made a motion early on in planning this project and you invested almost $500,000 into the D.A. project to replace the windows because they needed to be replaced but it wasn't a part of the approved project."
The Myers side of the modernization has also caused grievances with not only the Horizon board but also Alberta Infrastructure.
The lack of money in the budget means a large portion of the W.R. Myers facility was not included in the modernization.
"We would ask that they have a comprehensive view of the scope of the project. Certainly, a frustration we've had in Myers, and the community is aware, a big part of the delay is the fact we have a budget that doesn't even cover the full modernization. Half of the building isn't even being touched and Alberta Infrastructure is frustrated around that fact. When you modernize a building, ideally you should be doing all of it rather than bits and pieces," explained Tymensen. "If you look at this project, the whole point of putting that firewall in is to separate the building into two so you are allowed to modernize half a building because that's all the money you have. We certainly recognize the government is under fiscal restraint so some money is better than no money."
While the delays are no doubt causing headaches for the Horizon board and staff and students in the two schools, some good news was to be had.
"They are hoping to have the Myers gym available by October 3 and that is assuming they get a big cement pour that they have to do before then. They are hoping to do it this weekend so hopefully, that will happen and we will get back into the gym on October 3," added Francis.
While the gym is almost ready to re-open its doors, other areas aren't as close.
"The administration office area, we won't get back into that area until November, at least that's what they told us. We will be telling administrators to not totally count on that," continued Francis.
A motion was made to write a letter to Alberta Infrastructure and was passed unanimously by the board.