Town council adopts policy for LED sign
Posted on September 26, 2018 by Taber Times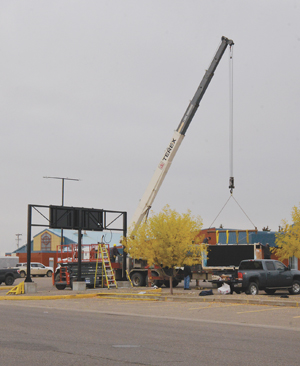 SIGN OF THE SEASON: Crews were at work last week installing the town's new LED sign in front of the Taber Community Centre Auditorium on 50th Street. TIMES PHOTO BY TREVOR BUSCH
By Trevor Busch
Taber Times
tbusch@tabertimes.com
Town council has opted for an electronic sign policy that will prohibit for-profit advertising and govern operation of the town's new LED sign being installed near the Taber Community Centre.
Training has been provided to town staff on the preparation of messages, and several templates have been developed for when the sign goes live to the public.
Administration was seeking direction from council on what types of advertisements will be authorized, if there is a fee, maximum length of display time, and if management would be handled in-house.
"We're not in the sign business of selling advertising," said Coun. Joe Strojwas at council's Sept. 10 regular meeting. "We shouldn't be competing against private enterprises that make their living selling advertising, so there definitely shouldn't be a fee for this advertising on there. The advertising should be strictly for non-profit events being held in the town. I would reiterate with the gal that we have in the office that does our communications, this would be right up her alley to do the advertisements on this sign. It's quite easily done, she can do it from her cellphone, she can do it from the office, it should be strictly an in-house situation handled by her."
According to the policy, the sign will be utilized for emergency information, community events, public interest messages, and sponsorship advertisements. Operating guidelines under the procedure will limit advertising eligibility to not-for-profit and volunteer-based organizations in the town or M.D., community events that "contribute to the social well-being of the community", individual pre-approved messages, public safety messages, municipal messages, and sponsors of municipal events and facilities.
"I agree strongly with Joe (Coun. Strojwas). My vision of this sign wasn't to be used for advertising, but as a public notice board, emergencies, missing children," said Coun. Jack Brewin. "I'm strongly against us doing any kind of advertising."
Not permitted will be personal messages, messages that promote political, factional or religious viewpoints, sexually suggestive material, discriminatory notices inciting hatred, unlawful activities, activities or events "contrary to the policies of the municipality", business advertisements, private sector job postings, and "any other content deemed unsuitable by the municipality at its sole discretion."
Coun. Louie Tams inquired if all messaging will be vetted by CAO Cory Armfelt prior to being posted on the sign once installed.
"For better or for worse, council has entrusted me to run this municipality, based off of the policies and bylaws of this municipality," said Armfelt. "I delegate that out to whom I choose. In this instance I would choose three great people to run the software."
Following discussion, council voted unanimously to adopt the Electronic Signage Policy and Procedure as presented.
In an earlier motion in late May, council had awarded the contract to National Sign Link, with additional allowances for an engineering assessment. The original budget for the project was $120,000. The town was required to complete a structural assessment for "wind and strength" as per building code requirements at a cost of $1,500. Based on the engineering assessment, needed modifications to the sign base will cost $9,500.
Council voted unanimously to modify the awarded contract for the Taber Community Centre LED sign to National Sign Link from $80,500 to $90,000 (exclusive of GST).