Kenyan water delegation makes its way to Taber
Posted on September 26, 2018 by Taber Times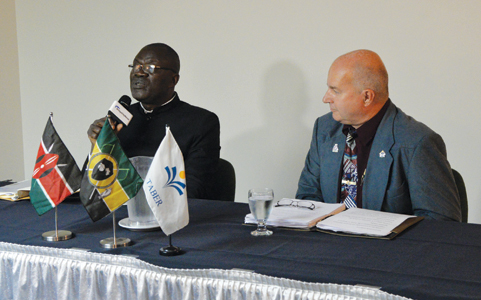 WATER WORLD: Mayor Andrew Prokop and County of Siaya Governor Cornel Rasanga field questions during a press conference last week. TIMES PHOTO BY COLE PARKINSON
By Cole Parkinson
Taber Times
cparkinson@tabertimes.com
Last week saw the Town of Taber welcome a delegation from the County Government of Siaya, Kenya.
After Town of Taber council had shown interest in the collaboration between the two parties at a meeting in April, the Kenya delegation finally arrived in Taber late last week and a press conference was held to introduce the visiting guests.
"Our own finance minister, John Orwa, is originally a resident of Siaya and that's where the connection first started. It was presented to council and it was very well received. We look forward to everything going forward," explained Town of Taber Mayor Andrew Prokop.
Siaya County is one of 47 counties in Kenya with a population of approximately one million and is located on the shores of Lake Victoria, one of the largest freshwater lakes in the world.
The majority of the county's residents are involved in fishing and agricultural activities.
When the proposal was brought to council, it highlighted the issues they face with water and waste disposal.
With the two sides finally together, Prokop expressed the town's willingness to provide as much information as they could.
"Overall, we have great expertise in our town of Taber community in relation to water and wastewater initiatives and information. We're more than willing to share that with our gracious guests and hope we can help in many ways. I believe they have already seen some examples here in southern Alberta with similar facilities and our agriculture base is very similar to Siaya County as well," he said. "The similarities between Siaya and ourselves in this area, so if there is a way to help with water or wastewater management, we're all for it."
The delegation first made a stop in Calgary to visit their main water treatment plant, wastewater treatment plant and to tour their city hall.
They then headed to Banff for further wastewater and water treatment facility tours before arriving in Taber.
This week they head to Red Deer for the Alberta Urban Municipalities Association conference.
While they only have a short amount of time to stay in Taber, their first impressions of the town were glowing.
"My impression of Taber is it is very clean and the people from Taber, from what I saw with the Chief Administration Officer (Cory Armfelt) is they are very welcoming. Therefore we believe we will enjoy being in Taber," said Cornel Rasanga, Governor of the County Government of Siaya.
First impressions also suggested Taber and Siaya are fairly similar in terms of agriculture importance, though the actual land is a bit different.
"The visit is for purposes of collaboration. Siaya is a town that is more or less created as a result of an agricultural zone. The only little difference is we border a lake, a lake that is expansive," continued Rasanga.
Another one of the evident similarities between Siaya and Taber is they both rely on corn as a major agricultural crop. Though corn is prevalent in both areas, Taber wasn't chosen as a collaboration because of the prominent corn growing.
Governor Rasanga says he didn't even realize how big of a crop it was for the region until he arrived.
"The greatest thing we have in Siaya today is that we have farmers producing a lot of corn. But post-harvest losses are so great that you will find the cost of production does not go well with the supply. The price when the farmer is releasing the harvest to the market. We see the need to collaborate in that regard because the post-harvest experience in Taber could translate to Siaya," he added.
The water and wastewater experience that Taber provides for the delegation is expected to raise the benefits to all farmers in Siaya.
The way things are right now in Siaya isn't ideal, but with what they are learning on their trip to Alberta is sure to help their situation, which is described as less than ideal.
"The last (water treatment) unit that is used to dispose it off, is not one of the best. We believe therefore that with this collaboration, if the water that is used goes back to the river as clean water," explained Rasanga. "The experience we have seen, especially in the wastewater management, is something that would be very important thing for us in Siaya. The well fare of farmers and their production is going to increase (because of the collaboration)."
As was pointed out by Orwa at the council meeting in April, there was no cost to the Taber taxpayers in bringing in the delegation from Kenya.
"As far as taxpayer involvement, I don't believe so at the moment," said Prokop, though he highlighted the fact grants were still a possibility moving forward. "Grant wise, I believe there are always opportunities out there and I don't think you can ever guarantee any grant but you can certainly apply."