Homeowner fighting placement of incoming emergency services building
Posted on September 19, 2018 by Taber Times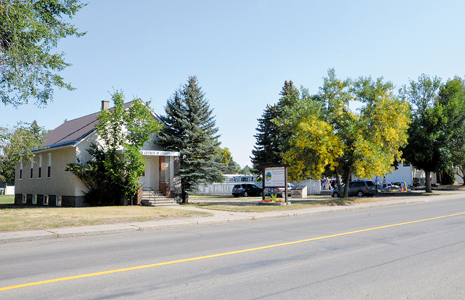 TIMES FILE PHOTO
By Trevor Busch
Taber Times
tbusch@tabertimes.com
Former town councillor and area resident Dave Witwer has pledged to do everything he can to prevent the town from relocating an emergency services building adjacent to his home on 50th Street.
Following closed session discussion on Aug. 20, council unanimously directed administration to move forward with the purchase of three properties, which currently includes Taber Church of Christ property and two residences — 5303 50th Street (Plan 8811336, Block 44, Lot 46), 5219 50th Street (Plan 266JK, Block 44, Lot 24), and 5215 50th Street (Plan 266JK, Block 44, Lot 25).
Witwer owns and resides at 5003 52nd Avenue, a corner lot which faces 52nd Avenue but partially fronts on 50th Street. One of the lots in contention where the town intends to build — 5215 50th Street — is right next door to Witwer's property and faces his backyard. A former town councillor, Witwer was elected in 1992 and served until 1995, when he lost his seat in an unsuccessful bid for mayor.
In its Aug. 20 decision, council also directed administration to begin the process of subdividing the church lands and consolidating all three purchased parcels, as well as creating a Direct Control Land Use District to provide for an emergency services building to be developed on the property.
Initially, Witwer has questioned the deadlines the town provided him to protest the subdivision application at a Municipal Planning Commission meeting which was held on Monday.
"The information in this letter is not correct. You need to send in a written submission prior to September 20. The MPC meeting is on September 17, their agenda is made up on September 13. What it means is anyone that puts a submission in, it doesn't get into the meeting. In the second page of the letter, it says any affected party wishing to appeal the application can phone prior to August 20. The letter was mailed out on August 30 according to them, I got mine on September 5. So it's just ridiculous the information we're getting. So when I asked them, they said we meant September 13."
A public hearing on the proposed subdivision is scheduled for council's Sept. 24 regular meeting, and Witwer plans to attend with a group of like-minded residents.
"We're going to be there, hopefully with half a dozen people. Everything right from the get-go is just bad information that we're being given. Then I started asking people about it. Well, nobody in the neighbourhood when this comes out — nobody understands that. It's a subdivision application. It doesn't say anything on the letter, anywhere along the line, that we intend on building a fire hall."
Witwer reports that most of the neighbours he has spoken to, with a few exceptions, are opposed to the development.
"The two property owners here — who were contacted a long time ago — they've both agreed to sell. I don't think they're sold, but they've agreed to sell. The deal has already been made with the church to do with a little bit of land swap or whatever's gotta to happen there to get the lines in place. The church is going to stay."
"I'll do what I can. There's been petitions against it already at whatever location they've tried to go to, so they seem bound and determined they're going to force it on the town like it or not. Where I stand with it now, I've gone to all the back-on neighbours, they're all opposed to it."
Witwer is concerned about the potential for an 11-metre high building right next to his residence, as well as increased alley traffic, among other issues. He planned to attend the MPC meeting on Monday, and was also invited to a meeting of area residents at the current fire hall at 6 p.m. that evening, but had only scant information about what this meeting would entail.
"It blocks out the world, as far as I'm concerned for somebody like me. I've been here for 40 years. Nobody over here is going to like it, but the biggest thing is that nobody got any notification before. It looks to me like it's a done deal."
Several campaigns organized by citizens opposed to development of a new fire hall have made the rounds in the community, most recently a petition circulated by Forrest Lester in early spring 2018 which gathered 958 signatures and was presented to council on April 9. Lester's petition was later deemed insufficient under the Municipal Government Act for failing to provide necessary information established under Sec. 225 of the MGA.
Another petition organized earlier by residents in proximity to one of the town's favoured locations — town-owned property adjacent to Dr. Hamman and St. Pat's schools — had also been presented to town council.
Prior to this, a delegation representing residents from Signature Point had presented a statement to town council signed by residents opposing a potential fire hall location in the vicinity of the Taber Curling Club.
"Everybody down on the council and administration is well aware that there's huge opposition to this, and I personally think that's why they're trying to do what they're trying to do now, to get it in before anybody notices, I guess," said Witwer. "That is what it is. It's kind of upsetting is what it amounts to. I'm going to do everything I can to oppose it. If it comes to having to get a petition together, I'll do that too. Petitions aren't binding, but they're an expression of opinion, and sooner or later someone on council should listen."
Witwer isn't convinced that a new fire hall is even necessary for the community, and if it is, he remains baffled why the town would choose to locate it in the heart of a residential neighbourhood.
"My very first opinion is there's no need for a new fire hall. Why do you need to spend who knows how many millions of taxpayer dollars on a facility that's not required? Whatever figures they're coming up with are not going to be correct — not a chance. I just don't see any reason — period — that we need a new fire hall. The one that we have works perfectly fine. If you had to move it, why would you move it into the middle of a residential neighbourhood?"
Residents in close proximity could also see a dip in their property values, adds Witwer.
"I've called two realtors, they've said they think it will have an effect on property values. It's definitely going to have an effect — for my two bits — on quality of life."
No matter what their legal status, Witwer argues that town council is making a serious mistake in ignoring petitions that have gathered the signatures of hundreds of town residents.
"I'm now starting to become of the opinion that they're just trying to ram this down people's throats, because when you have a delegation that comes that opposes one site, a 300-400 signature petition that opposes another site, and a 950 signature petition that opposes the whole thing, period, maybe council should remember that it's supposed to represent the people. That's their job."