Town council motion settles location of new fire hall
Posted on September 5, 2018 by Taber Times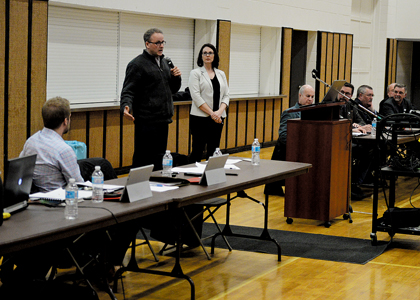 FIRING LINE: CAO Cory Armfelt fields a question during the town's Emergency Services Building Open House in February. TIMES FILE PHOTO
By Trevor Busch
Taber Times
tbusch@tabertimes.com
In what has proved to be a divisive issue for residents since it was first proposed, following several meetings of closed session discussion over the summer town council has selected a location for a new emergency services building.
Following in camera discussion on Aug. 20, council has directed administration to move forward with the purchase of three properties, which currently includes the Taber Church of Christ and two residences — 5303 50th Street (Plan 8811336, Block 44, Lot 46), 5219 50th Street (Plan 266JK, Block 44, Lot 24), and 5215 50th Street (Plan 266JK, Block 44, Lot 25).
The motion was put forward by Coun. Carly Firth and passed unanimously by council.
In addition to this decision, council also directed administration to begin the process of subdividing the church lands and consolidating all three purchased parcels, as well as creating a Direct Control Land Use District to provide for an emergency services building to be developed on the property.
Conversations regarding the potential relocation of the emergency services building in Taber have been ongoing since 2009.
Following closed session discussion in July 2017 town council had voted unanimously to set aside $1.5 million for a new fire hall building from the William Ferguson estate, with the fire hall to be dedicated and named after William Ferguson.
Throughout the process the town has looked at several alternatives including a full time fire department, a satellite station, or grant programs to offset construction costs.
According to administration, "these alternatives may address the HIRF (High Intensity Residential Fire) requirements, but do not address the other issues/impacts."
Although no dollar figures or property values were included in the Aug. 20 resolution, council also instructed administration to investigate building prices through a request for purchase.
Several campaigns organized by citizens opposed to development of a new fire hall have made the rounds in the community, most recently a petition circulated by Forrest Lester in early spring 2018 which gathered 958 signatures and was presented to council on April 9.
Lester's petition was later deemed insufficient under the Municipal Government Act for failing to record necessary identification and other information regarding petition signatories, and for not adhering to official procedures established under Sec. 225 of the MGA for petitions.
Another petition organized earlier by residents in proximity to one of the town's favoured locations — town-owned property adjacent to Dr. Hamman and St. Pat's schools — was also presented to town council.
On May 14, council dismissed this opposition and immediately pushed forward, directing administration "to ensure a 10-minute response window for all fire and ambulance first responders to residential locations within the town of Taber by relocating the emergency management centre building to an appropriate location."
This resolution was passed by a 5-1 split vote, with Coun. Garth Bekkering in opposition.
With an eye toward public relations, council's Aug. 20 motion included orders that administration organize an open house with council to "answer questions from the public, and show the public what this project will look like moving forward."
The resolution did not include any specific dates or a timeline for when town council intends to break ground on the new facility or host an open house for the public.
Despite intense public scrutiny, with the exception of an open house held in February 2018, recent council discussion of the issue has been conducted almost exclusively behind closed doors.
Mayor Andrew Prokop and fire chief Steve Munshaw were unable to be reached for comment on the decision.