Taber council amends procedural bylaw
Posted on August 29, 2018 by Taber Times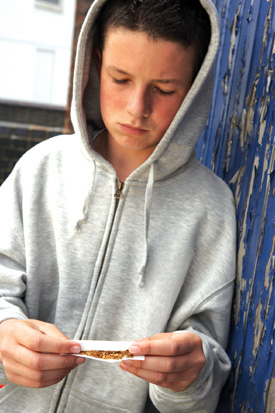 REEFER MADNESS: Canada's cannabis legalization legislation is designed to keep the substance out of the hands of children through regulation. TIMES FILE PHOTO
By Trevor Busch
Taber Times
tbusch@tabertimes.com
With cannabis legalization nearing in mid-October, town council is adding provisions to their Council Procedural Bylaw to allow for items that have been voted on to be brought back to council for further discussion before a six month period has expired.
Under the current procedural bylaw, when a motion has been carried or defeated, the issue cannot be brought back to a regular meeting for further consideration until at least six months following the vote.
This inclusion has caused problems for town council in the past, where on several occasions council has voted to ignore this provision in order to bring a pressing issue back to council for immediate reconsideration.
Hammering out municipal bylaws in relation to cannabis has been a hit and miss prospect for Taber, which recently saw cannabis amendments to its Land Use Bylaw shot down by town council at second reading in a 3-3 tie vote in mid-July. This decision left question as to whether revised amendments could be put in place before an Oct. 17 legalization date without council violating the provisions of its own procedural bylaw.
"We had received some legal advice a number of months ago to amend the procedural bylaw of council, and it comes to a time now where we should do this housekeeping item," said CAO Cory Armfelt at council's Aug. 20 regular meeting. "It creates a bit of effort at this meeting, where we would like you to actually sign this bylaw before you move on in the agenda. What it is going to allow council to do is perform a notice of motion where the land use bylaw related to cannabis could be brought back to a subsequent council meeting."
Due to the restrictions in the existing Council Procedural Bylaw, administration proposed two amendments to the existing bylaw.
The amended sections include Sec. 5 (S) 4 Application and Governance, which will allow for a special majority recorded vote of two thirds of councillors in attendance to temporarily suspend, waive or alter any provision of the bylaw for any particular matter or council meeting.
Sec. 6 (S) 6.6 Notice of Motion adds a Notice of Motion to either section of the agenda for consideration at the current, next or other meeting date.
"There's nothing wrong with the present procedural bylaw. The present procedural bylaw is just fine, however in the situation that we have with the upcoming cannabis legislation, your current procedural bylaw does not allow you to bring back that item before a six month timeframe," said Armfelt.
Following discussion, council voted unanimously to pass third and final reading of Council Procedural Bylaw 20-2018.
Later in the meeting, council voted 6-1 to authorize a notice of motion to consider Cannabis Land Use Amendment Bylaw 17-2018 for a public hearing date and first reading at town council's upcoming Sept. 10 meeting. Coun. Joe Strojwas opposed the motion.