Renovations delay highlighted at Horizon board meeting; Francis
Posted on August 29, 2018 by Taber Times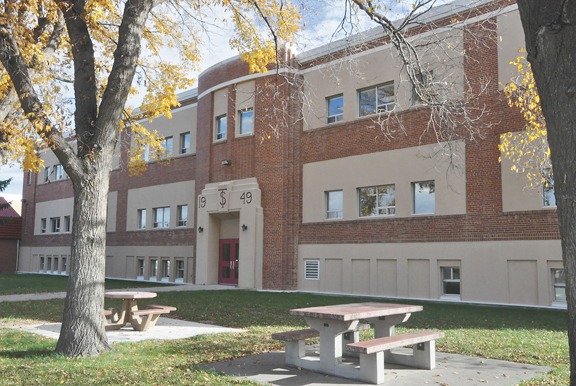 TIMES FILE PHOTO
By Cole Parkinson
Taber Times
cparkinson@tabertimes.com
With school back in session next week, D.A. Ferguson Middle School and W.R. Myers High School are still well under construction.
"Most people are aware at D.A. Ferguson and W.R. Myers there is construction. You'll notice the front entrance of the high school looks a little different now that the big arch is gone," said Wilco Tymensen, superintendent of schools at Horizon School board meeting on August 22.
While the Horizon School Board was well aware that the school would be under construction for the entire duration of the school year, they weren't aware that they were behind by several weeks.
As school starts on September 4 at both schools, staff and students will have to adjust as certain aspects that they thought would be complete are not as of yet.
"D.A. Ferguson and W.R. Myers, we are behind what we thought we would be at this point in time. We are about a month behind and what that is going to mean is at the start of school, starting next week when secretaries and administrators are in, they will have to not be in their offices," said vice-chair Bruce Francis during his facilities report. "For a six week period we will not have our gym. Originally there was always going to be one gym but that isn't going to be the case because they are behind and they were hoping to get the firewall put up and the office area completed but it's not."
With all that in mined, Francis says that staff and administration were aware of the situation.
In the meantime, the gymnasium at Central Elementary School will be used for after school activities that require a gym.
Physical Education classes for both D.A. Ferguson and W.R. Myers can expect to get plenty of fresh air during the six week period.
"Phys. Ed class will be outside for the first few weeks," added Tymensen.
Another concern that has arisen is the condition of the school fields.
As the irrigation needed to be off for part of the construction of a mandatory fire lane, they hope that both the grass and fire lane see completion before the kick-off school date.
"If you look at the field, it hasn't been irrigated recently and that's because they cut up all the irrigation lines when they were putting in the fire lane around the east side of the building, that's a legal requirement to have. Certainly, our hope was the sprinkler lines would be fixed this week and we could get some irrigation water on there as that field is used for extra circulars as well," said Tymensen.
With the modernization project behind their projected date, the board members had questions to the reasons why there would be a delay for the completion date. While the schools are both under the Horizon division umbrella, Francis pointed out that the projects were out of their hands at this point.
"We are not in charge of this project, Alberta Infrastructure is and there are a lot of cases were things have to be changed for approval," he explained. "It's not our project, it's Alberta Infrastructure's and that can be good and bad. It's good if they find things we weren't aware of and bad with the fact we have no control."
He also highlighted the fact that the board should prepare for the completion of the modernization to be passed the projected August 2018 timeline.
"I know we were hoping to be done by August of 2019 but I think we need to be prepared that it's not going to be."