St. Pat's open house next week
Posted on August 22, 2018 by Taber Times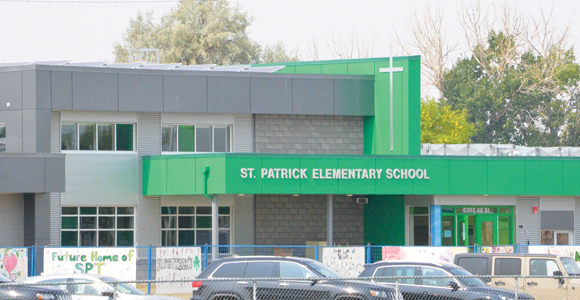 TIMES FILE PHOTO
The finishing touches are being applied to St. Patrick School and the community will soon get their first look at the updated building.
Coming up on August 28, the school will open its doors for an open house before the school year kicks off in early September.
With modernization work beginning in 2017, work is nearing completion and those involved say the school has updated for the better.
"The school itself has really changed inside. It was a traditional 1950s, 1960s hallway with classrooms off to the side. Now it's totally different inside. There are moveable, flexible walls inside so you can have a small class or a bigger class. There is a lot of breakout places because one thing we know now is everybody learns differently and at a different rate. If somebody is falling behind they can go get some extra tutoring or if they are advanced, they can go and work on special projects," said Pat Bremner, Holy Spirit board trustee, who was involved in the modernization process. "At the beginning, I was fairly involved. The first step is to gather the community, so there were parents, teachers, staff, administration and myself. After that, it became more just between the administration, government and contractors."
 
In the 2018 climate where school and student safety is at the forefront of the minds of the community, the modernized building has plenty of improved safety features.
"One of the things I'm happiest about, and I think anybody involved in education is, is the enhanced security. I hate to say it, but it is a fact of life now. Now when a person walks in, they are in immediate contact with school administration," added Bremner.
Further additions to the facility will help gather students more easily and have more accessibility for the students all around the building.
While Bremner says student enrollment is fairly consistent with prior years, they will be gaining a few kids from Playful Spirits as the school will now house the Pre-Kindergarten program.
"Also there is a gathering space before everybody had to go to the gym. So there will be prayer and common activities in this gathering space that will lead right off into the learning commons. Just the idea of saying learning commons instead of library shows the great change," continued Bremner. "We'll have an enrollment of, it's pretty static but of 170 kids. One of the big things is the kids from Playful Spirits, which is a building down the street from St. Pat's, is going to be in the same building. It won't change, they won't be mingling with the older kids but they will be there with the older kids. It will make it easier for families because there are a lot of families with kids at certain ages." 
Staffing levels also seem to be fairly consistent as Bremner says St. Pat's will have 10 full-time teachers while the school will also see a new associate principal in Sean Either.
Thanks to the added dimensions of the building and improved facilities, students will notice a few other new programs.
One of the ones most exciting to Bremner is the new breakfast program which will ensure each student gets a meal before school.
"One of the bigger things this year is we are going to have a breakfast program, there's a full servery. 2018 in Taber, there are kids who go to school hungry and we have science to know those kids are left behind," she explained.
Before students had the chance to get into the new St. Patrick School, they had to find a temporary residence for the 2017-18 school year. Modulars were set-up as the temporary school near St. Mary's School and while they didn't look like much from the outside, Bremner says students, staff and parents were surprised with how well they were set up. They also provided the opportunity for the entire school to be under one roof while renovations were still being applied to their regular school.
"We opted to do one phase so the kids all had to be moved and it was cheaper than doing two phases. We thought it would be easier on the whole community but we couldn't find a place for all of the kids. We had offers but we wanted to keep the kids together. Because there was a lot of siblings we didn't want to split them up and make it harder for the parents. If you look around Taber, there aren't a lot of sites where you can put 170 kids," said Bremner.
Bremner credits the Holy Spirit board with their dedication to keeping the students together during the modernization process.
In order for the modulars to be leased for St. Pat's usage, the board had to dip into their reserves but Bremner says the reserves were hugely beneficial for the school as it allowed them to acquire the modulars for the school year without having to borrow money.
"We were fortunate we had reserves and this is where the board was involved. We had reserves that allowed us to lease the modulars and we built a temporary school. There was a lot of misinformation about reserves. Our reserves, since I've been on the board and I've been on for six years now, have always been running between three and four per cent. Right now, they are less than two per cent but without those reserves, we would have perhaps had to borrow money at whatever interest in order to decant our kids," she said.
Another big benefit for St. Pat's was the partnership between themselves and St. Mary's School.
Being close to where the temporary school was set up, the two intermingled quite a bit as St. Pat's had lost most of their regular school facilities such as their gymnasium.
Bremner highlighted the fact the two schools worked in unison without any issues arising.
"It was wonderful, of course when you go into a marriage of any kind, there are trepidations and concerns. Once we had the open house where people actually saw the modulars, there was a lot of fears allayed. St. Mary's, really stepped up and shared the gym, they had to juggle their schedule a bit but there weren't any problems. It gave them the opportunity for the older kids to be more aware of the younger kids."
With the school year beginning in the near future, Bremner expects there to be minor adjustments for staff and students as they enter their modernized home.
"The motto for St. Pats is 'learning to love and love to learn' so I am hoping that will carry us through whatever hiccups we have. September 4, kids will be in school and teachers will be there," added Bremner.
The open house though is first up and Bremner is excited to let the community in to experience exactly what went into the modernization.
"I'm hoping a lot of the community will come out and see what a modernized school looks like and what St. Pat's has to offer in the community. It's going to help us fulfill our goal of preparing kids. I think a lot of the community will be surprised and pleasantly so at St. Pat's with the opportunities kids are going to have. Not because of the teaching, the teachers are very good and we pride ourselves on having the best, but function and the feeling, there's more energy when things are open," said Bremner. "So many people still think of education as kids sitting in a row with their hands closed, learning and regurgitating but that's not what learning is about. We're hoping people walk in and are inspired by this complexity of education, it's getting them to engage and be critical thinkers." 
St. Patrick School's open house goes down on August 28 from 12-2 p.m.