Regional voters push Taber into winner's circle of Coors contest
Posted on July 25, 2018 by Taber Times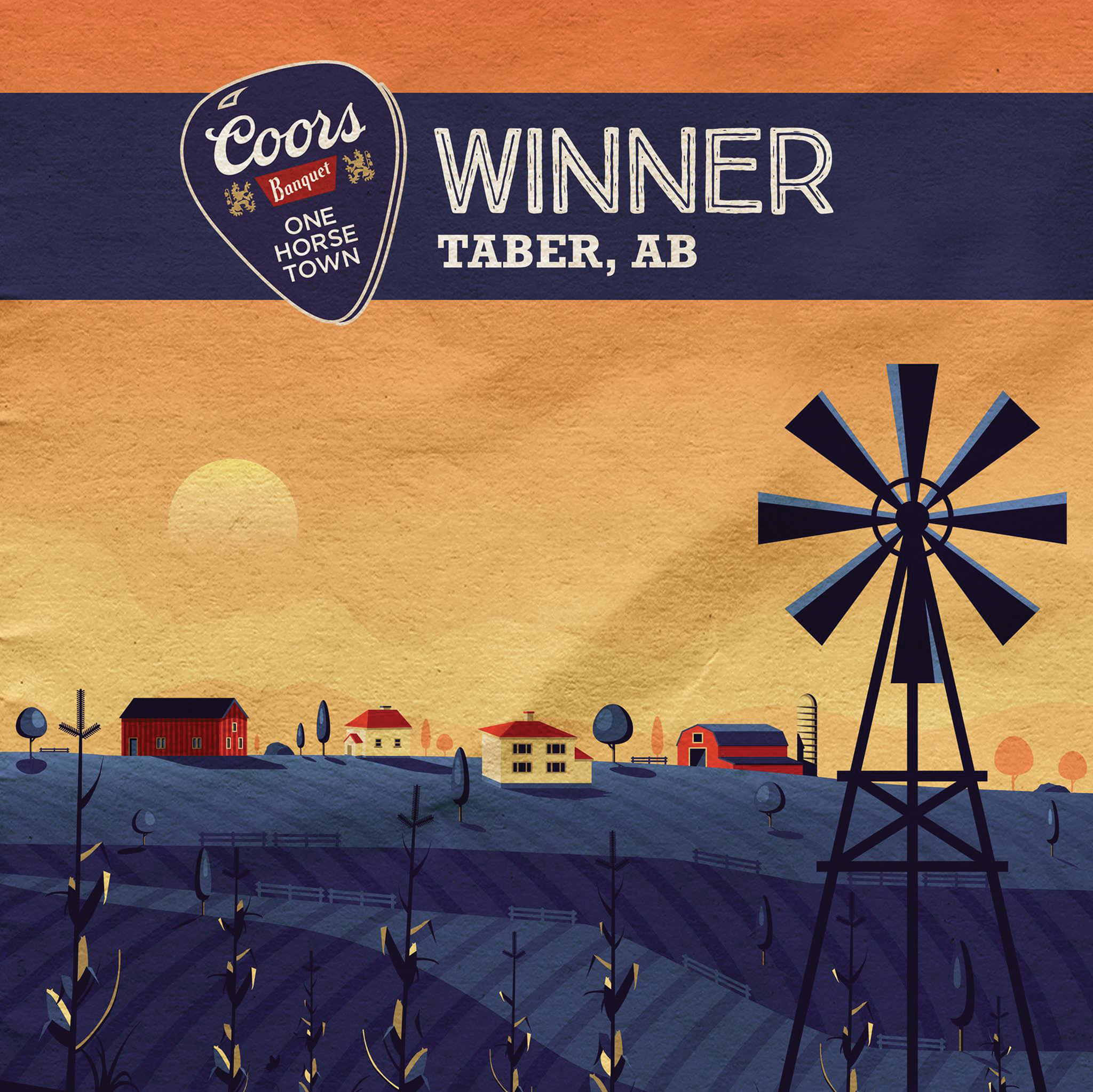 COUNTRY CROONERS: Thanks to the vigilant efforts of many southern Albertans voting in the contest, Taber has been selected as the winner of the Molson Coors One Horse Town Contest that will see three prominent Canadian country musicians perform. TIMES PHOTO SUBMITTED
By Greg Price
Taber Times
gprice@tabertimes.com
Taber galloped its way to the finish line in first place for the Coors Banquet One Horse Town contest.
Final votes were verified on Monday afternoon, with Taber finishing ahead of five other finalists in Miramichi, New Brunswick; Portage la Prairie, Manitoba; Napanee, Ontario; Nicolet, Quebec; and Williams Lake, British Columbia. Wanting to get fair and equal representation from across Canada, Coors Banquet picked small towns from coast to coast for consideration. Population base was a big factor for the contest, as Coors Banquet wanted the town to mirror Golden, Colorado somewhat, the birth place of brewing for Coors.
"It was pretty tight (between first and second place). We don't release the official rankings out of respect for the towns, but it was really tight, with a record number of votes registered this year in comparison to years past," said Jessica Teixeira, brand public relations manager for Molson Coors. "There were 235,000 votes in total from all the towns in comparison to last year as an example of 180,000. All the towns that participated as finalists this year were significantly smaller than last year."
Coors Banquet One Horse Town is a national search for Canada's proudest small town with a big passion for country music. Taber has won a summer country music concert — headlining Canadian superstars Dallas Smith, Tim Hicks, and Kira Isabella. People were allowed to vote once a day and could do so by logging onto CoorsBanquet.ca/OHT. Canadians over the age of 19 were eligible to vote.
For 2018, it marks the fourth year Coors Banquet has done the One Horse Town contest with past winners being Lacombe, Alberta in 2015 followed by Truro, Nova Scotia in 2016 and Moose Jaw, Saskatchewan in 2017.
"We had Moose Jaw that won last year the One Horse Town and they have around 30,000 residents. This year, the largest town of the six finalists had 17,000," said Teixeira. "There was less of a pool of people to amass so many votes, but you can definitely see the spirit of the people was 100 per cent there with how dedicated they were to vote once a day (leading up to the July 15 deadline). People were definitely voting once a day, it was a very engaged voting phase, absolutely."
Teixeira gave a tip of the hat to the Town of Taber, Mayor Andrew Prokop, the local media in The Taber Times and local residents taking an active role on social media in helping promote the event to vote, which resulted in the contest win.
"To be in the top six finalists was an honour," said Meghan Brennan, communications and projects co-ordinator for the Town of Taber. "But to actually be the One Horse Town for 2018 is beyond exciting. We'd like to acknowledge the other five finalists across Canada. They were all amazing competitors, and we feel privileged to have been in the top six with them."
"I would like to thank everyone who voted for Taber," added Mayor Andrew Prokop. "Your support means a great deal to our community, and it is thanks to the voters that Taber can call itself the 2018 One Horse Town. We can't wait to demonstrate Taber's hospitality at this event, and look forward to welcoming everyone to our community."
Tickets for the concert will be available on Aug. 20 according to Teixeira. Molson Coors will release a list of FAQs (Frequently Asked Questions) on Aug. 6, so that people can get a feel for what the rules are for the tickets.
"It is going to be first-come, first-served, but of course, it's going to be for residents of Taber. There will be some rules around obtaining your tickets," said Teixeira. "Tickets will go very fast. We will encourage residents to be locked and loaded that day to ensure they get tickets."
There will be a Molson Coors team on site shortly to finalize location details, with the concert day confirmed of Sept. 15, with an outdoor venue.
"Typically in years past, we take one of the larger streets in the central part of the town and build it up," said Teixeira. "It's a huge congratulations to the Town of Taber. The town was engaged right from the get go with votes which included the media, the mayor, Town of Taber personnel and all the residents with everything with what we shared and saw. There was plenty of enthusiasm and this win was very well deserved. We are all very excited to come visit you on Sept. 15. You showed what a small town is all about."