Town continues work on cannabis land-use bylaw amendments
Posted on July 18, 2018 by Taber Times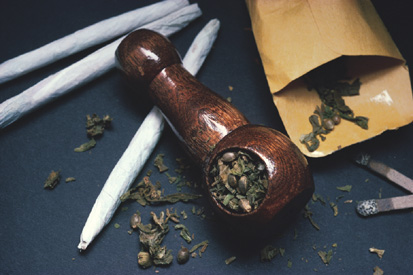 TIMES FILE PHOTO
By Cole Parkinson
Taber Times
cparkinson@tabertimes.com
As the recreational cannabis legalization date draws near, the Town of Taber council is still hard at work in organizing all of their related bylaws.
One of the biggest decisions council and administration have been working on revolves around retail sales of recreational cannabis and where shops will be permitted in town boundaries.
During council's regular meeting on June 25, councillors were once again brought up to speed on their Land-Use Bylaw 13-2018 for purposes of amending their Land-Use Bylaw 14-2018 to regulate cannabis related use.
"It (the bylaw) gives council the opportunity to provide direction as to where it will allow operation for sales of recreational marijuana and also how or where it will restrict the use," said Phyllis Monks, director of planning and economic development for the Town of Taber. "Administration is proposing that at council's direction, that all uses related to cannabis sales, that are included in our land-use bylaw, are identified as discretionary uses. That means that all applications for development permit will be granted or refused at the discretion of the municipal planning commission on a case by case basis. The current proposed bylaw adheres to the recommended separation distance of 100 metres from hospitals, post-secondary, private, elementary and secondary schools."
Reviewing applications on a case by case basis is also something council will be afforded with the coming amendments. With applications no doubt coming in the near future, administration wants council to be prepared.
"The proposed bylaw changes also give the development authority to require additional design elements that provide for a safe environment that is compatible to adjacent uses. This gives an ability to review any application on a case by case and take into account what we might want to take extra design steps to protect against," said Monks. "We feel these changes will help us make our way through the first applications as they come forward."
As part of the proposed bylaw, a public hearing was apart of the meeting in order to allow public opinion on the coming amendments.
A local business owner was in council chambers to express his thoughts on the coming October legalization.
"The fact is, right now, there is no dispensary, private or government-owned all over Canada. The fact is, the pot shops can be found in the hallways of our schools," said Sam Sharma. "They never ID anybody so unfortunately, it's not a secret from the teachers and you can't hide that stuff from your teachers because they're there all day."
Sharma highlighted the fact that the product that will be sold in retail stores across Canada will be much safer than what is typically found on the street level. The certainty everyone will need to provide ID to purchase cannabis was also touched on.
"There will be regulated sales from the government and everyone will be ID'd no matter what. It will be a 100 per cent fact that whatever they're selling will not be laced with any other drugs. It's not dangerous to consume," he stated. "My point is, the chances of underages coming to a private retailer asking for cannabis, the chances are very slim that they will get it. They will be checking ID's and there will be other things involved. The chances of drug dealers going to schools and giving them drugs are high. I agree it shouldn't be sold to kids," said Sharma. 
In regard to restrictions on distances from facilities such as schools and hospitals, Sharma pointed out that there are a few locations in town where liquor stores or bars are located right near the same buildings.
He didn't see much difference between the two types of retailers and questioned how one could be placed near when the other couldn't.
"There are numerous schools which are a few metres away from liquor stores. There are schools just a few steps away from bars and restaurants which open at 10 a.m. and start serving alcohol," he said.
The public hearing portion was passed unanimously by council.
"As you know, we've started this journey with many other municipalities across the country getting ready for the legalization of recreational cannabis. With the passing of the public hearing, you now can consider the bylaw and make any recommendations you wish based on the information," said CAO Cory Armfelt.
Armfelt also implored council to be patient with the bylaw as they still have some time before everything has to be in order.
"I don't want to rush this, I want to make sure it's right and I want council to be comfortable with what's being passed," he said.
One councillor was completely in favour of council taking their time with the entire process.
A particular concern of his revolved around personal cultivation and the ability for citizens to own four marijuana plants.
"There is a lot of information in here and I think we need to sit back and take a good strong look at it," said Coun. Joe Strojwas. "One particular area in Colorado, it was estimated that one-third of the estimated comes from personal cultivation. This is allowing people to grow four plants in their homes and four plants turns into eight plants. All of a sudden you're going to have individuals growing it in their home with direct access to teenagers and kids."
Strojwas questioned if there was any way for the town to limit or completely negate residents from growing cannabis on their property.
He also wanted to have more laws in place from the get-go because he believed tightening restrictions further on would be more difficult.
"It's easier to over-regulate than it is to under regulate because you can always trim back your bylaws. But once people are allowed to be growing marijuana in their homes, it's difficult to have a bylaw saying you can't anymore," he said.
Other councillors were in agreement with Coun. Strojwas' statements.
"I don't disagree with Councillor Strojwas at all and to table the bylaw of this importance wouldn't bother me at all either because we have two months plus until it becomes law in Canada. I must say though, there has been a tremendous amount of thought and work done by this council and previous council, provincial governments and municipalities all over Canada. We're ploughing new ground and whenever you plough new ground, weeds are going to come. That's why you can change the bylaw at will. I'm not too afraid of proceeding because we can change the bylaw," said Coun. Garth Bekkering.
Coun. Jack Brewin offered similar sentiments.
"I agree with Councillor Strojwas on this, it's always easier to draw back. I think a pause on this wouldn't hurt a bit. Let's do this right the first time," he said.
CAO Armfelt suggested they look into legal opinion on restricting cultivation on private property which council was in favour of.
The discussion was tabled for the July 16 meeting and council requested administration gather legal information on limiting production of cannabis on personal residences.